I think we're all aware of how amazing makeup is when it comes to transformations. Whether you're talking about transforming into your favorite celebrity, creating abs, or snatching your nose, makeup can do wonders. Case in point, Australian YouTuber Natalie Boucher's most recent breast contouring video that shows you how to shade and highlight your chest to make breasts appear larger. As she mentions in her video description, this is just a fun way to show what makeup can do, it's not about making ourselves all look a certain way or change. It's fun to experiment with makeup and not just on our faces. I mean, look at the side-by-side. Crazy, right? So, if you're curious to see how she contoured her way to bigger breasts, check out our step-by-step breakdown of the video below!
---
1

Get Your Contour and Highlight Products Ready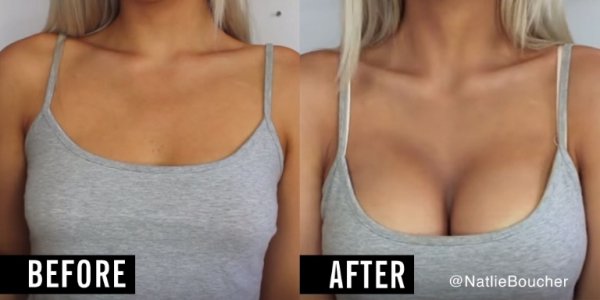 If you're thinking about recreating this look, I'll let you know upfront that Natalie uses quite a few products in this video from creams to powders so you'll want to round those up along with 2 big brushes to blend the products. Natalie uses Maybelline Fit Me Foundation in Cappuccino, Australis Cream Contour Kit and Fresh and Flawless Pressed Powder in Medium Tan, Urban Decay Naked Illuminator in Aura, and Becca Shimmering Skin Perfector in Opal.
2

Contour the Natural Hollows of Your Chest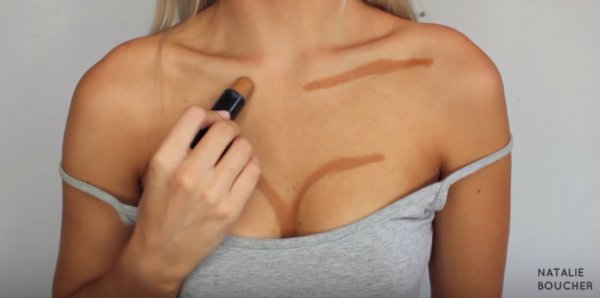 Natalie starts off by using a dark contour stick and creating shadows in the natural hollows of her chest and neck. Draw lines around your cleavage area, collarbones, décolletage, the front of your neck, and sides of your arms. When you're choosing contour shades for yourself, look for something about two shades darker than your natural skin color.
---
3

Add a Light Cream Contour to Highlight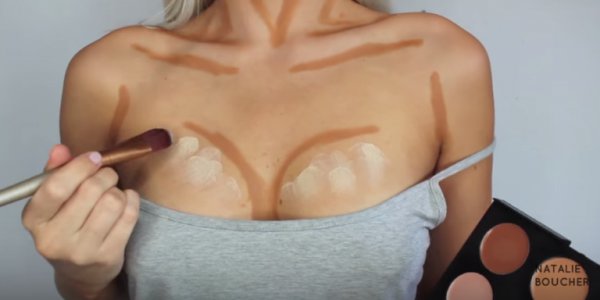 Next, Natalie uses the lightest shade in the Australis Cream Contour Kit, light, in all of the areas that the dark contour wasn't used to really bring out those areas. Just like with highlighting your face, you'll want to focus the light contour on the high points of your chest and neck as well as your breasts.
---
4

Blend out the Contour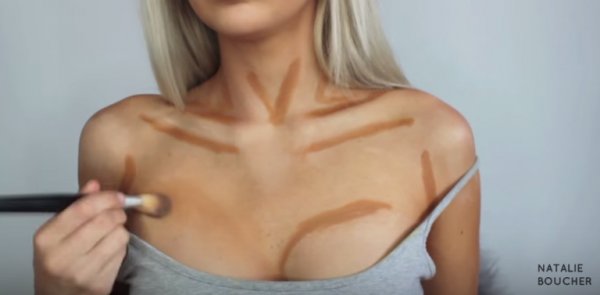 Grab two separate large makeup brushes to blend out the dark and light contouring. Blending is probably the most important part of contouring because there's nothing worse than leaving harsh, telltale lines. Take your time blending your contour and be sure you're using two separate brushes for each shade. And just when you thought you've blended the hell out of it, grab a wet Beauty Blender and blend some more!
---
5

Set with Powder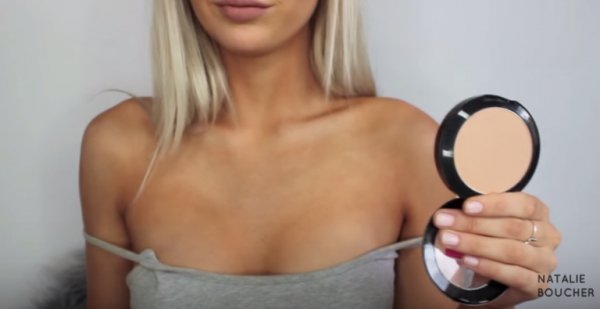 Once you're done blending, it's time to set it with pressed powder and a big fluffy brush. You can use the same pressed powder you use on your face or something in a shade darker. Natalie used Australis Fresh and Flawless Pressed Powder in Medium Tan all over her neck and chest.
---
6

Retrace the Contour with a Darker Powder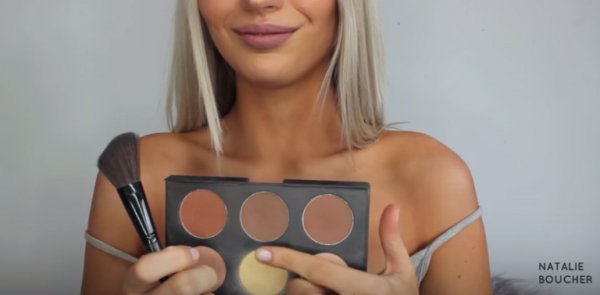 Next, Natalie retraces the places she already contoured with a cool shade powder contour with an angled contour brush. She used Australis AC on Tour Powder Contour Kit in the 5th shade in the kit, it's a deep taupe matte shade in her neck, chest, and arms. This step is to bring out the contour areas after blending. Again, blend the powder contour out very well.
---
7

Add Some Shimmer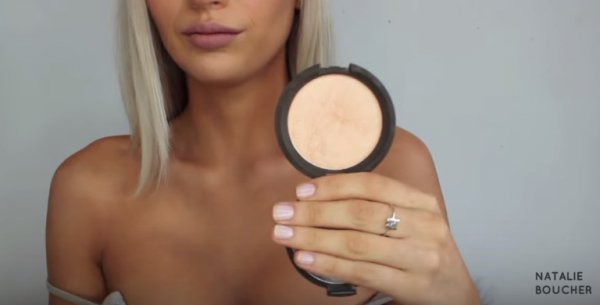 It's time to shine! Natalie used Urban Decay's Naked Illuminator in Aura with a fan brush to add some shimmer to really enhance the highlighted areas. Once she was done, she decided she wanted some more shimmer so you can opt to add another highlighter on top. She chose Becca's Shimmering Skin Perfector in Opal on top of UD Aura. This is an optional step but if you're going out for a special occasion, you might want to add this step to really elevate your look.
---
8

Complete the Look with Your Favorite Push-up Bra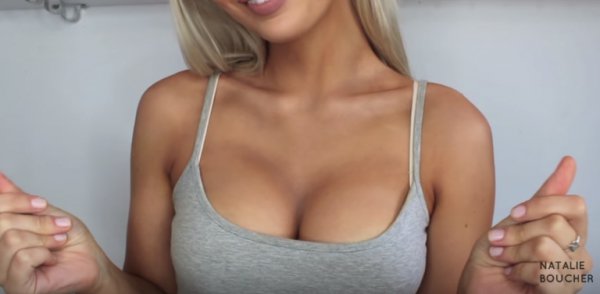 The last step is to wear your favorite push-up bra to finish the look. The contour alone is pretty impressive but the push-up bra will really amp things up. Just in case you're curious what bra she's wearing, it's Cotton On Up2 Push Up Bra. Now, you're ready to go!
What do you think about chest contouring? Would you ever do it?
---
Comments
Popular
Related
Recent