Tinted moisturiser is the answer if you're keen to combine all the nourishing benefits of a lotion with the aesthetic effects of a makeup. Invariably, this kind of versatile product affords you light, breathable coverage that's easy to wear and quick to apply; I love it because, unlike conventional foundations, blending takes just a few seconds and the final result is fresh, dewy and natural. If you're keen to take a break from thicker base this summer, read on; I've compiled this list of 7 fabulous tinted moisturisers.
---
1

Urban Defense Tinted Moisturizer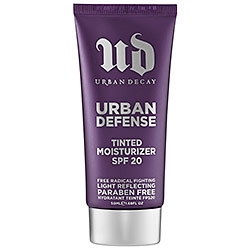 Price: $30 at sephora.com
This super-sheer tinted moisturiser is available in wide range of shades to suit your skin tone, and it can be worn either on its own, for a fresh dewy look, or as primer for powder if you're keen on a slightly more 'made up' look. It's SPF 20 to protect you from harmful UV rays and it's enriched with free-radical fighting mineral compounds – fabulous!
---
2

Kiehl's Ultra Facial Tinted Moisturizer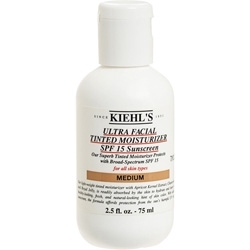 Price: $24.50 at barneys.com
Kiehl's is one of the most trusted and enduring names in skincare and cosmetics, and their very well-priced ultra facial tinted moisturiser does this legacy justice. It's enriched with nourishing royal jelly, chamomile and apricot kernel extract, and it has been especially formulated to sink immediately into your skin, leaving minimal sticky residue on the surface. It's a fresh, easy-to-wear product for summer, and the SPF 15 will help to keep out those damaging rays.
---
3

Inner Light Mineral Tinted Moisturizer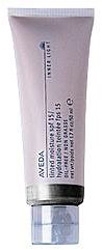 Price: $28.00 at aveda.com
This gorgeous, versatile product is super-light and versatile, and it comes in a really extensive variety of shades to suit a range of skin tones. Its oil-free formulation means that it won't contribute to blocked pores so your skin stays cleaner and clearer for longer. It includes a mineral-based sunscreen to protect from UV damage and it comes in a super-handy, completely recycled flip-top tube.
---
4

Laura Mercier Tinted Moisturizer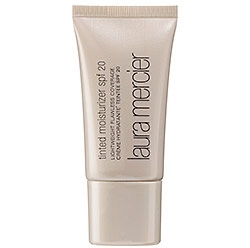 Price: $19.50 at sephora.com
This cost-effective little tinted moisturiser comes to us from the make-up masters (and mistresses) at Laura Mercier. It's cute and conveniently travel sized; perfect for storage in your handbag for quick touch ups on the go. It's light, breathable formulation makes it an ideal summer product, and it's SPF component means you'll maintain your smooth, untarnished natural complexion.
---
5

Chantecaille Just Skin Tinted Moisturizer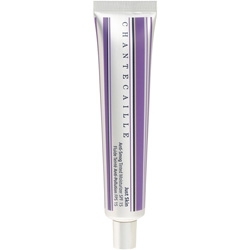 Price: $62 at barneys.com
This is a stunning, luxurious product; it's a little pricier than it's neighbours but it's absolutely jam-packed with active ingredients to both defend and nourish your skin this summer. As a makeup, it smoothes uneven skin tone and reduces the appearance of fine lines and wrinkles, and as a moisturizer it helps to counteract the effects of pollution on your delicate facial skin. Enriched with green tea and honey-suckle, along with an effective SPF, it's the ideal addition to the city-girl's makeup bag.
---
6

M.a.C Studio Moisture Tint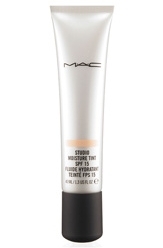 Price: $29.50 at shop.nordstrom.com
This super-fab tinted moisturiser formulated by trusted makeup wizards at M.A.C. was short-listed for the prestigious CEW award last year. It's been designed for easy application and you'll find it blends beautifully into your skin with minimal fuss. It's available is a whole plethora of colours – so there's bound to be shade to suit you – and its nourishing moisturizer is enriched with an SPF.
---
7

Sun Kissed SPF 25 Tinted Moisturizer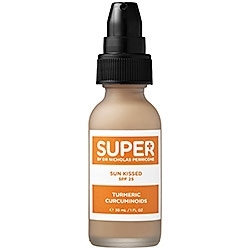 Price: $42 at sephora.com
This delicious little product comes to us from Dr Nicholas Perricone's 'Super' range. Like all the good doctor's cosmetics, it's absolutely chock-a-block with nourishing ingredients to help to repair, defend and nourish your skin throughout the day. It's full of natural anti-oxidants and vitamin C, it's packed with anti-inflammatory properties and its higher SPF affords you plenty of protection from the sun. From an aesthetic point of view things are equally great; as a makeup the product goes on smoothly, blends easily and gives you just enough semi-translucent coverage to achieve the fresh, dewy complexion you're after with a tinted moisturizer.
Any of these great products listed here will make a fab addition to this season's makeup kit. In summer you need light, breathable coverage, with a little added protection from the sun and the dangers of blocked and inflamed pores. That concludes my list of 7 tinted moisturisers: do you have a favourite product that I've left out?
Top Photo Credit: makeupandbeautyblog.com
More
---
Comments
Popular
Recent