7 Ways to Make the Most of False Eyelashes ...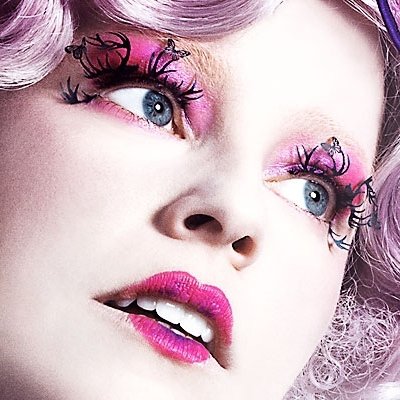 If you're new to the world of fake eyelashes, there are a few pointers you might want to know about how to make the most of false eyelashes. Like any other purchase, false lashes are an investment; you want to use them to the best of their ability as much as you can! Whether you're an expert at making the most of false eyelashes or one of the newbies, you should check out these simple, effective tips.

You probably won't be able to make the most of false eyelashes if you use the wrong size or shape! Poorly shaped or sized lashes simply look silly and, well, fake! Your goal with makeup should always be to make it look as natural and effortless as possible, even if you actually spent ages perfecting your look! So buy false lashes that match your eye shape, then cut to resize them before you put them on.
It's important to treat your false lashes gently if you want them to last. Remember not to pull and tug at lashes or else they'll lose their shape. Gently remove them from their case, cut them, and glue them to your eyelids. The better you treat your lashes, the longer they'll last and the more wears you'll get out of them!
3.

Use Black Eyelash Glue
Another way to make the most of false eyelashes is simply using black eyelash glue instead of white. Even though white eyelash glue is supposed to dry clear, it isn't ever fool-proof. You always have better chances of creating a natural look when you use black eyelash glue. Just make sure not to spill, because it will stain your clothing!
Once they're on, you can treat false eyelashes just like your regular eyelashes! The first step is curling them. Curling false lashes blends your natural lashes with the falsies, so that there isn't a clear break between where your lashes end and the others begin.
After you curl them, you can put mascara on your false lashes. Never put on mascara before curling though, because that runs the risk of clumping up mascara. So, apply lashes, curl, then put on mascara. Putting mascara on your false lashes makes them appear even more stunningly full and long, two traits you desire from your false lashes!
Before you go out, check your eyelashes for perfection! Make sure none of the lashes are sticking together, and use an eyelash comb if they are. Clumpy eyelashes cause the opposite effect of what you want, so make sure they look natural before you leave. Also, adjust them to ensure that the lashes line up with your lash line, to make sure they won't slide out of place throughout the day or night.
Don't think that once you wear your false lashes, you have to throw them away! Part of making the most of false lashes is getting the most bang for your buck. You can reuse falsies a few times, two or three, before it becomes unsanitary enough that you should throw them away.
False eyelashes have to be in the top 100 of history's best inventions, right? They make it so that lengthening and volumizing your eyelashes can be accomplished in a few simple steps! How do you make the most of your falsies?
{{#comments_count}} Show Commnents ({{comments_count}}) {{/comments_count}}