One of my favorite things about the holidays is all of the amazing holiday beauty collections. I seriously buy way more than I need and the rest of the time, I'm drooling over the stuff I didn't buy-yet! Okay, so maybe I have a bit of a problem, but I can still get super excited about all the new holiday beauty collections that are coming out this year. Join me as I show you some of the best and the brightest of beauty coming to your makeup bag this season!
---
1

Too Faced All I Want for Christmas Set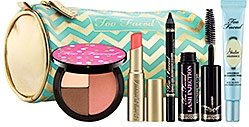 Too Faced never disappoints when it comes to holiday beauty collections! I love all the fun packaging, colors and the cutesy names they always come up with for their products. This year, they've come up with a festive and fun makeup set that's packed with makeup must-haves. You've got your eye primer, eyeliner, mascara, lip cream and a blush and eye shadow combo. All you need is your foundation and powder and off you go! Get yours at sephora.com for $45.
---
2

Smashbox Wondervision Collection's Mega Palette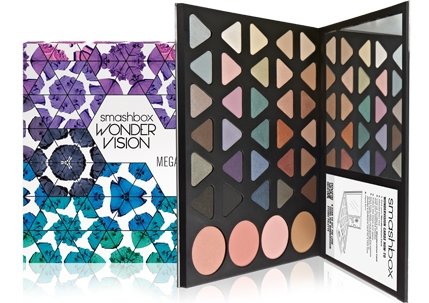 Although there are plenty of extraordinary makeup palettes already, Smashbox's Mega Palette is still quite impressive and to me, it's the star of their Wondervision collection. It's got just about every eye shadow shade you could want for your holiday makeup, but it also comes with 4 blushes as well as 4 Get-the-Look cards. These cards are no ordinary instructional cards: you set a card on top of the shadows and go left to right or up and down to help you apply the correct color to achieve your desired look! There are also lip gloss, eye shadow and makeup brush sets in the Wondervision collection. It's $49 at smashbox.com.
---
3

Tarte the Tarte of Giving Collector's Set and Travel Bag

If the holidays mean jet-setting around to glamorous destinations, don't forget to pack Tarte's makeup set and bag. It's got all of your beauty basics and then some to make this holiday your chicest one yet. This cute quilted bag holds mascara, a cheek stain, blush, eye treatment, Maracuja oil, 8 mini lip glosses and 20 limited edition eye shadows. Find yours for $59 at sephora.com.
---
4

Bliss You 'Butter' Watch out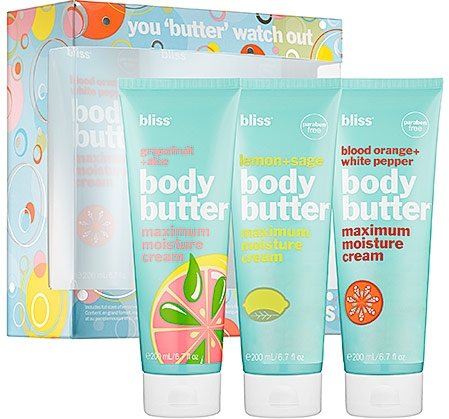 You butter watch out because Bliss has a holiday beauty set that's going to have your skin singing. Although the holidays are full of festivities, it's hard to enjoy them when winter weather has left you with dry, itchy skin. Nourish your epidermis with Bliss' ultra-fabulous body butter set. These babies smell amazing and come in three different types (grapefruit + aloe, blood orange + white pepper and lemon + sage) to provide you with maximum moisture. Keep one and give the other 2 to your girlfriends or keep 'em all for yourself! You can get it for $39 at sephora.com.
---
5

Make up for Ever Extravagant Glamour Set

Make Up For Ever's Extravagant Glamour Set will help you create the ultimate holiday makeup look. This set comes with three full-sized products: lipstick, eyeliner and mascara that will help complete your makeup for any holiday party this season. You can also tuck these into your clutch for any touch-ups while you rush from party to party. This would also make a great gift for the minimalist gal who wants to elevate her look for the holidays. It's $38 at sephora.com.
---
6

E.l.f. Studio Holiday 47-piece Total Face Clutch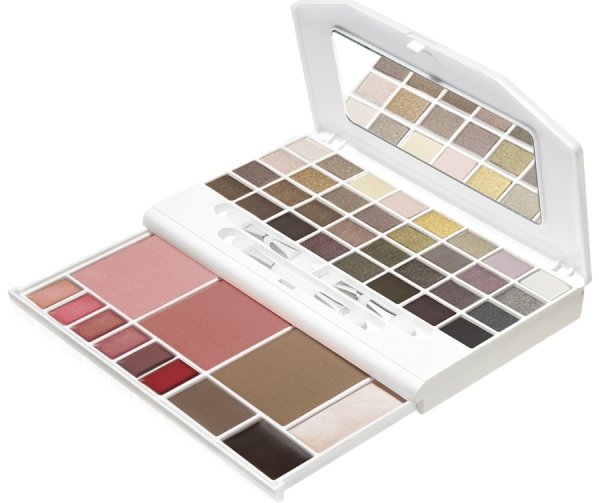 For the budget-conscious beauties, e.l.f.'s holiday clutch is the perfect addition to your makeup collection. You get 32 eye shadow colors, 2 blushes, 1 bronzer, 6 lip colors, 1 brow powder, 1 brow cream, 1 face shimmer and 3 dual-ended applicators. No matter what beauty emergencies emerge this holiday, you'll be ready for anything with this handy dandy beauty clutch! Get it for just $10 at eyeslipsface.com.
7

CIATÉ Tree Trinkets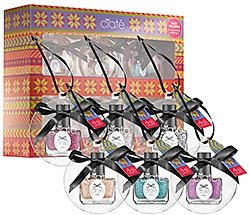 Nail polish addicts are going to go wild for CIATÉ's glittery Tree Trinkets. Six mini nail polishes come encased in a plastic ornament with gift tags so you can use them to glam up your tree or office cubicle, use them for your holiday manis and pedis or give them out to friends and share the love. Although these polishes are mini-sized, they'll add some serious glitter and gleam to your digits. Get yours for $30 at sephora.com.
---
8

Philosophy Jolly Jelly Candy Set

Make this holiday cheery, bright, fragrant and silky smooth with the Jolly Jelly Candy Set. This decadent holiday skin care set will help you get in a holly jolly mood before you get ready to head out for the day or night. With two body scrubs and two of philosophy's famous shampoo/body wash/bubble bath gels in sweet orange and pink grapefruit scents, you'll be feeling and smelling sweet all season long. If you're looking for something with more holiday scents, philosophy's Gingerbread House set contains lip glosses and body wash/shampoo/bubble bath gels in scents like peppermint bark and spiced gingerbread cookie. Snatch these up for $35 at sephora.com.
---
9

E.l.f. Party Nail Cube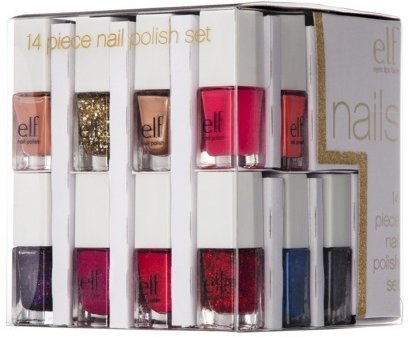 If CIATÉ's Tree Trinkets are a little too rich for your blood, you can still get some pretty snazzy nail colors in e.l.f.'s Party Nail Cube for much, much less! Get your tips and toes party-ready in a flash with this 14-piece set that contains lots of great winter and holiday colors. You can wear different nails every day for 2 weeks or go crazy creating some cool nail art for your friends and family. Grab them up for a mere $10 at target.com.
It's still early so I'm expecting many more incredible holiday beauty collections coming up in the coming weeks. I can't wait to see what other goodies beauty brands come up with! Do you plan on buying any holiday makeup sets?
---
Popular
Related
Recent