While looking through the vintage makeup ads, I couldn't help but smile at some of the looks that were considered flattering. Blue all-over eyeshadow, and pink frosted lips, make me cringe, while bright red rouge slapped on cheeks without any attempt at blending is downright scary. What I find very interesting is how all of the makeup and the tools that were used, have evolved into something as fabulous as what we have available today. These vintage makeup ads make me glad it's 2014!
---
1

Magic Mascara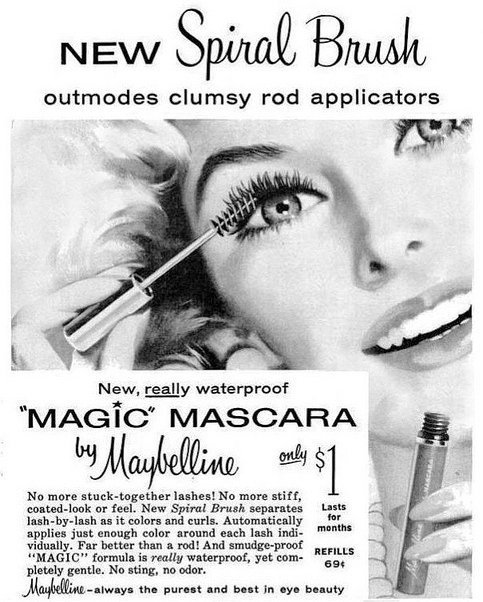 I found this treasure among hundreds of vintage makeup ads. Revlon was actually the first company to use a spiral brush in their mascara tubes in 1958, followed shortly by Maybelline and everyone else. Prior to that, mascara in a tube came with a round rod with no spooley at the tip.
---
2

Don't It Make My Brown Eyes Blue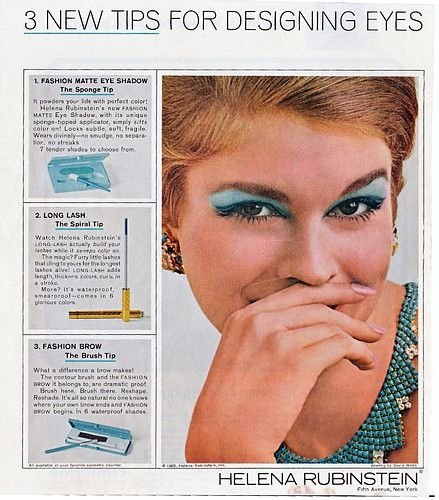 It's hard to imagine women once wore blue eyeshadow in this way. As if that wasn't bad enough, the model has brown eyes, and sky blue would never be the right choice for her. Primarily sold in Europe today, and owned by L'Oreal, Helena Rubenstein cosmetics once shared the top spot in the U.S., along with her bitter rival, Elizabeth Arden.
---
3

Slick Little Flicks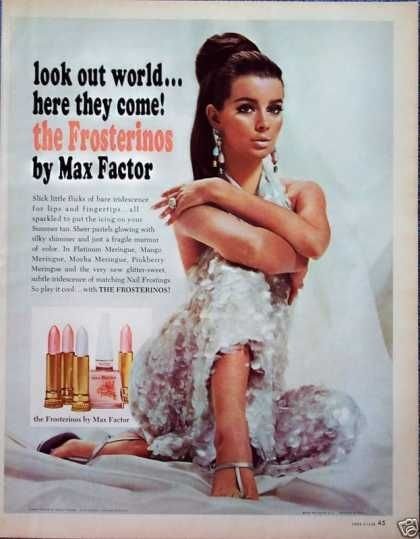 The Year: 1966. The Place: Your lips and fingertips. The Crime: Iridescence. The Result: Millions of women found guilty of painting their mouth and fingers with the Frosterinos, by Max Factor. If you look for it, you can find 2014's version of frosted cosmetics, referred to as 'pearlized,' and quite a bit more subtle than their 60's counterpart.
---
4

Patent Leather Eyeliner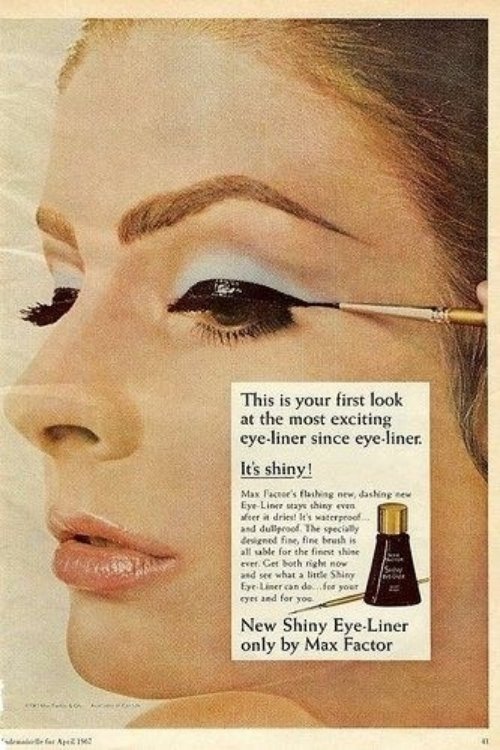 In 1967, Max Factor came out with Shiny Eye-Liner and it came with its very own fine, fine sable brush. When you were ready to remove it, it would peel off. Sometimes in one whole strip, others in little pieces. If you over-applied, the eyeliner would feel tight and have a tendency to crack.
---
5

The Birth of the Palette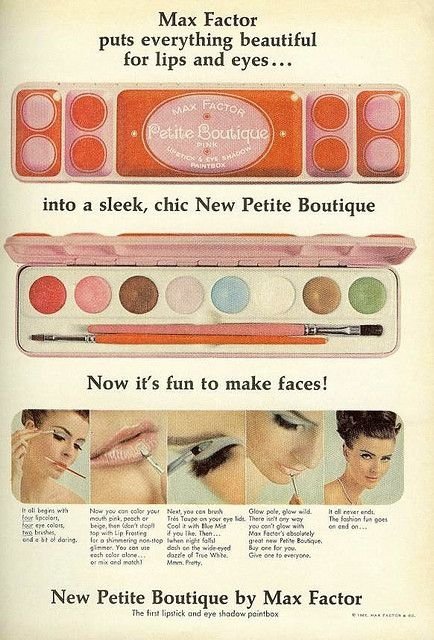 Max Factor revealed the 'Petite Boutique,' a lipstick and eye shadow paintbox, in 1965. This might well be the first makeup palette sold. It contained four shades of eyeshadow, four shades of lipstick and two brushes. The precursor to the wonderful Urban Decay 'Naked' palettes!
---
6

How to Apply Makeup like a Clown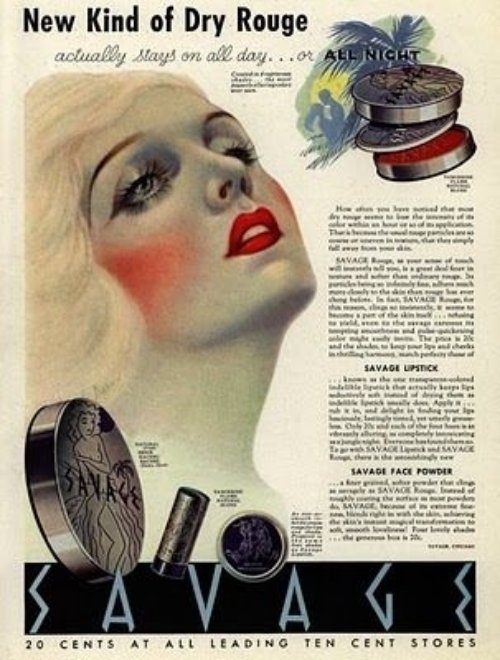 I think they got it right with the company name: "Savage." So, here's a new kind of dry rouge that stays on all day (I don't doubt it), or ALL NIGHT, emphasis, theirs, to imply you're doing all sorts of nasty things, but don't worry, your rouge won't budge. Interesting smoky eye makeup. Circa 1930.
7

The Whites of Their Eyes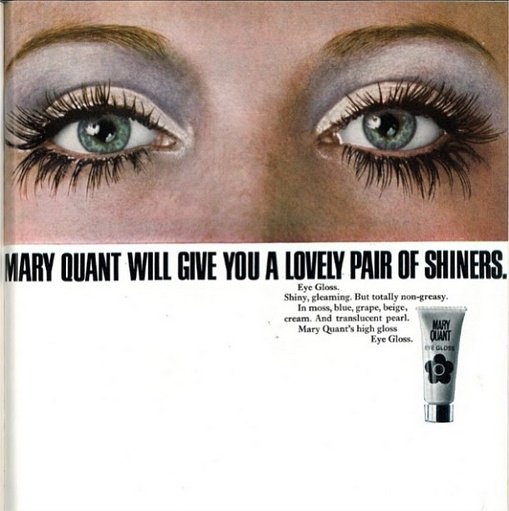 Mary Quant was all that and a bag of chips in the late 60s, but this eyeshadow, called eye gloss, looks like you painted your lids with Bic's Wite Out. It looks like the translucent pearl went on the lid, and perhaps grape everywhere else. Wear this look with top and bottom lashes, as shown!
---
8

Collect Them All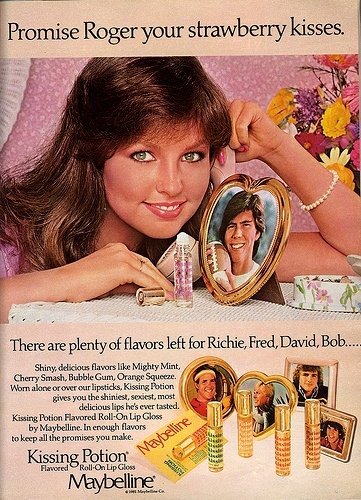 You have to love this oily roll-on lip gloss by Maybelline. The 70s version featured a real glass bottle, while today's version comes in plastic and tends to leak. If you're dying to try one of these fruity flavors, you can find the reformulated stuff online, but don't expect a thank you from Richie, Fred, David or Bob.
---
9

Voila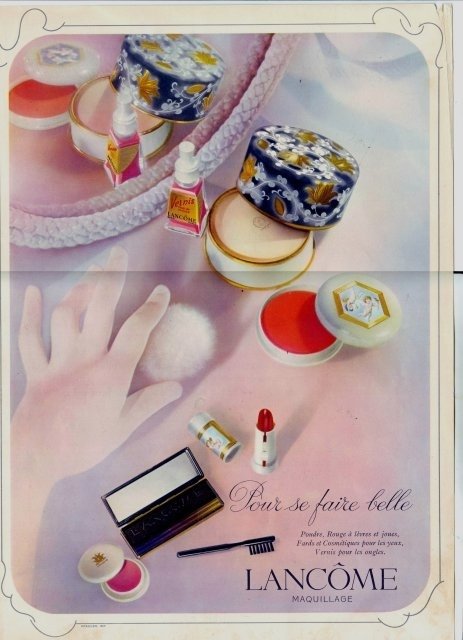 This is a lovely 1940 French ad from Lancôme. My two concerns are the model's hand looks almost childlike and rather strangely placed. I recently broke my little finger and it kind of drifted off to the side like this one does. The rouge is downright scary. Other than that, I think it's a very pretty piece of vintage cosmetic advertising.
I love looking at vintage advertising for most any product, and makeup is especially fun. I still marvel at the blue eyeshadow and the frosted lip we once embraced. What did you think when you saw these vintage ads?
---
Comments
Popular
Related
Recent