When you reach in your handbag for your compact, do you pull out the manufacturer's one the makeup came in or do you carry something more personal - maybe even a vintage compact? I rarely wear makeup but I have a vintage compact inherited from my great grandmother that I'm really proud of. In the interest of just brining you something pretty to look at (and maybe get you wishing all modern compacts were just as gorgeous) here are some beautiful vintage compacts.
Table of contents:
1

Green Art Deco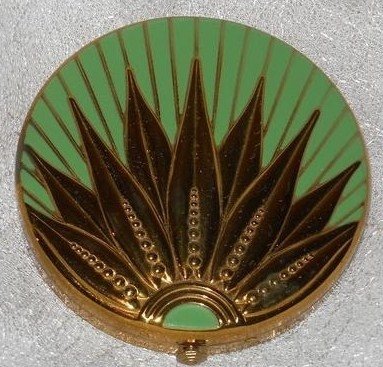 Via Let Me Powder My Nose
When it comes to vintage compacts, Art Deco was definitely the golden age. Art Deco was a style of the 1920s-1940s characterized by bold colors and geometric lines.
2

Art Deco Red Breakers
Via Red breakers
Unmistakably Art Deco.
3

Art Deco Guilloche Enamel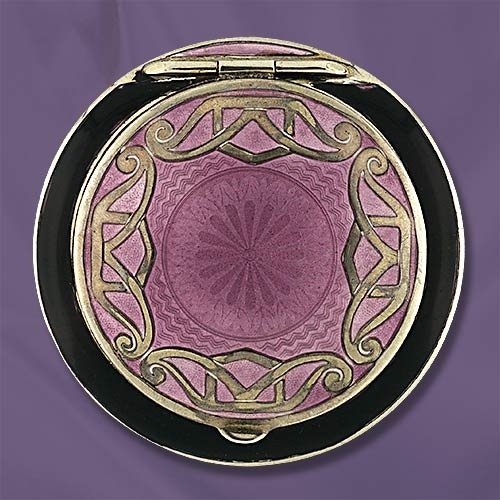 Via Early Art Deco Ladies Guilloche ...
Enamel was the most popular material used to decorate compacts in the Art Deco period. Guilloche refers to a specific engine-turned process which engraves the enamel into intricate patterns.
4

Art Nouveau Flower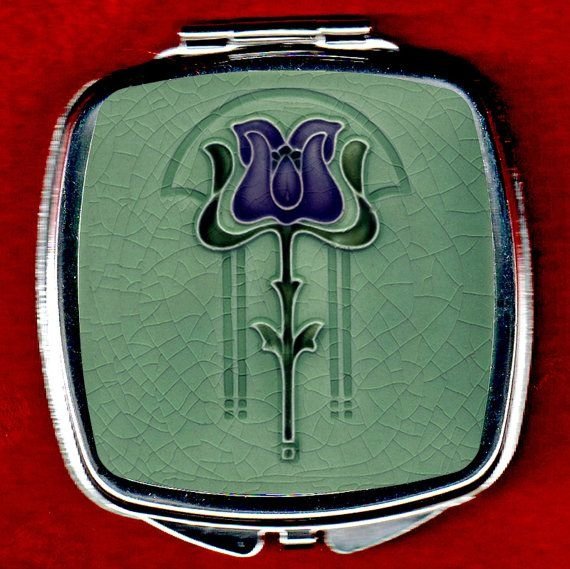 Via Compact Mirror - Art Nouveau ...
Art Nouveau was the artistic style that preceded Art Deco (1890-1920) and its main characteristic was the use of stylized organic forms.
5

Guilloche Enamel "Tango Compact"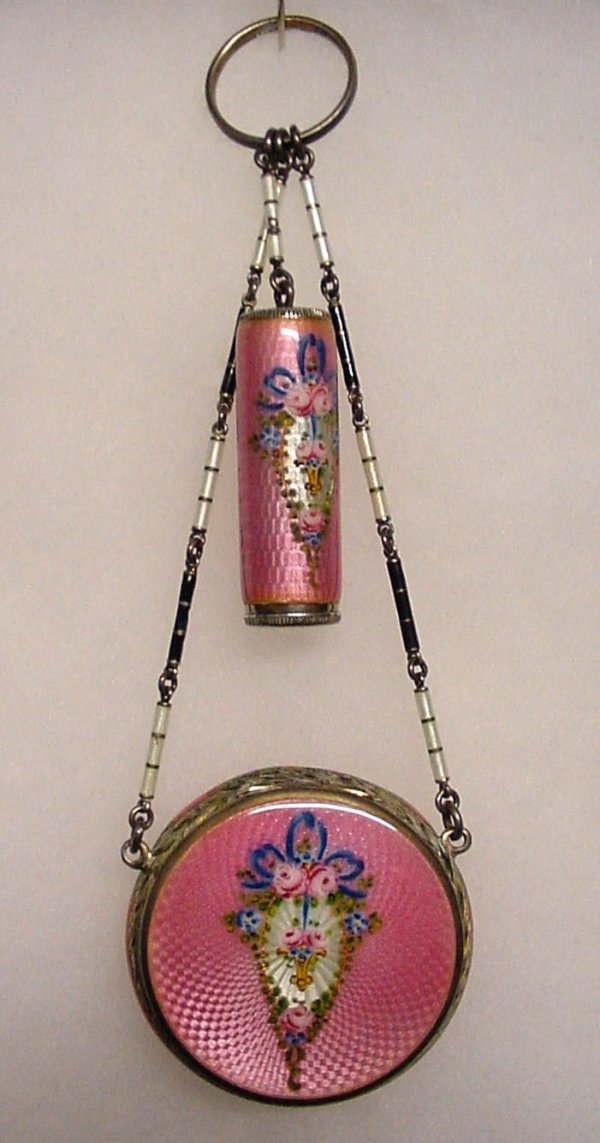 Via The Romance & Art of ...
This style of compact was "carried" by wearing the ring on the finger.
6

Art Nouveau Birds
Via Special Listing for Karen - ...
The Design is "The Swans" by Walter Crane.
7

Compact with Clock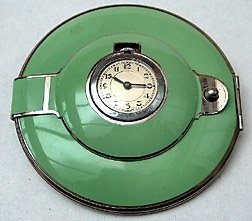 Via Fashion
An interesting combination of form and function.
8

Victorian Compact Mirror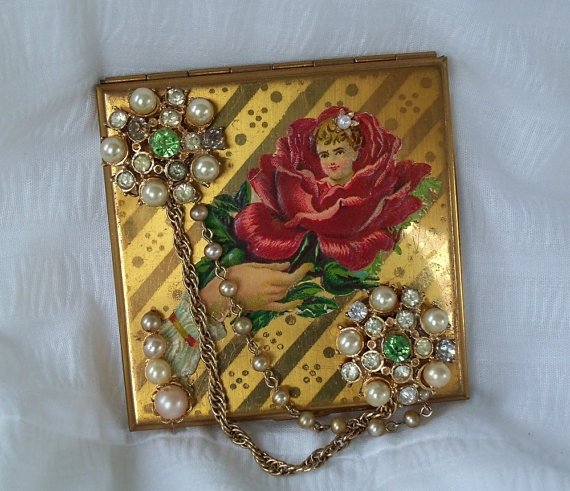 Via Unavailable Listing on Etsy
Victorian ladies would have carrying cases that might combine a few functions. This one was a mirror and a calling card case.
9

Vintage Limoges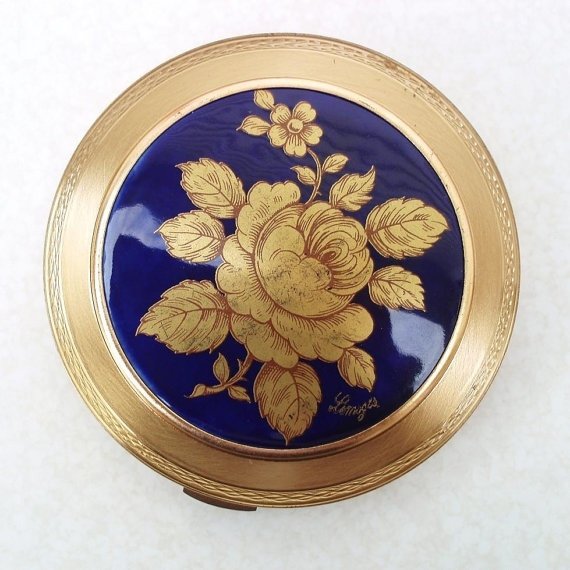 Via Vintage Limoges Vintage Powder Compacts ...
All sorts of fine arts manufacturers made compacts. The town of Limoges in France has been making enamels since the 12th century and fine porcelain since the 19th century.
10

Deco Red Enameled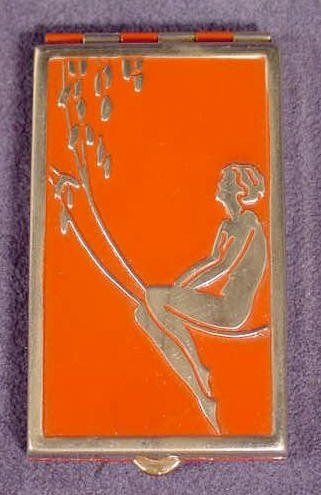 Via 1061: Deco Red Enameled Compact ...
"Risqué" ladies became quite a feature of the Art Deco period.
11

Phone Compact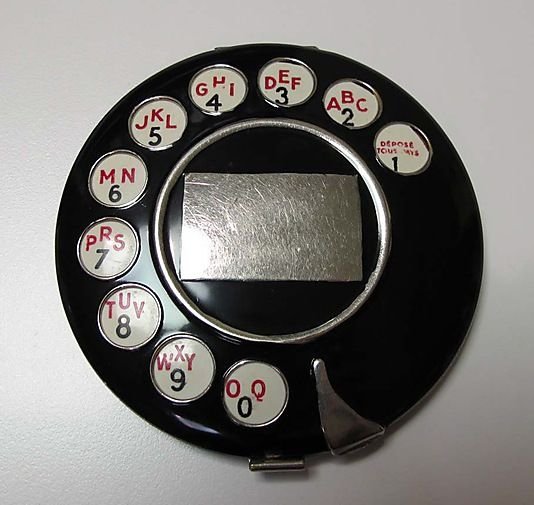 Via House of Schiaparelli | Compact ...
Vintage compacts were fun as well as beautiful. This is from the House of Schiaparelli and was made in 1935.
12

Silver Tone Powder Compact Purse with Chain and Finger Ring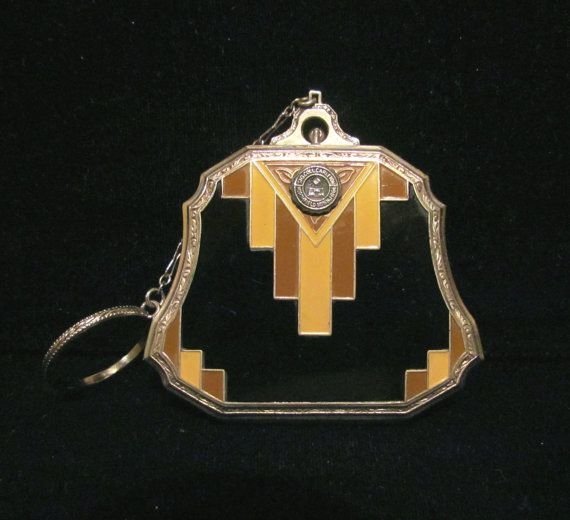 Via Vintage Art Deco Compact Purse ...
This is dated to the early 1900s but is undeniably the Art Deco style.
13

Malachite Compact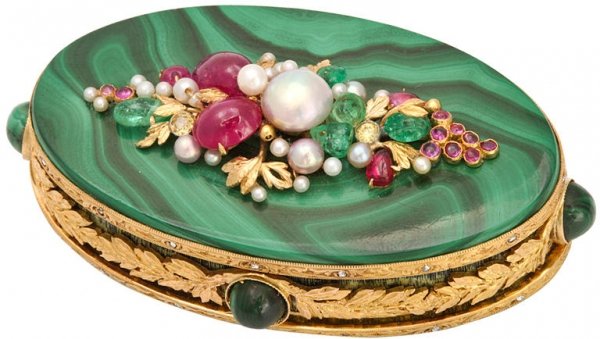 Via Ornate Malachite Box | 1stdibs.com
This vintage compact of 18k gold, malachite and precious stones from the late 1800s would set you back about $12,000.
14

Guilloche Enamel & Marcasite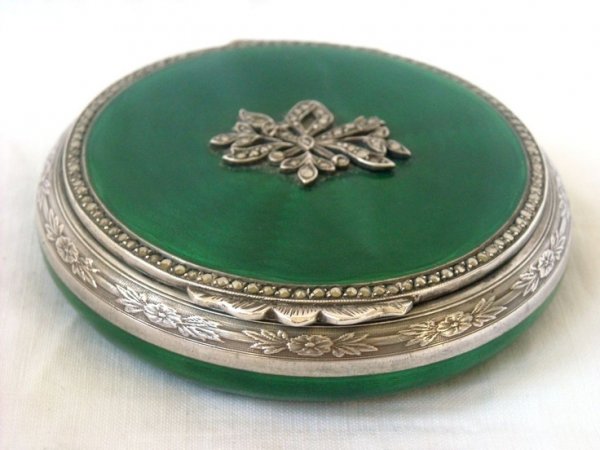 Via rubylane.com
Beautiful silver chasing and marcasite complements the jade green.
15

1950s Metal Compact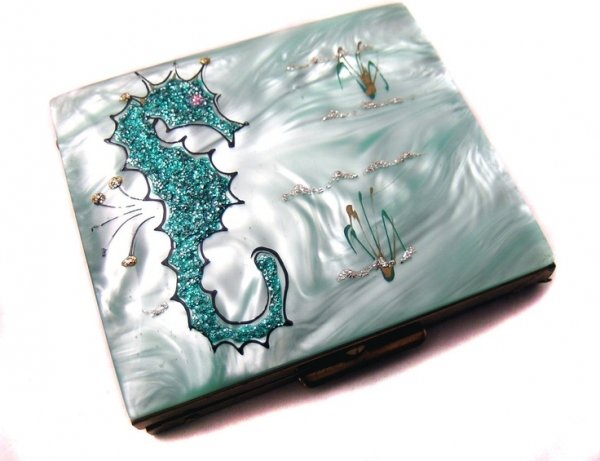 Via Green Lucite Compact with Sea ...
This is stunning. The glittery seahorse is set into a Lucite surface.
16

Kewpie Flapper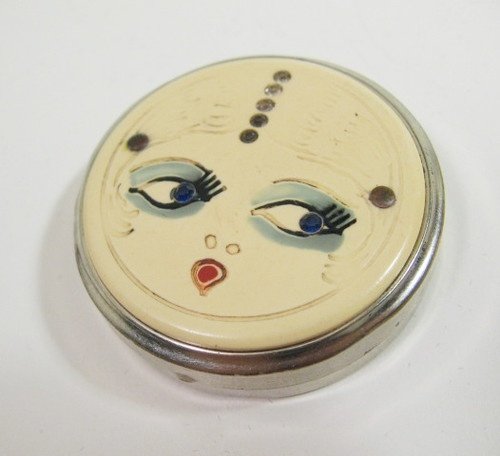 Via *Vintage Silver Art Deco Compact ...
I love how the rhinestones are set into the hat, although the illustration of the hat itself is sadly faded now.
17

French Enamel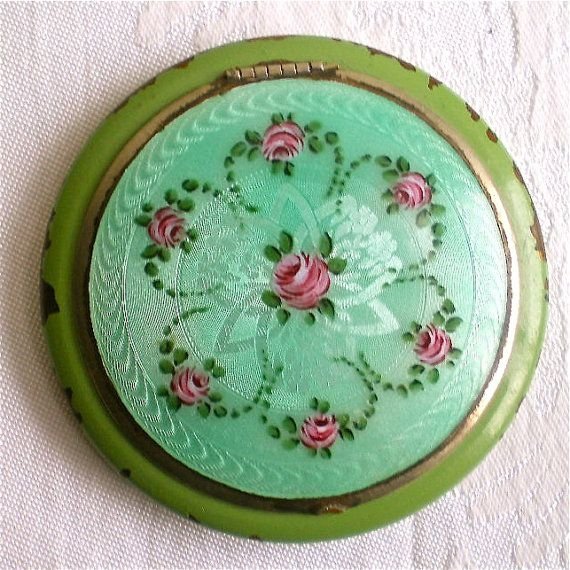 Via Unavailable Listing on Etsy
Flowers are a popular decoration on vintage compacts.
18

Gold Art Deco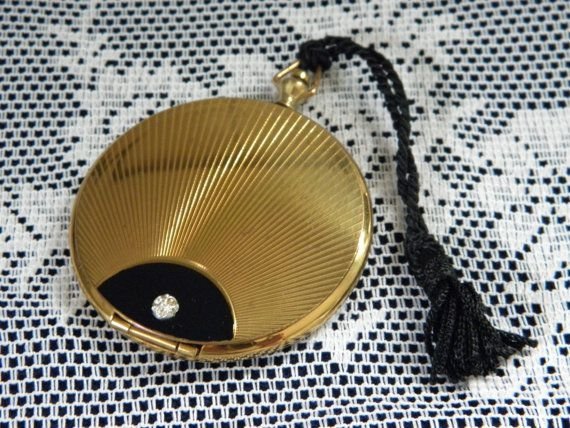 Via Vintage Compact Mirror Powder, Art ...
The gold and black is so classy.
19

Compact Mirror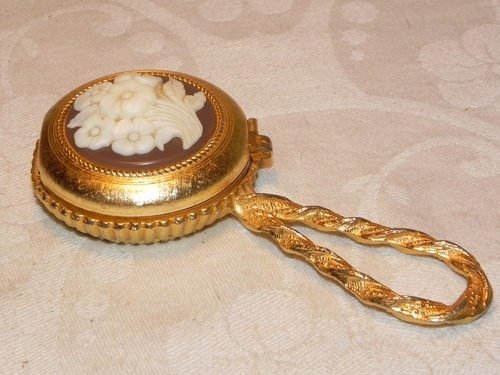 Via pinterest.com
Combining two functions in one.
20

Enameled Silver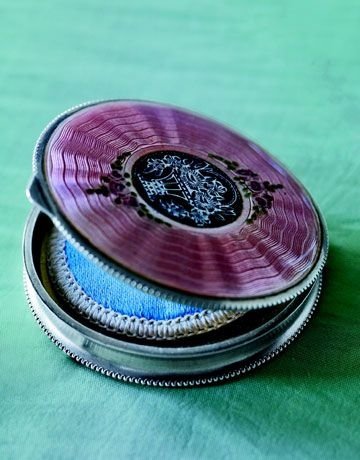 Via Enameled Silver
This little darling dates to 1905 and was made in Austria.
21

Floral Rose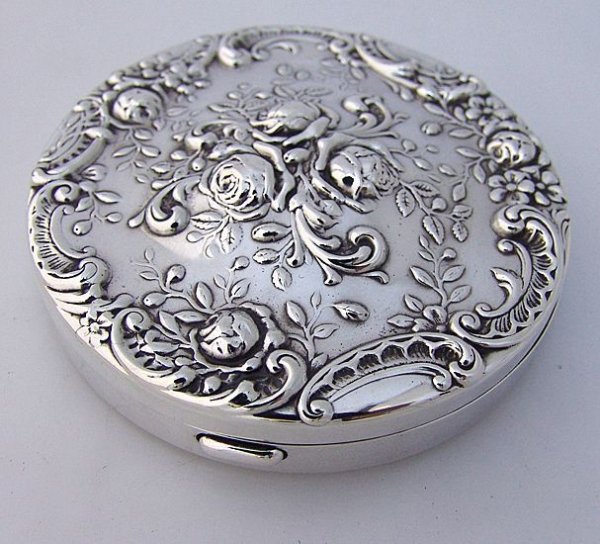 Via rubylane.com
Made in 1950 from sterling silver.
22

BAKELITE ROSES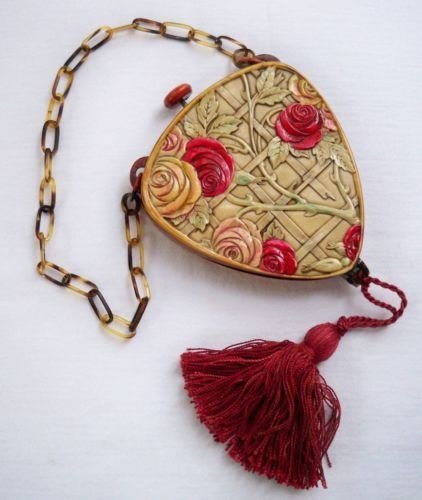 Via Electronics, Cars, Fashion, Collectibles, Coupons ...
Bakelite was an extremely strong form of plastic very popular between the 1920s and 1950s.
23

Chatelaine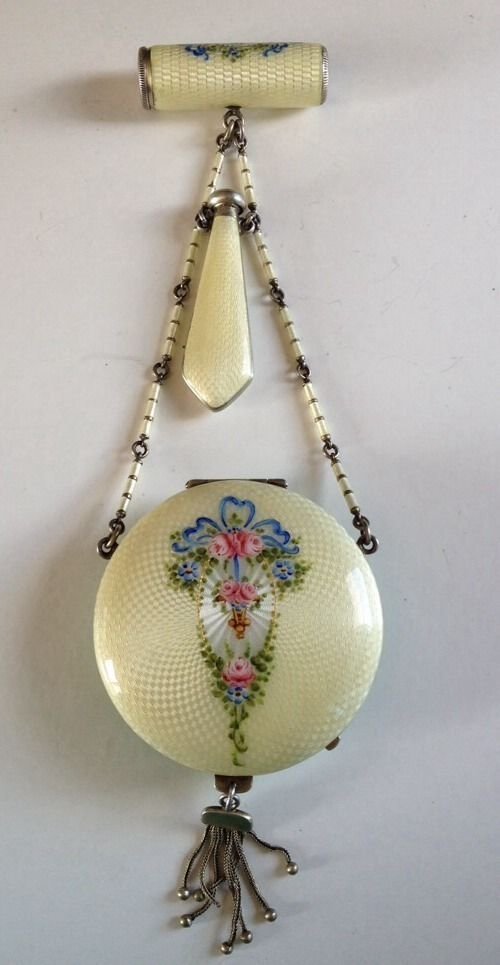 Via Antique Sterling Silver Guilloche Enamel ...
A chatelaine is a collection of feminine tools usually hung from a belt. It generally held sewing items but this one has a compact too.
24

1960's Compact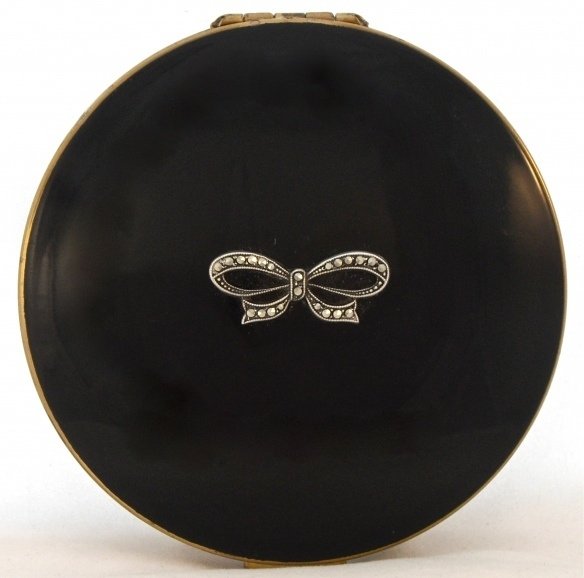 Via Restoration: Can you repair my ...
So simple but so beautiful too.
25

Continental SOLID SILVER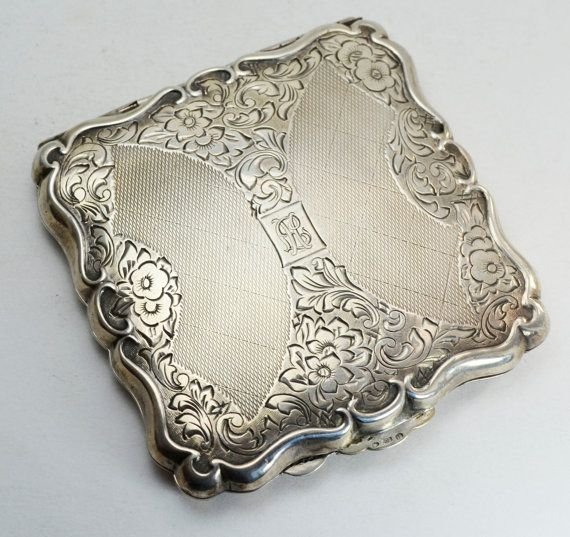 Via Items similar to HEAVY Continental ...
If silver is your thing, you'll love this.
26

Deco Roses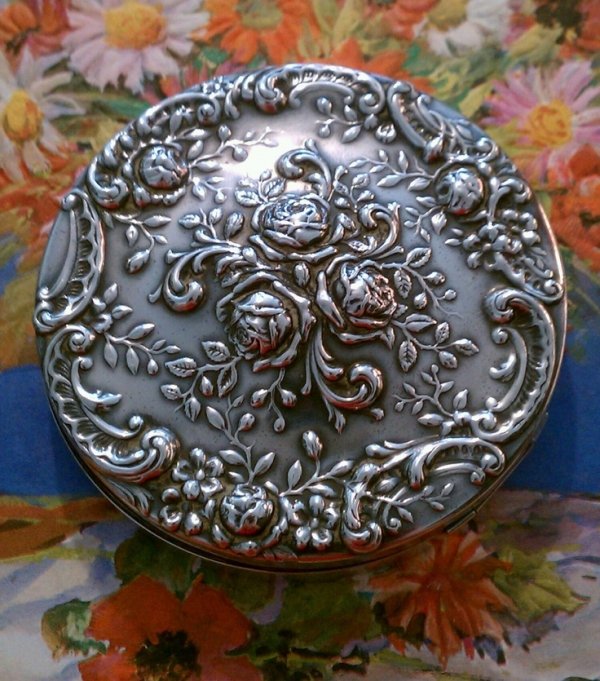 Via Vintage Compact Gorham Deco Roses ...
Got $300.00 to spend on a compact? Well it is silver. And it is from the 1930s.
27

Bird in Hand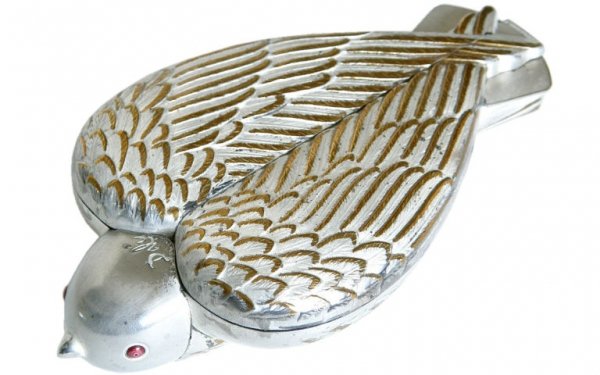 Via Salvador Dali 'Bird in Hand' ...
This is a Salvador Dali design from the 1950s and would cost you $2,800. It's made from gold plate and silver.
28

Celluloid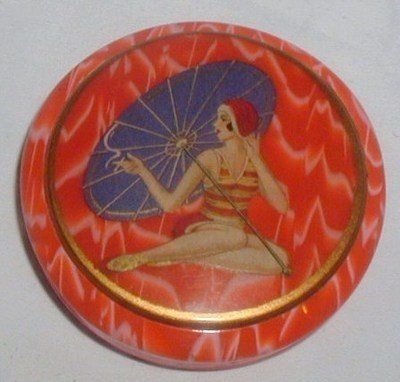 Via le-boudoir-online.com
From back in the days when it was fashionable to smoke and it was okay for pictures to show it.
29

Heart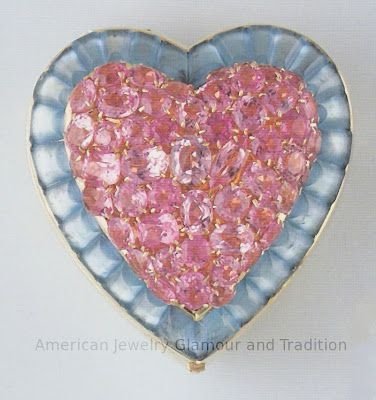 Via diamondsandrhubarb.blogspot.com
This bears the signature of Fulco di Verdura and was made in 1948. It's made in gold and is set with tourmalines and aquamarines.
30

Art Deco PINK & Black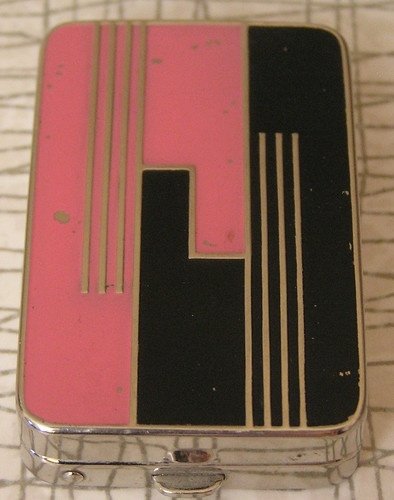 Via VINTAGE Du Barry RICHARD HUDNUT ...
I like the elongated nature of this as you get to see more of your face.
31

Stratton Airliner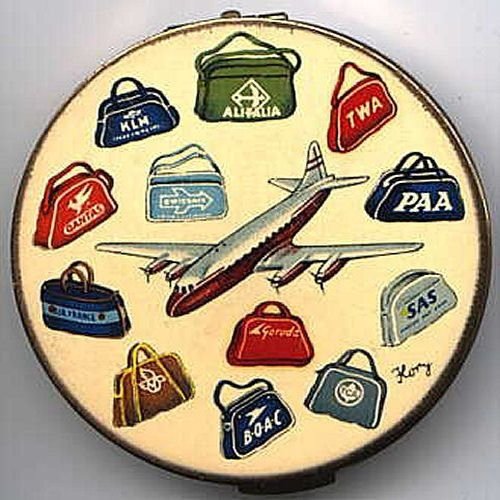 Via Stratton Airliner Compact
Stratton has been one of the most prominent makers of compacts in the UK since 1923. The one pictured is from the 1950s.
32

Cornflower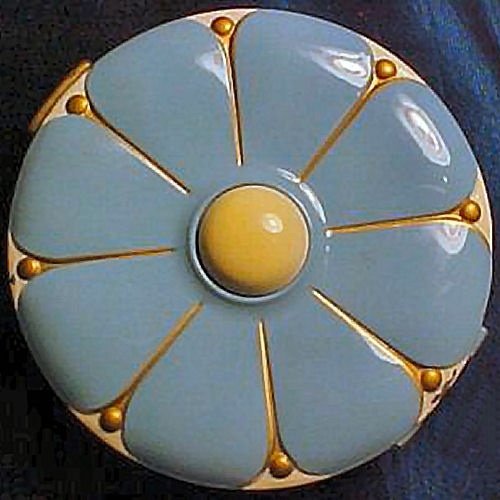 Via Evans Cornflower Compact
Made by Evans in the 1930s
33

Gold Stars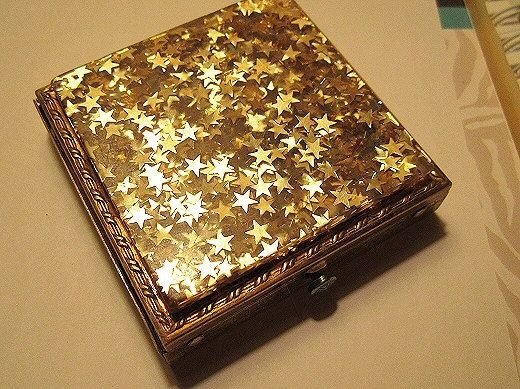 Via Vintage Gold Stars Stars Confetti ...
A multitude of gold stars will make you feel like a star.
34

Cameo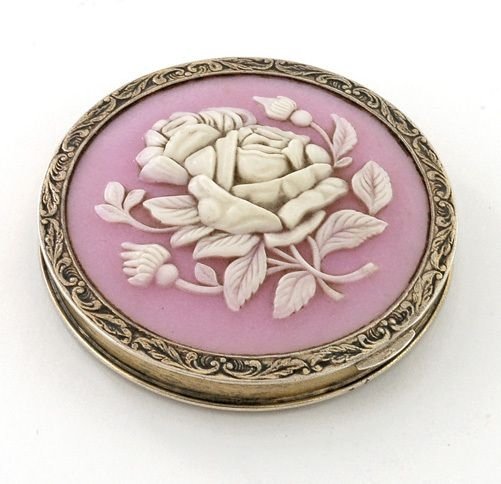 Via Cameo Compact Russian Hallmarked C ...
Made in Russia between 1935 and 1945
35

Atkinson's Compact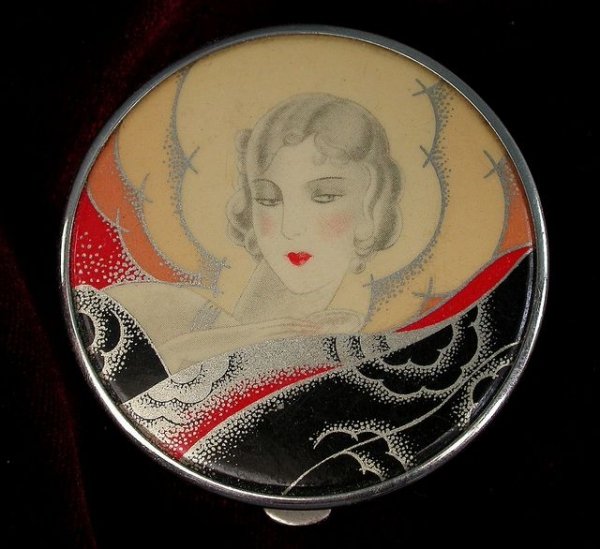 Via Atkinson's
Atkinson was an American company. This compact is tiny and measures 1-1/2 X ¾ Inches.
36

Brown Compact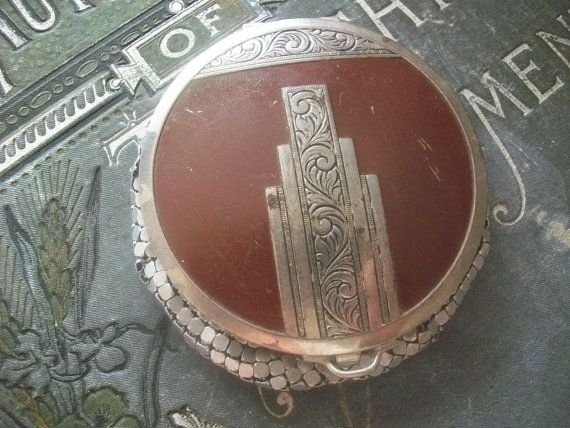 Via Vintage Compact Evans Compact Silver ...
I don't know which hard stone it is but it works really well with the silver.
37

Pink Lucite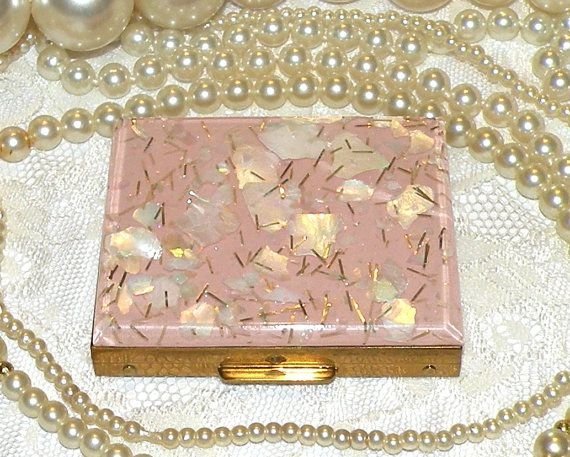 Via Vintage Powder Compact Mirror Case ...
Am seriously in love with the confetti pattern in the Lucite surface.
38

Yellow Pansies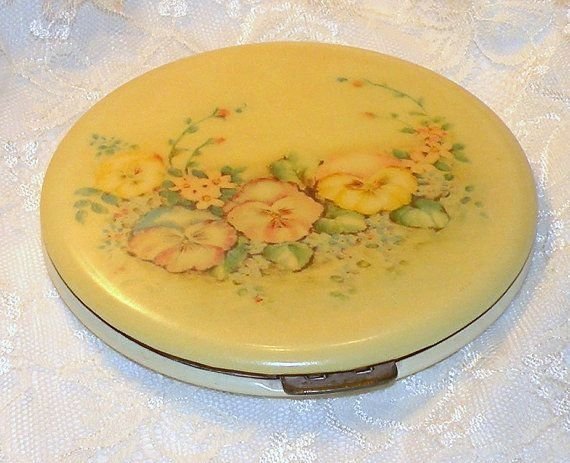 Via SALE Vintage Compact Yellow Pansies ...
Delicate and pretty.
39

Chinese Vase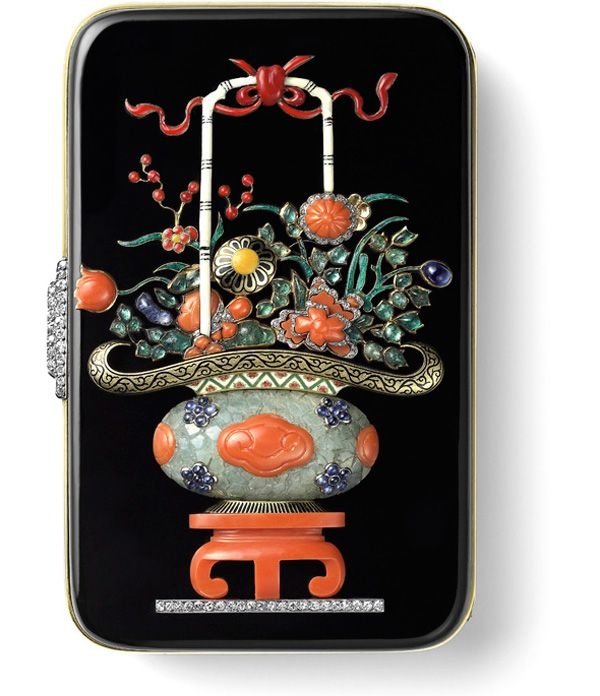 Via Art Deco Series Day 3 ...
Made in 1927 from gold and platinum and set with emeralds, sapphires, onyx and coral.
40

Black Enamel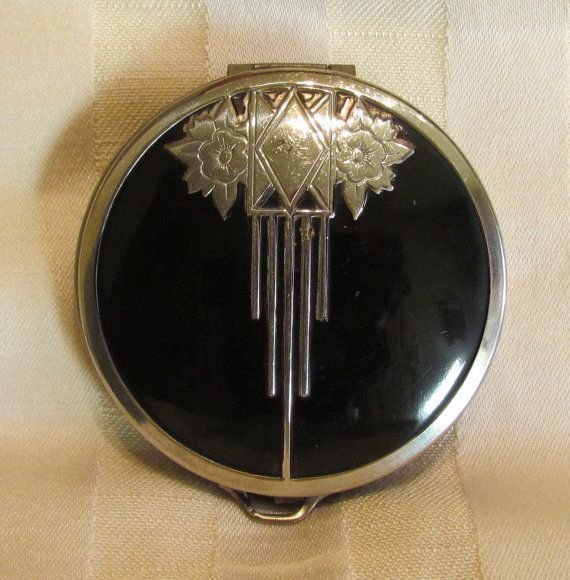 Via 1930s Art Deco Powder Compact ...
Another stunning black and silver deco combination.
41

Victorian Hand Fan and Powder Compact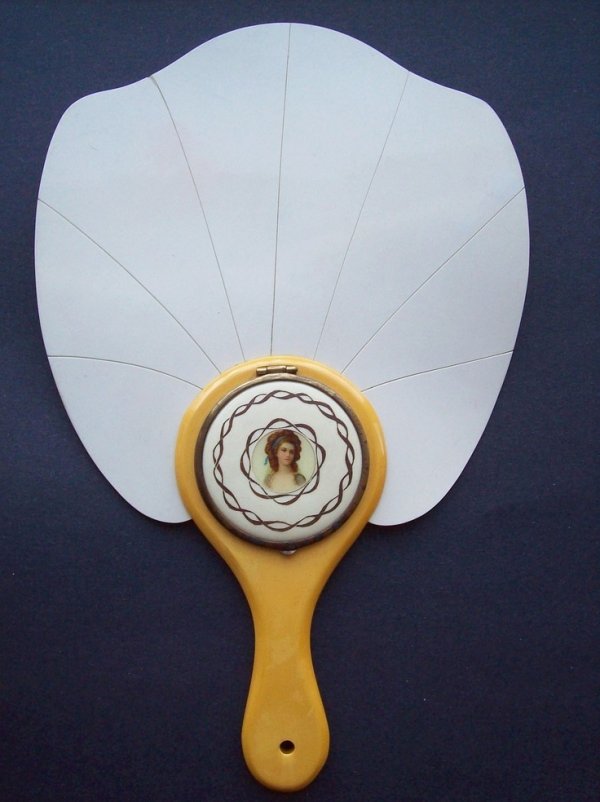 Via Vintage Powder Compacts
If that compact held powder, I'd be worried about it opening and the powder flying everywhere as I wafted my fan about.
42

Red Jeweled Heart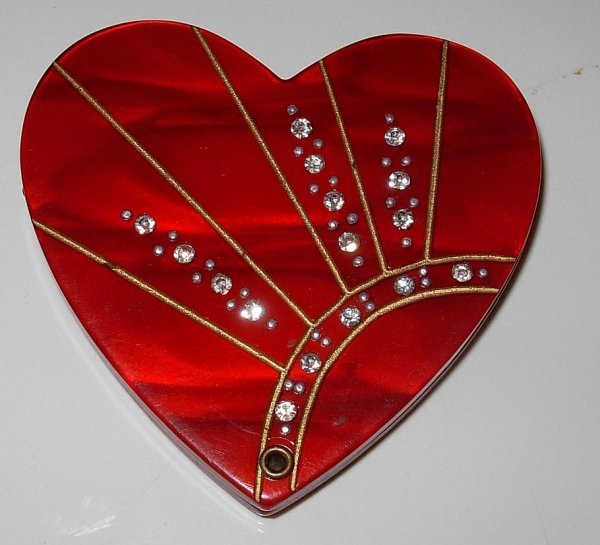 Via rubylane.com
Wouldn't you feel special putting on your red lippy looking in this red celluloid compact?
What do you think of modern plastic compacts now you've seen the variety of stunning vintage compacts?
Please rate this article