Although it's been a few years since the last Harry Potter film came out, did Harry Potter fever ever really go away? Based on the arrival of these new magical Harry Potter-inspired beauty products, the answer is an astounding no. Harry Potter Regardless of what Hogwarts house you belong to, you're bound to find a product or two that you'll love! Let's get scrolling, Potterheads!
---
1

Wizard Wands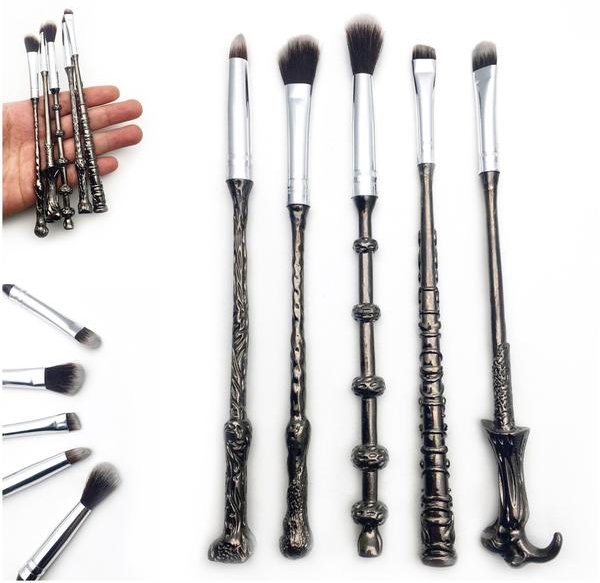 Storybook Cosmetics has made our muggle dreams come true with their Wizard Wand makeup brushes. There's a collection of five eyeshadow brushes that come in a velvet pouch that's perfect for applying some of the other exciting Potter products you'll see below. This brush set is on pre-order currently and they're already sold out! Be sure you follow @storybookcosmetics Insta to keep up with updates!
Available at storybookcosmetics.com for $55
---
2

Harry Potter House Palettes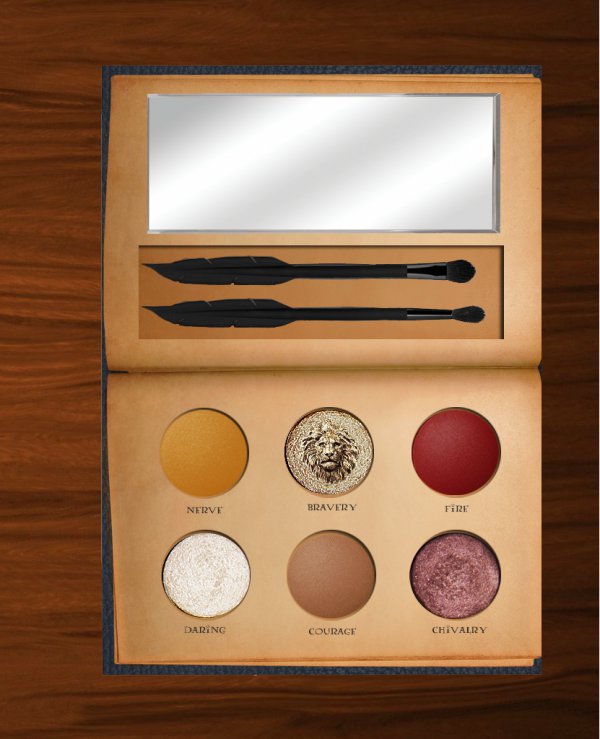 Before you get too excited, be warned that these are just mockups by Reddit user Spellsandstars made and are unfortunately not real. She designed a palette for each house which would feature based on themes and house traits. Notice the two makeup brushes with quill-shaped ends! Everyone is really hyped about these designs so let's keep our fingers crossed that these palettes become a reality!
See all the palettes here: reddit.com
3

Ravenclaw House Eyeshadow Palette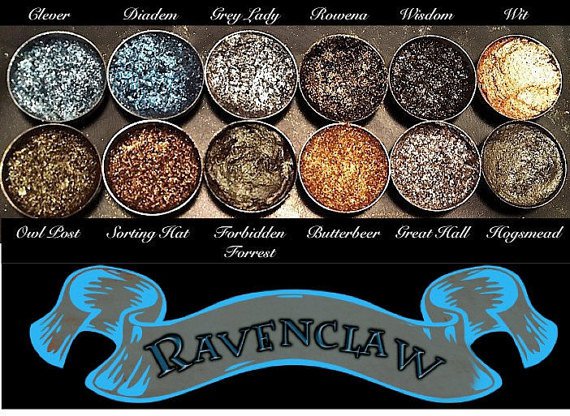 Since Spellsnstars' palettes aren't real yet, let's take a look at some palettes you can buy! Etsy seller AWhimsicalWillow has 3 HP palettes on pre-order and the shadows are SO shimmery and they're vegan. Get 12 made-to-order, Potter-inspired eyeshadows that are super pigmented so you can add some magic to your beauty routine.
Available at etsy.com for $40
---
4

Butterbeer Lip Balm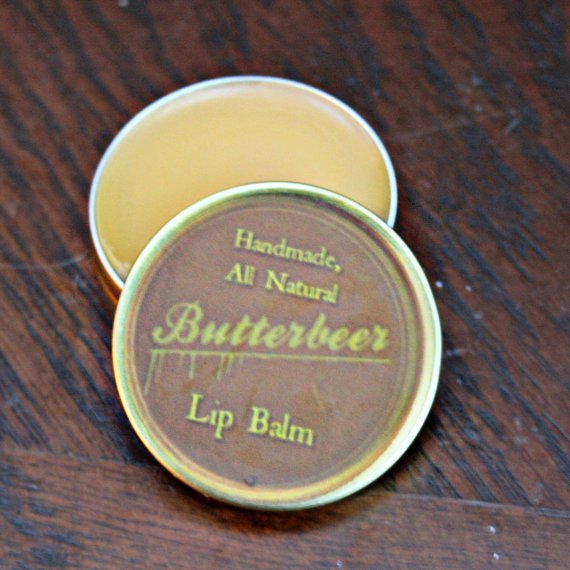 We all need lip balm so why not get one that smells like butterbeer? On top of that, it's shimmery, vegan, and made with natural ingredients so you can feel good about using it. Fight the ravages of fall and winter on your lips and moisturize with them a sweet butterbeer lip balm inspired by your favorite film of all time.
Available at etsy.com for $5.02
---
5

Harry Potter Highlight and Contour Palette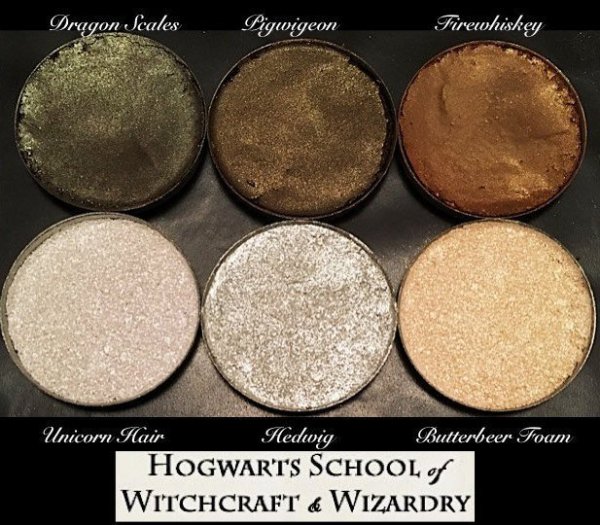 AWhimsicalWillow pretty much thought of everything and created an HP highlight and contour palette to go with the eyeshadow palettes! This palette comes with 3 highlighters and 3 contour shades. All of the shades are shimmery so if you're used to a matte contour, you might want to just use one or the other if you plan to use this palette along with the eyeshadows.
Available at etsy.com for $40
---
6

Harry Potter Nail Decals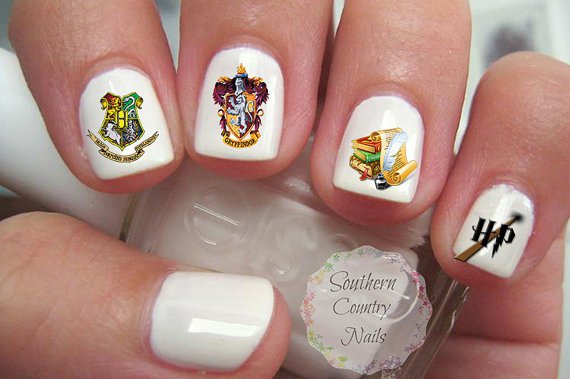 Don't let your face have all the fun, get your nail in on the HP love, too. Etsy vendor Southern Country Nails has Harry Potter waterslide nail decals with house logos and the movie logo. Great for gals like me who aren't that good at nail art but still want their nails to make a statement. They also make the perfect finishing touch to your pastel or white mani!
Available at etsy.com for $2.25
---
7

Harry Potter Glitter Top Coat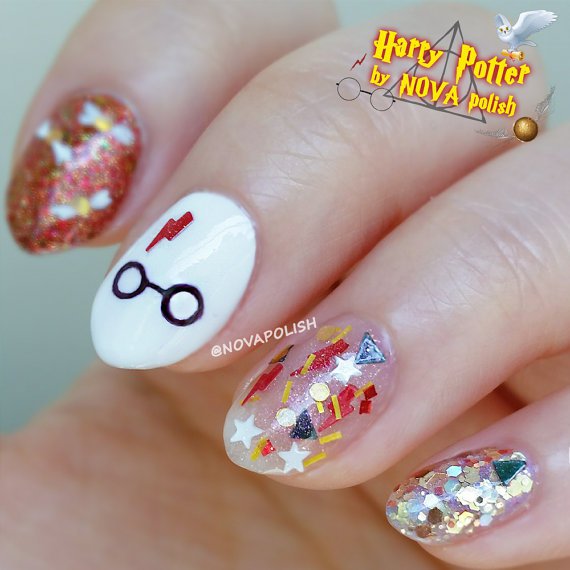 If you're not into nail decals, this Potter-inspired glitter top coat should do the trick! This nail polish has Harry's thunderbolt scar to a golden snitch. Wear it as a top coat over solid colored nails or on its own for a fun, shimmery look.
Available at etsy.com for $9.50
What do you think of these Harry Potter beauty products? Will you be purchasing any of them? I'm personally hoping someone makes those House palettes designed by Spellsnstars. If you could create your dream HP beauty product, what would it be?
More
---
Popular
Recent