A fantastic liquid eyeliner is a real makeup bag staple. While it takes a little practice to get the application just right, once you've managed to perfect the technique, that sultry cat's eye look is never not a winner. Invariably, however, some products are a little better than others; some smudge, no matter how long you've allowed them to dry, some only go on in thick, aggressive lines, and some are just plain unwieldy to use. In order to help you to pick out the best one for you, I've compiles this handy list of 7 liquid eyeliners; enjoy!
1

The Body Shop Liquid Eyeliner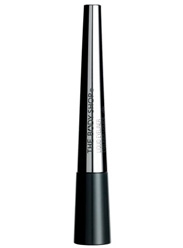 Price: $ 13.50 at thebodyshop-usa.com
This handy liner made by The Body Shop is a fab little product. Its felt tip applicator makes outlining your eyes very easy, and, as long as your eyelids are clean, you'll find it'll hold in place until you decide to wipe it off. It's available in several natural shades, although you'll find it most commonly in softer browns and taupes; these are a little less dramatic that the conventional black and make for easy day time wear.
2

Kat Von D Autograph Eyeliner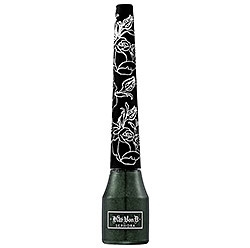 Price: $16 at sephora.com
This gorgeous, shimmering liner has been designed exclusively for Sephora by the daring Kat Von D. It come a several metallic shades – from plum to emerald green – and the wand is especially styled to support an especially accurate application. The dramatic colouring and the shine-factor make this a product suited particular to nightime wear, although you could no doubt tone down your look by sticking to thin lines and keeping the wand extra-close to your lashes.
3

Ligne Blackstar Liquid Liner by Terry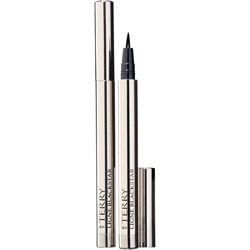 Price: $43 at barneys.com
This classic liquid liner comes with an inspired 'fountain pen' style wand to allow for an extremely accurate and also very subtle application. You'll find you can make your lines just as thin as you'd like. For a look that's little more 'sex kitten' simply go for another coat. This liner is elegant, versatile and great for creating a polished look in a rush. You'll find it at Barney's in both black and enigmatic blue.
4

Guerlain Liquid Eyeliner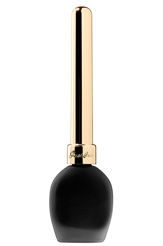 Price: $35 at shop.nordstrom.com
This beautifully styled liquid liner comes to us from the geniuses at Guerlain and it's hailed as one of the best products around. It's available in dark gold, black and a chocolatey brown, and you'll find it glides on like an absolute dream. The ergonomic applicator wand allows you easily and deftly to vary the contour of the line you create, and to take your makeup from natural and subtle to va-va-voom in just a trouble-free strokes.
5

Too Faced Starry-Eyed Liquid Eyeliner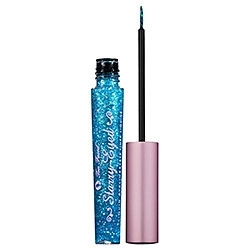 Price: $17.50 at sephora.com
This fun liner from Too Faced is packed with micro glitter (for comfort and durability) and it come in a whole range of great colours. In addition to all the sparkles, you might be surprised to learn that it's full of nourishing active ingredients too: carrot and cucumber make for a comfortable feel and prevent cracking and flaking, and a built-in conditioner keeps your lashes in great shape.
6

Giorgio Armani Liquid Eyeliner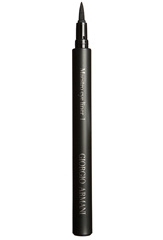 Price: $31 at shop.nordstrom.com
This elegant, classic liner is available in black only and dries quickly into a fabulous matte finish. Its water-based formulation is easy on your lashes and eyelids, and the applicator pen makes defining you peepers and absolute breeze. The felt tip is easy to guide and its tapered tip allows equally fro thick and thin contour lines.
7

Trish McEvoy Lash Enhancing Eyeliner

Price: $95 at shop.nordstrom.com
This luxury product comes to us from the high-end makeup wizards at Trish McEvoy and it promises to give the impression of thicker, fuller lashes while at the same time dramatically redefining the contour of the eye. It's enriched with powerful protein complexes to really pump volume into the roots of the lashes, and the slim, pointed applicator makes drawing subtle lines no problem at all.

For most of us, liquid liner is an important make up bag essential; it helps to add a little extra something to the daytime eye, and it can be layered on more thickly to create a sexy night time contour. This list of 7 liquid liners should give you a little guidance if you're looking for a new product. Do you have a favourite you'd like to share.

Top Photo Credit: Courtney