Outrageous false lashes are a great addition when you want to create a dramatic makeup look focusing on your eyes! Wearing outrageous false lashes may take some confidence, because you'll definitely get noticed. Although they cost a little more than traditional falsies, remember that you can always wear them more than once! Simply clean off the old glue, and place them back in their box for safe-keeping until the next time. Keep the rest of your makeup look simple to really show off these amazing false eyelashes.
Table of contents:
1

Illamasqua Orange False Eye Lashes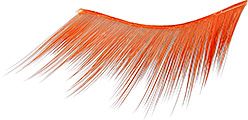 These orange lashes from Illamasqua are totally out there and fun! Orange isn't a color you typically see worn on the eyes, but these outrageous false lashes are a great way to pull off this color. I'm a fan of pairing orange with pink for a stand-out look! Perhaps a swipe of pink eyeliner to set these lashes off! You can find them at Sephora.
2

Make up for Ever Blue Feathers with Red Tips False Eyelashes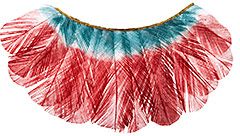 Feathered eyelashes are definitely not something you see everyday, and they absolutely make a dramatic statement. These colorful lashes eliminate the need for colored eyeshadow, while still bringing bright colors to your makeup look. These lashes would be perfect for a party, especially a themed one! You can buy them at Sephora.
3

Paperself London Skyline False Lashes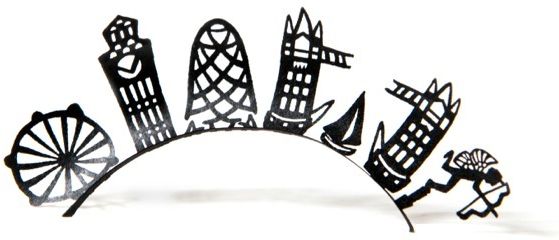 Have you ever wanted to incorporate the London skyline into your makeup look? Okay, maybe that thought has never crossed your mind, but why not try it?! These lashes are made from paper and are totally adorable and unique. If the London skyline isn't your thing, these paper lashes come in a variety of designs, including sea life, roses, and horses. Find them at Paperself.
4

MAC 41 Lash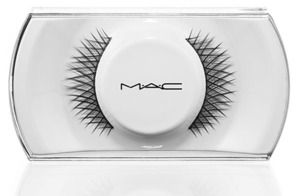 This pair of lashes is a little subtler, but still adds a lot of drama to your look. The crisscross, overlapping lashes give your lashes a very lush and full look with extreme length to really open up your eyes. If you're uneasy about wearing an outrageous pair of lashes, these are the perfect starter set! Wear them with a bright wash of eyeshadow—maybe purple, teal, or pink—and a swipe of black liner for a bright and dramatic makeup look. Get your set at Dillard's.
5

Face Lace Calligothic Eye Lace Doddles

It's always fun to wear lace, and now you can do so on your lashes with this outrageous pair of lashes from Face Lace. Not only does this pair of falsies have a set for your top lash line, it also comes with a set for your bottom lash line—talk about drama! This set of lashes will give you a cat eye effect without liner, but with a lot of lace! Buy them at Beauty Bay.
6

Napoleon Perdis Lotus Faux Lashes

Have you ever tried to wear colored mascara only to have it not show up against your dark eyelashes? Skip the colored mascara and try these blue and green falsies from Napoleon Perdis! They will definitely make your eyes stand out, especially if your eyes are green, blue, or hazel. The bright colors along with the zig-zaggy pattern at the tips will make your eyes the focal point of your face. Get them from Nordstrom.
7

Kre-at Beauty 24 Karat Gold Lashes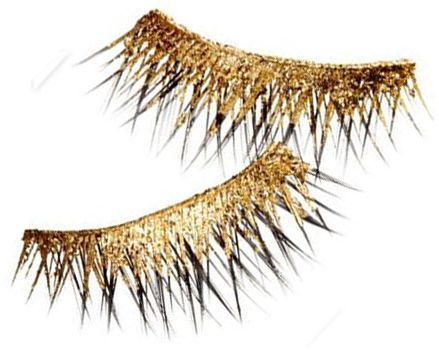 Now these lashes are totally over the top! Described as luxury meets art, this pair of falsies is hand foiled in 24 karat gold—talk about a statement! The question is, would you wear a pricey work of art on your eyes? Since these lashes are laced in 24 karat gold, they cost an outrageous $295! Buy them if you dare from Barneys New York.
Wearing outrageous false lashes is a lot of fun! What's your favorite pair of false lashes? Do you wear them often?
Please rate this article