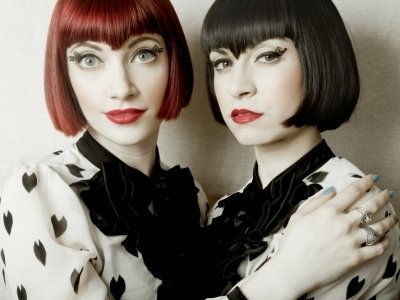 False lashes can be the perfect accessory for a night out, a date, a party, or just for fun. I'm all about wearing falsies whenever the mood strikes and I don't believe you have to opt for basic black lashes either. There are several styles of falsies on the market that are whimsical, colorful, and fabulous! So if you are up for trying something new and fun, check out these false lashes.
1.

Paperself – Polka Dot Pop

One of my favorite pairs of false lashes is Paperself's "Polka Dot Pop" falsies. These lashes are made out of a special, light paper material. Although these lashes are big, they won't weigh down your eyelids. You can wear the whole strip at once, or cut off sections to create your own look. This particular pair is inspired by pop art and the 1960s. These lashes look great with a hot pink lip and graphic liner. You can get these lashes at paperself.com.
2.

Make up for Ever – Eyelashes Strip in 141 Jo

These red feather lashes with a blue tip are my new obsession. I love creating occasions to wear and show off these lashes! These faux feather falsies are exactly what you need for your next photo shoot, themed party, or fun celebration. I like to wear red blush and a nude lip while wearing these lashes. You can pick up these falsies by visiting sephora.com.
3.

Sugarpill Cosmetics – Idol False Lashes

I have seen lashes with rhinestones, but never any quite like this! Idol has different sized crystals down the lashes for a dramatic look. These falsies are made of synthetic hair and are made to be worn multiple times. I love Sugarpill lashes because they go on smoothly, look incredible, and don't break the bank. With these particular lashes, I like wearing a dramatic lip shade, such as dark plumb, and a shimmery bronzer on my cheeks. You can pick up a pair at sugarpillshop.com.
4.

Sephora Collection – on the Fringes Lace Lashes

If you love lace, you will adore these lashes from Sephora. The great thing about these lashes is that they add texture. Although they look bulky, they are surprisingly lightweight and comfortable to wear. These elegant lashes will have you turning heads wherever you go! To really bring out the glamour in these lashes, paint your pout red. Get them at sephora.com.
5.

Shu Uemura – Rainbow Feather False Eyelashes

These rainbow lashes by Shu Uemura are absolutely darling. You can bring your fantasies to life with these colorful fantasy lashes. To really make the colors pop, be sure swipe on black liquid liner before and after applying the lashes. These bold lashes will look good with a soft, pink lip. You can get Rainbow Feather False Eyelashes at shuuemura-usa.com.
6.

Ardell – Color Impact Lash Demi Wispies Plum 53

If you want something a little less dramatic, but still fun and fabulous, consider Ardell's Color Impact line. The particular lashes I'm featuring here are designed to bring out blue, hazel, and green eyes. The purple lashes make your natural eye color look absolutely captivating! Keep your eye shadow neutral so your eyes can really pop! You can get these falsies at ulta.com.
7.

My Diva's Closet – Gold Rush False Lashes

If you want your eyes to dazzle, I recommend My Diva's Closet Gold Rush False Lashes. These long, gold feather lashes will make your eyes shine. I suggest pairing these beauties with blue or purple eye shadow to really bring out the gold color. You can get these fun falsies by going to mydivascloset.com.

These fun falsies are guaranteed to amp up any outfit and turn some heads. I love the creative designs, patterns, and colors these lashes have to offer. Would you ever wear these bold and dramatic lashes or do you think it's too much? Give us your input in the comments.