27 Ways to Make Your Makeup Look the Best It Ever Has ...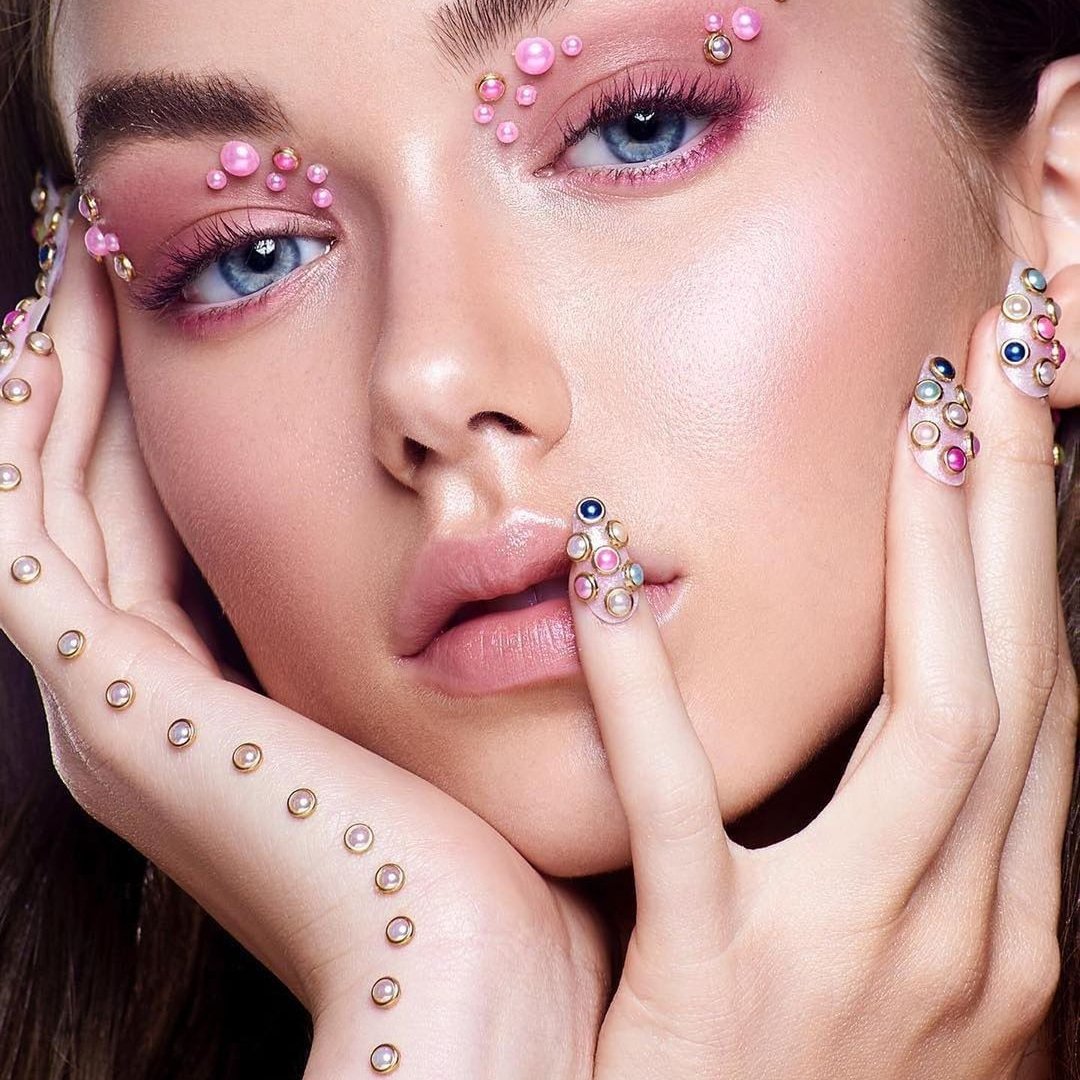 If you're looking for ways to make your makeup look better than ever, you have come to the right place. Thanks to our friends at Buzzfeed.com, we've collected some fabulous tips and tricks you can start using today. We all want to leave the house looking the best we can and adding these ideas to your routine is going to revolutionize the way you put on your cosmetics. Get ready to see heads turn everywhere you go!
1.

Perfect your makeup in a magnifying mirror with LEDs that mimic natural daylight — it pivots 360° and suction cups right to your bathroom mirror
It folds up so you can even take it on vacation!
Get it from Amazon for $19.99.
2.

Map out Where to Put on Concealer, Foundation, and Translucent Powder for the Best Photo-ready Makeup
Learn more about how to make your makeup look amazing in photos here.
4.

Set Your under Eye Concealer and Say Goodbye to Creases with a Baking Technique — Press on a Generous Amount of Setting Powder, Let It "cook" for a Few Minutes, and Brush It off
Check out Karina's full baking tutorial here for all the tips and tricks.
5.

Seamlessly blend all your products from foundation to concealer to eyeshadow with a set of brushes that have tightly-packed fibers for an airbrushed finish
Get a set of 10 brushes from Amazon for $15.99.
Very soft, thick brushes, in sizes from foundation to contour/highlighting and blush to a couple of more precise liners and two tiny round brushes to use for spot concealing and glitter application.
6.

Apply Skin Care and Makeup in the Right Order for a Flawless Finish (and Less Wasted Product) Every Time
For example, apply concealer *after* foundation so you don't waste it on places foundation has already covered!
Get all the details and the reasons behind this order here.
7.

Blend Your Lipliner through the inside of Your Lips to Avoid That Liner-with-no-lipstick Look
It's also a great way to blend your liner and lipstick if the colors aren't an exact match.
8.

Or if you're tired of buying a lip liner for every shade of lipstick you own, try a transparent universal liner to keep your lips on lock
Farewell, feathering!
Get it from Sephora for $20.
9. Brush on Translucent Powder between Layers of Your Favorite Lipstick to Help It Last Alllllll Damn Day

Take a peek at all the info here.
This'll keep your lipstick from feathering, too!
Get a highly-rated angled brush from Amazon for $4.97 and a top-rated concealer stick (available in six shades) from Amazon for $6.59.
Learn more about this trick here.
Ruby Woo, I love you, but you're drying me out.
Get it from Tarte for $15 (on sale from $19).
12.

Use a Tweezer or Eyebrow Pencil to Line up Where Your Brows Should Start, Arch, and End before Filling Them in for Your Best and Most Natural-looking Forehead Caterpillars Ever
Learn more from How To Fill In, Shape, Tweeze, Trim, And Transform Your Eyebrows.
13.

Try this conditioning primer both at night and underneath your makeup to help your eyebrow powder, pencil, or pomade last longer AND to help your brows grow in fuller
Get it from Sephora for $28.
14.

Layer eyelash primer under your mascara for long and clump-free lashes for days (it conditions to keep them healthier, too!)
This makes any mascara better!
Get it from Sephora for $25.50.
15.

If You Get That Mascara Smudge under Your Eye without Fail, Try This Handy Trick to Stop It Once and for All
Check out the full tutorial here.
16.

Combat clumping and make reapplying mascara in the evening less of a mess with a set of eyelash combs
They also work to groom brows!
Get a set of three from Amazon $9.99.
17.

Dot Your Eyeliner, then Connect the Dots to Make Doing a Cat Eye with Liquid Liner so Much Easier
Watch the full tutorial here.
18.

And erase any errant eyeliner or mascara marks with a remover pen for the most precise strokes
You can use this to correct lipstick too.
Get it from E.L.F. for $3.
19.

If Your Eyeliner Isn't Perfectly Pigmented or Turns Splotchy, Fill It in with a Matching Eye Shadow for a Bolder Line
This trick is also perfect for touching up your eyeliner later in the day without risking a liquid eyeliner malfunction.
Get all the info here.
20.

Tightline Your Eyelashes (that is, Use a Pencil or Brush to Line the Spaces between Hairs) to Avoid Having That Annoying Space between Your Liner and Your Lashes
Learn more about this technique here.
21.

Create a Shadowy Cat Eye on Monolids (that Won't Disappear into the Crease); Just Move It up Higher on Your Lid
Check out the full tutorial here.
22.

Catch eyeshadow fallout or guide a perfect eyeliner wing with a pack of adhesive shadow shields; they stick right to your face and remove easily
So simple to use. you'll be perfecting a cat eye in no time.
Get a box of 30 from Amazon for $8.
Get it from Amazon for $5.29. Also available in three other primer colors.
24.

For a Quick and Effortless Eyeshadow Look, Draw a Hashtag in the Outer Corner of Your Eye with an Eyeliner or Shadow Pencil and Blend, Blend, Blend
It'll create a perfect ombre effect.
Learn more here.
25.

Or try an eyeshadow quad with super-pigmented shades and a numbering system that makes doing a smoky eye easier than ever
Beautiful color assortment and great value.
Get it from Amazon for $6.79. Available in six color palettes.
26.

Fully remove one pigment from your brush before applying another; just wipe it on this brush-cleaning sponge so your eye makeup is blended without errant marks
Get it from Amazon for $8.56.
27.

And finish off your whole look with a cult-favorite setting spray with a lot of staying power for not a lot of money
Get it from Amazon for $5.99.
So. Soothing.

{{#comments_count}} Show Commnents ({{comments_count}}) {{/comments_count}}