Eye shadow palettes are the best way to go because you get a variety of colors in one convenient package. Usually, it is more cost effective to buy eye shadow palettes as opposed to single shadows as well. Even so, eye shadow palettes can be quite expensive! I have complied a list of 7 eye shadow palettes that are great quality with an equally attractive price!
---
1

Hello Kitty – Wild Thing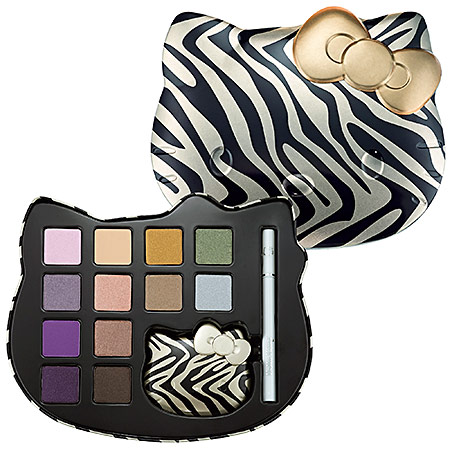 What is not to love about this great eye shadow palette? First, the case itself is so cute! Being the huge Hello Kitty fan that I am, I can hardly resist the shape of this palette, not to mention it is zebra print as well. Inside the case is an array of gorgeous colors. There are 7 neutral shades as well as 5 brighter colors to really make your eyes POP. All of the shadows are formulated to be silky to ensure they will glide on and blend seamlessly. My favorite thing about this great eye shadow palette, however, is that it comes with extra goodies! The first thing I noticed when opening the case was the adorable Hello Kitty compact mirror. Just like the case itself, this compact mirror is decorated with zebra print. The compact is the perfect size to carry with you in your purse to touch up your makeup throughout the day. The other surprise inside the case is a liquid eyeliner pen. Liquid eyeliner pens are my liner of choice and this one does not disappoint. The Pen Pal liquid eye liner has a precision tip so you can get your liner as thick or as thin as you'd like. Wild Thing is a $200 value on sale for just $34, so hurry and grab yours today!
2

Urban Decay – Naked Basics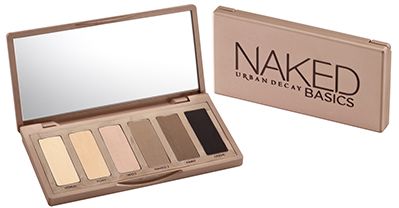 The Naked Basics palette is a makeup-bag-must-have for any girl who favors neutral eye makeup. I have found that these shadows go great on any skin tone and these colors can be used in a variety of ways. For instance, the black shade is perfect to line your eyes and the colors in this palette work great to fill in your eyebrows as well. What makes this palette so versatile is the matte finish of these shadows. The shadows are rich so a little goes a long way! Pair the neutrals from the Naked Basics Palette with your favorite bold color you already have to really make a statement. Every girl should treat herself and go 'Naked!'
---
3

Lime Crime – Aquataenia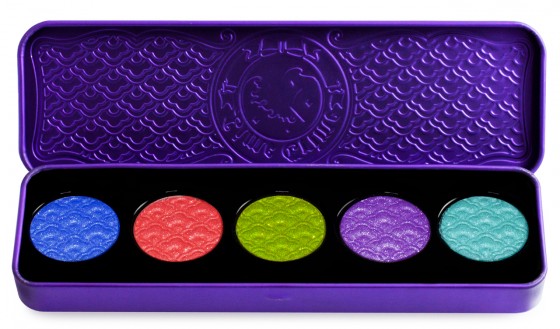 For girls who dream of the ocean and living life by the sea, Aquataenia is the perfect eye shadow palette. Lime Crime designed the shadows to look like a mermaid's tail glistening in the moonlight. All of these gorgeous shades are 'pearlescent' to give the shadows a wet, dreamy look. Your eyes will shimmer and shine just like a mermaid with this collection! If you are feeling extra daring, these shadows can also be used on your cheeks to really amp up your look! The 5 pearly shadows are encased in a royal purple tin. You can feel good about wearing Aquataenia too, because all Lime Crime products are vegan.
---
4

Makeup Forever – Black Tango Palette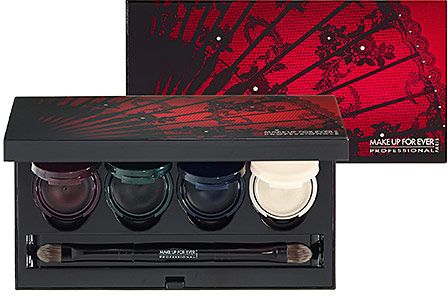 The Black Tango Palette is inspired after Danny Sanz's (founder of Makeup Forever) love for Argentine tango dancing. You really can find inspiration anywhere! This limited edition palette features 4 exclusive creamy shades. Normally I am not a fan of cream eye shadows because they smudge and crease, but this is not the case with the Black Tango Palette. The color dries almost instantly, leaving no time for smearing and creasing. Three of the colors in the kit are black with pigments of jewel tones. The other shade is a light ivory. These highly pigmented creams work great as eyeliner as well. The double-ended nylon brush makes application a breeze. The Black Tango Palette is one of my favorites of the season!
---
5

Kat Von D – True Romance Palette – Ludwig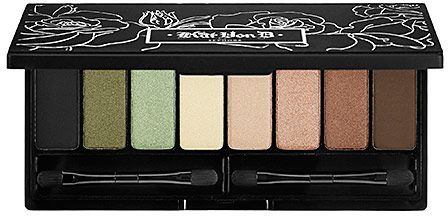 The Ludwig palette comes with 8 gorgeous shades that are perfect for a twist on the classic smoky eye. The shadows range from shades of black, gold, green, and brown so you can add a lot of depth to your eyes. All of the eye shadows go on smoothly and will last all day. The palette comes in a slick, black case that is stenciled in silver roses. What else would you expect from the most famous tattoo artist in the nation? This palette also comes with two double-ended applicator brushes. All of Kat Von D's eye shadow palettes are a great product for a competitive price and you can get them exclusively at Sephora.
---
6

Illamasqua – Fundamental Palette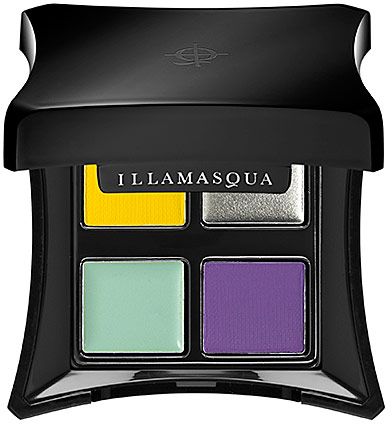 The Fundamental eye shadow palette is perfect for girls who want to make a statement with their makeup. This set is different from others because each of the eye shadows are formulated to have different textures. This gives fashionistas the ability to truly create a unique look by using the liquid, cream, and powdered shadows all at once. The colors are vibrant and eye-catching to make sure you will stand out amongst the crowd! All of these pigments can be applied wet or dry. To REALLY kick your style up a notch, you can use this Illamasqua palette in your hair. This versatile product is truly a great find for under $50.
---
7

Sephora Collection – Smoky Studio 2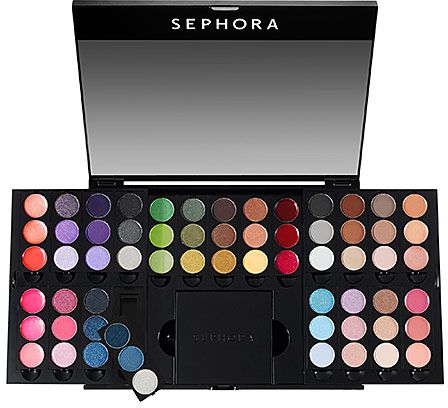 There is really a lot to be excited about when it comes to this mega-palette! This collection comes with 16 smoky eye trios and 15 lipsticks to coordinate. Each eye shadow color comes with a light, medium, and dark shade. There is enough shadow here to wear a different shade every day of the month. With all of the different color combos, there's not much you couldn't do with this amazing set. What is most appealing about this eye shadow palette, however, is that it is only $25! Yes, you read that right! Valued at $175, this fun collection is on sale exclusively for Sephora right now.
I am a firm believer that eye shadow palettes are a girl's best friend. These 7 offer a variety of colors and textures for competitive pricing. Which of these palettes were your favorites?
---
Comments
Popular
Related
Recent