Rose Gold makeup products are the perfect blend of pink undertones and gold hues, which beautifully compliments all skin tones. Imagine being able to create the perfect look with the prettiest Rose Gold makeup products. Whether you're looking for that one gorgeous Rose Gold product or want to beef up your whole makeup collection, I promise you, you will fall in love with these alluring rose gold tinted products. From eyeshadows to highlighters and everything in between.
---
1

Huda Beauty- Textured Eyeshadow Palette- Rose Gold Edition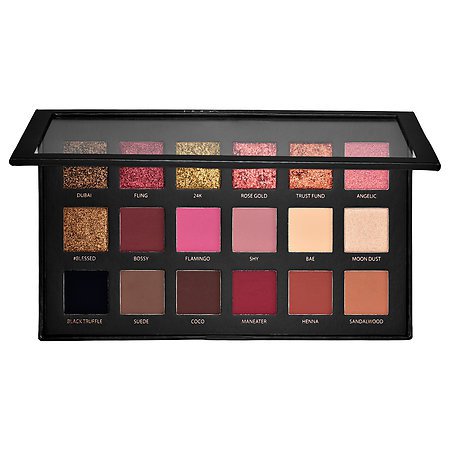 The versatility of the Huda Beauty's textured Rose Gold palette is amazing. Whether you're going for an easy day look or an edgy smokey eye this palette is for you. The eyeshadows are highly pigmented with a mixture of textures that includes mattes, chrome pressed pearls, and 3D metal shadows. You could say the price is a bit much for an eyeshadow palette but in all do fairness you are getting 18 high quality and unique eyeshadows. I can totally see the colours Trust fund, #Blessed and of course Rose Gold as my go-to eyeshadows.
Price: $65 at sephora.com
---
2

Tarte Clay Pot Waterproof Liner in Rose Gold (Shimmer Finish)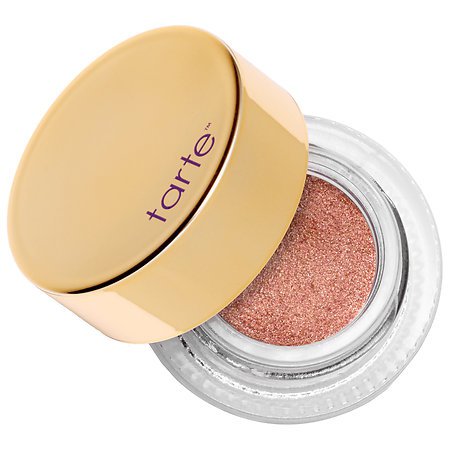 I'm already a fan of Tarte cosmetics and when I saw the iconic oil free cream-gel liner in Rose Gold, I couldn't believe my luck. It is a creamy gel eyeliner that is smudge proof. This rosy gold eyeliner gives a great pop of colour and shimmer to the eyes. It is perfect to create a seamless cat eye with or can be used as a shimmer eyeshadow.
To apply the product you use an eyeliner brush. Gel eyeliners are my personal favourite as they stay in place, and I prefer applying eyeliner with a brush applicator as it gives me more precision. Hurry ladies as this is a limited edition!
Price: $21.00 at sephora.com
Trendinig Stories
More Stories ...
3

Benefit Cosmetics Rockateur Box o' Powder Blush sephora.com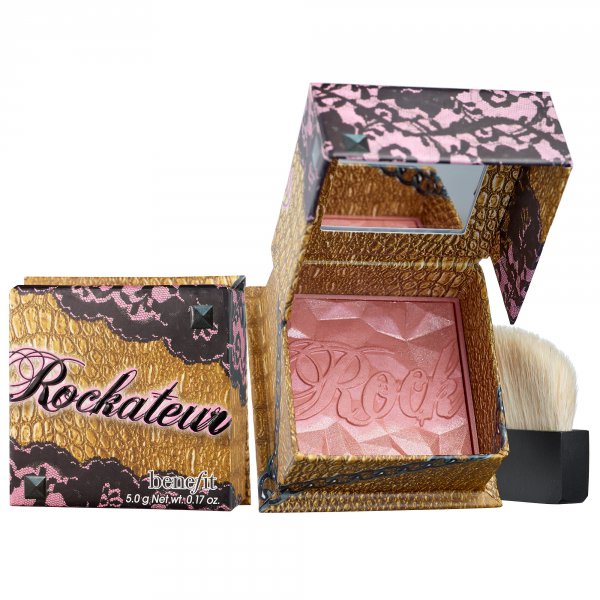 If you want to approach the rose gold trend in a subtle way then this Blush is the way to go. Swipe this beautiful rose gold shimmer blush over the apples of your cheeks, giving just the right flush of colour without being over bearing. It also comes with an angled brush for easy application. Benefit always has gorgeous packaging and they haven't disappointed this time either.
Price: $29.00 at sephora.com
---
4

Cover FX- Custom Enhancer Drops- Colour Rose Gold sephora.com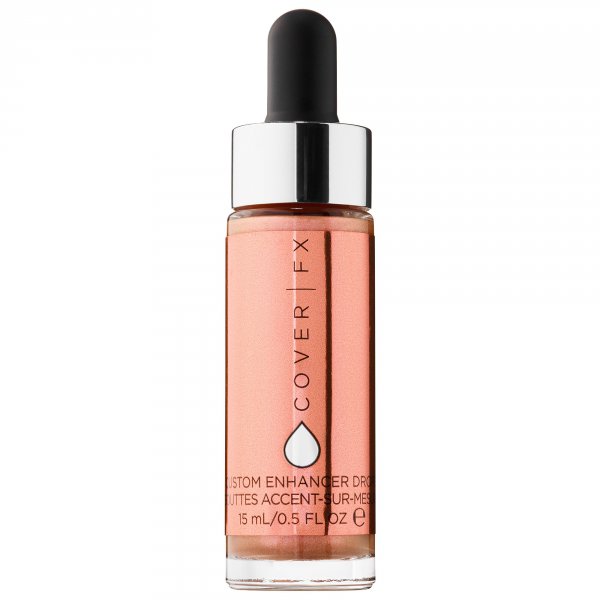 If you want to look like a sun kissed Rose Gold goddess, this is the stuff you need. Cover FX custom enchanter drops epitomises versatility. These super concentrated drops can be used alone or mixed in with any liquid cosmetics or skincare products such as foundation, primer, serum or moisturizer. It gives the skin a radiant inner luminous glow without looking glittery. I like to call this liquid gold. It is on the expensive side for a 15ml bottle but a little product goes a long way and it has buildable intensity.
Price: $42.00 at sephora.com
---
5

Becca Shimmering Skin Perfector Pressed Highlighter in Rose Gold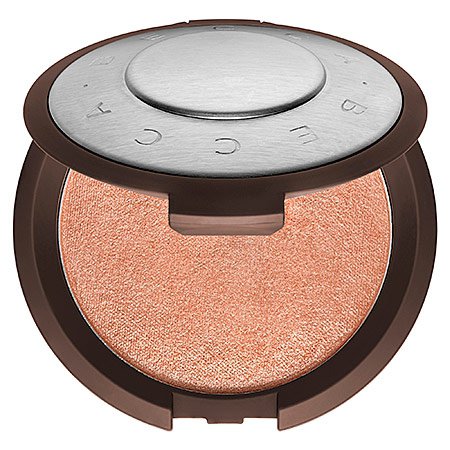 With it's soft gold colour infused with rose hues, this has got to be one of the prettiest highlighters I've seen. If you want an easily blendable highlighter without looking cakey or too glittery, this is the perfect one. It is a powdered highlighter with a unique creamy formula making it easy to create a flawless finish. You can add this highlighter to the tops of your cheeks, on the bridge of your nose and forehead for an illuminated glow.
Price: $38.00 at sephora.com
---
6

Jouer Cosmetics Long-wear Lip Topper in Rose Gold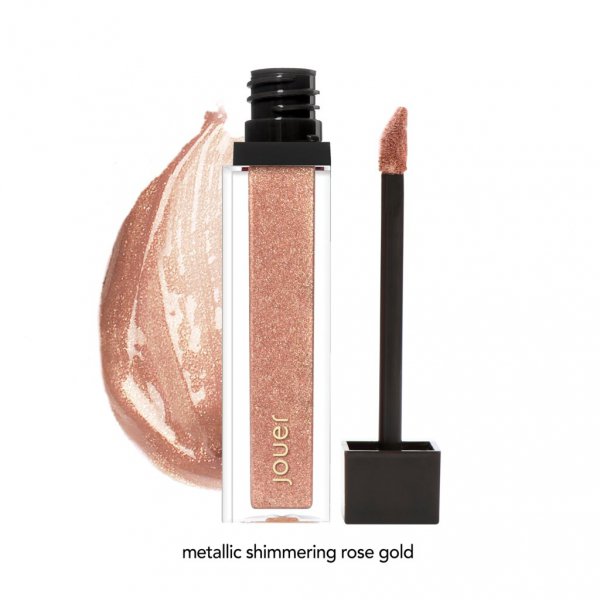 Step aside lip glosses and liquid mattes, this gorgeous lip topper is making it's mark. The lip topper is a metallic shimmering Rose gold colour that can be worn alone or paired on top of your favourite lip colour to add shine. It is a beautiful romantic colour and it's infused with coconut oil that hydrates the lips. It's great to add dimension to your lips and ideal for a night out.
Price: $16 at jouercosmetics.com
---
7

NYX Cosmic Metals Lip Cream in Speed of Light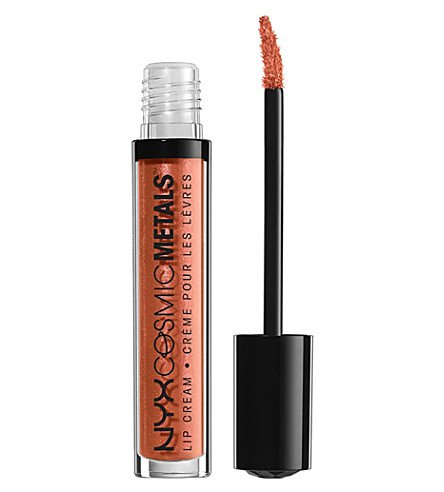 This is what I call a beauty bargain. Dimensional lips are so on trend and with this dazzling metallic lip colour you will be ticking all the boxes. It is a wearable colour and looks and feels like a gloss.
Price: $8.96 at selfridges.com
---
8

Farsali- Rose Gold Elixir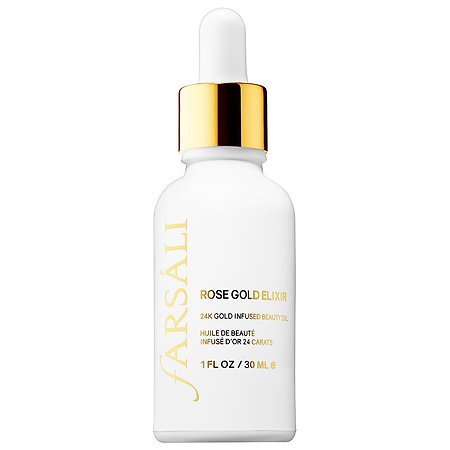 Beauty Oils are a must-have that does wonders for your skin. If you're looking for a blend of skincare whilst creating a natural radiant glow, this is perfect. It can be used a primer and moisturizer. It is a versatile product and can be used to prep and prime your eyelids and lips or mixed in with your foundation. I adore the packaging and there is something quite strangely satisfying about applying the product with a pipette applicator.
Price: $54 at sephora.com
---
9

Nails INC. Sweet Almond Nail Polish Powered by Matcha in Mayfair Market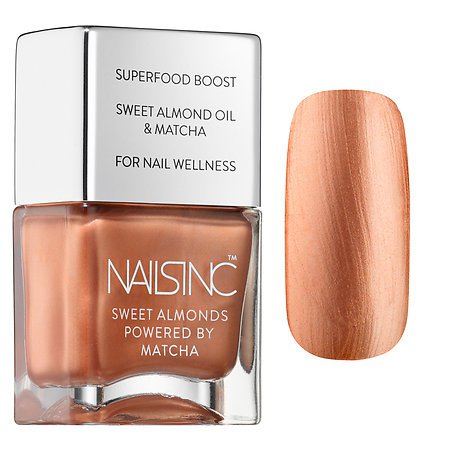 Don't forget that the rose gold trend cannot only be worn on your face. Give your nails some love with this Nails INC nail polish in Mayfair Market a stunning metallic rose gold colour. Bringing the metallic trend to your nails.
Price: $15 at sephora.com
---
10

Obsessive Compulsive Cosmetics Glitter in Beige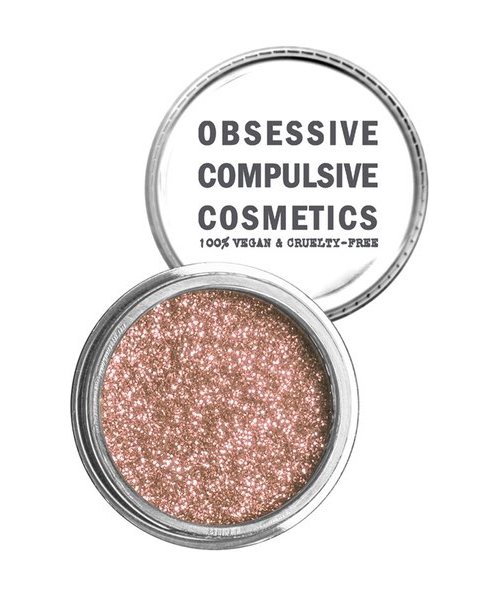 What makes this Glitter even more charming by Obsessive compulsive cosmetics is that it is 100% vegan and cruelty free. It can be tempting to use this on your eye lids but it's not created for that. It's great to add shimmer to your hair and if you want to give the on trend glitter eyebrows a go this is the product for you. It can also be sprinkled on top of your nail polish to give that rose gold sparkle to your nails.
Price: $15 at shop.nordstrom.com
---
11

Urban Decay Naked 3 Palette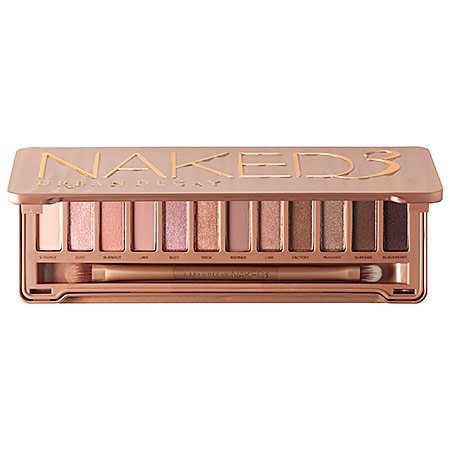 The Urban decay Naked palettes are a must-have cult beauty favourites. The Naked 3 palette has to be my favourite golden oldie. I've been using this palette for a while and I still find myself reaching for it. My all-time favourite go-to colour in this palette is Trick it's a perfect rose gold colour that I've worn plenty of times and created many looks with.
Price: $54 at sephora.com
There's no denying it I absolutely adore these Rose Gold makeup products. I have already complied my wish list, what's on yours?
Are you sold on the Rose Gold makeup trend?
Which one of these products has grabbed your attention?
---
Comments
Popular
Related
Recent