If you're on the hunt for the best brow products, I've got some fine recommendations for you to consider. I made the horrible mistake of overplucking my eyebrows when I was younger, so I need the most natural-looking yet easy-to-use beauty product for eyebrows that I can find. Easy and natural might sound like a tall order for makeup, but I managed to find 9 of the most highly rated and best brow products on shelves today.
Table of contents:
1

Tarte Amazonian Clay Waterproof Brow Mousse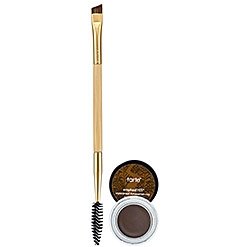 One of the best brow products that I've used to date is Tarte's brow mousse. First off, it's a creamy mousse formula so it's super easy to apply and blend. It's also waterproof, minimizes oil around the hair follicle and comes with a handy dandy spoolie-eyebrow brush so it makes application a breeze. Perfect for those with thick, bold brows or those with thin, sparse brows like me.
Price: $28 at sephora.com
2

Physicians Formula Brow Definer Automatic Brow Pencil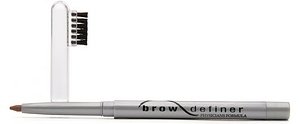 This is an excellent beauty product to define and fill in brows at a budget-friendly price. The formula is silky, smooth and waterproof so you have no worries about it being difficult to apply or disappearing on you by midday. It also has a built-in sharpener and brush so you can create perfectly pretty eyebrows anytime, anywhere!
Price: $4.76 at drugstore.com
3

Anastasia Beverly Hills Brow Wiz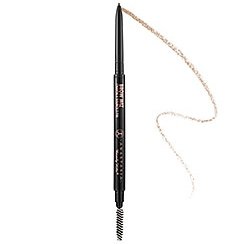 When you think about a beauty product for eyebrows, the name Anastasia instantly comes to mind. Brow guru and founder of Anastasia Beverly Hills, Anastasia Soare has been creating beautiful eyebrows for celebrities for years so we can trust her beauty products to give us full, fabulous brows. The Brow Wiz is one of her bestselling products and it uses a mechanical brow pencil to fill in sparse areas and define eyebrows for all day wear.
Price: $21 at sephora.com
4

Wet N Wild Ultimate Brow Kit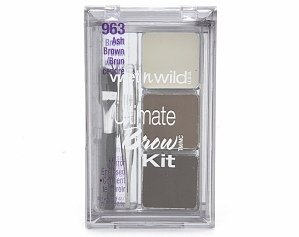 Wet N Wild makes some of the most affordable and well-loved beauty products so it's no wonder that beauty lovers go bonkers for their brow kit. With this small kit, you get tiny tweezers for those strays, a brush and three brow colors so you can mix and create your custom color. Perfect for on-the-go use and travel!
Price: $3.99 at drugstore.com
5

Smashbox Brow Tech to Go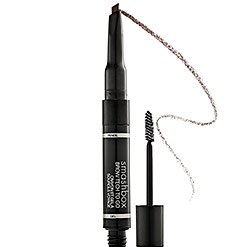 Smashbox's Brow Tech To Go makes it easy for busy girls to create perfectly polished brows. This two-sided beauty product contains a waterproof pencil on end and a soft hold gel and brush on the other so you can precisely set it and forget it. There's also their original Brow Tech that is a wax and powder trio that's equally excellent. But, if you apply makeup on the go or like to touch up during the day, the Brow Tech To Go is your best bet!
Price: $27 at sephora.com
6

Maybelline Define-a-Brow Eyebrow Pencil

If you're looking for an affordable eyebrow pencil that stays all day and blends beautifully, Define-A-Brow is where it's at. The waterproof formula is easy to apply and remove, blends easily and creates natural looking brows that's often hard to achieve with an eyebrow pencil.
Price: $5.69 at drugstore.com
7

Make up for Ever Aqua Brow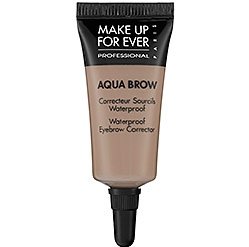 Fab face-framing eyebrows can also come in a tube. MUFE calls this a brow corrector that fills in, defines and lengthens your eyebrows while lasting all day long. If you have sparse brows, this liquid will be a game changer for you. You can easily redesign and boost your brows like nothing you've ever used before. All you need is a brush and you're ready to reshape your brows from blah to bam!
Price: $20 at sephora.com
8

Revlon Brow Fantasy Pencil & Gel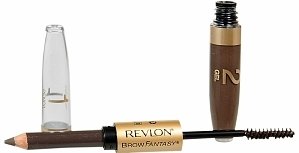 Here's another dual-ended product that shapes and colors your brows for a refined look that's always in style. Revlon's Brow Fantasy has an eyebrow pencil to fill in gaps and define brows on one end and a tinted gel to set it for the day. Long-lasting, natural and perfect for everyday use.
Price: $7.39 at drugstore.com
9

Benefit Cosmetics High Brow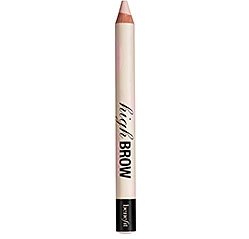 The last product I wanted to mention is something fun you can use to lift and enhance your brows. Sometimes, a regular brow beauty product just won't cut it and in those cases, High Brow can light up your eyes. A quick swipe of this soft pink pencil defines your brows and brightens your eyes like never before. Once you try it, you won't want to be without it!
Price: $20 at sephora.com
No matter what type of beauty product for eyebrows you've tried in the past, you're sure to find something easy yet effective to use on this list. Your eyebrows are an important feature of your face and you can actually do much more with them than just filling them in. Experiment with different brow shapes and products and see what suits you best!
Please rate this article