By special reader request, we bring you LUSH makeup products that will have you cleaning out your cosmetic bag so you can do a total revamp! If you only visit LUSH for bath or skincare products, get ready to have your mind blown. This natural hotspot has a wealth of makeup products as well, and they won't do a number on your skin the way other brands can. Especially wonderful for sensitive skin, there's something for every skin type, tone, and sensitivity, so check out these LUSH makeup products and find your next big favorite!
Table of contents:
1

Feeling Younger Skin Tint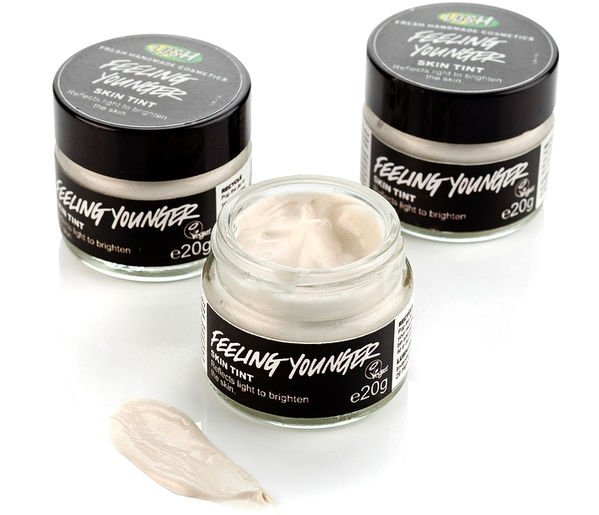 Let's start out with one of the most versatile LUSH makeup products you can find. Feeling Younger is a wonderful highlighting powder that promises a luminous, long lasting glow. Since it uses ingredients like cocoa butter, an oatmeal decoction, and jojoba and almond oils, you won't have to worry about a lot of irritation. You'll just enjoy a bright, natural glow that brings out the eyes, the cheekbones, the brows, and even your décolletage! It's $18.95, but it lasts practically forever.
2

Eyes Right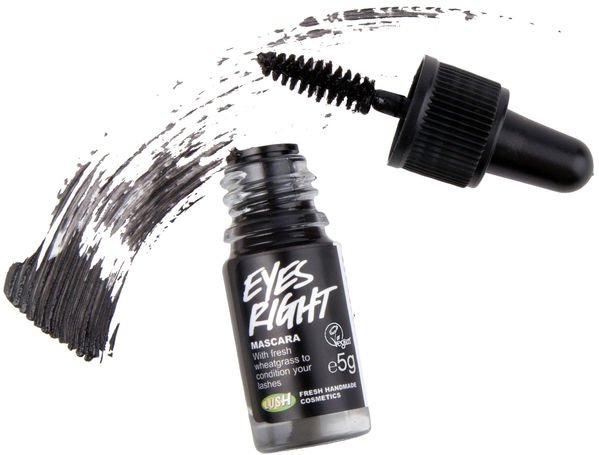 If you're in the market for a new mascara, why not try a wheatgrass mascara? Oh yes. You might be skeptical at first, until you realize that this is designed so that it won't irritate your eyes. Less irritation actually means less mascara, because you won't end up crying off all of your mascara in an involuntary show of emotion. This product will actually nourish your lashes, helping them to grow stronger. Carnauba and Japan waxes will even make the dramatic color set, so you won't have to worry about smudging either. The long lasting quality helps offset the $18.95 price tag.
3

Charisma Skin Tint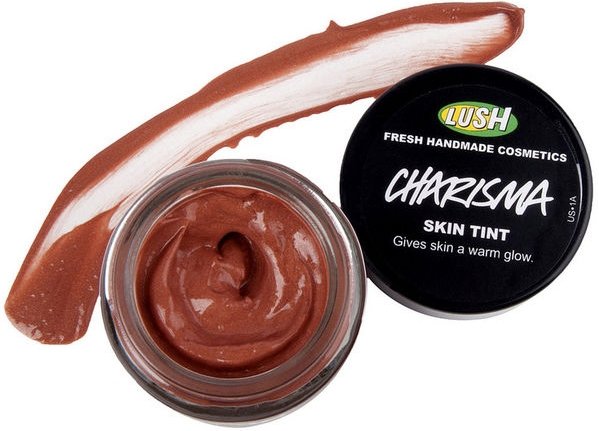 Forget about your usual bronzer, ladies, because this skin tint works for every skin tone and it blends beautifully. You won't have to worry about looking at all orange because your glowing skin will appear completely natural. Charisma uses cocoa butter, oatmeal, and almond and jojoba oils, just like the Charisma skin tint. You can use it by itself or wear it under your foundation. It's a versatile product for $18.95.
4

Happiness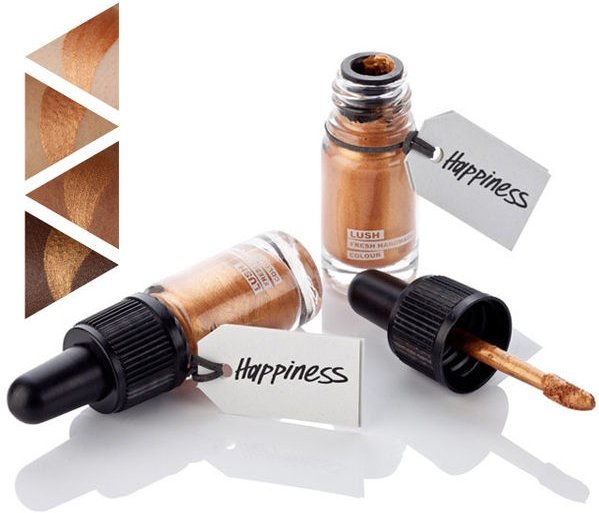 Let me start off by saying that LUSH has a wealth of cream eye shadows from which to choose, so if this coppery palette isn't your favorite, you're bound to find a shade you like. I just like the warmth in Happiness; the colors last forever and the base is creamy and filled with antioxidant-rich ingredients. Get it for $18.95 and never look back!
5

Emotional Brilliance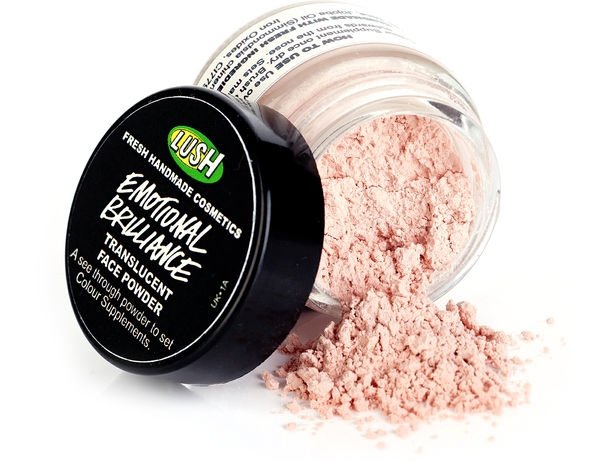 If you love the matte look, this is all you need. Don't pay attention to the lightness of the powder, because this will work for every skin tone and type. It won't dry out your skin, thanks to the addition of jojoba oil. Even though you're getting a matte finish, your skin will stay hydrated and, well, lush! Grab it for $18.95!
6

Decisive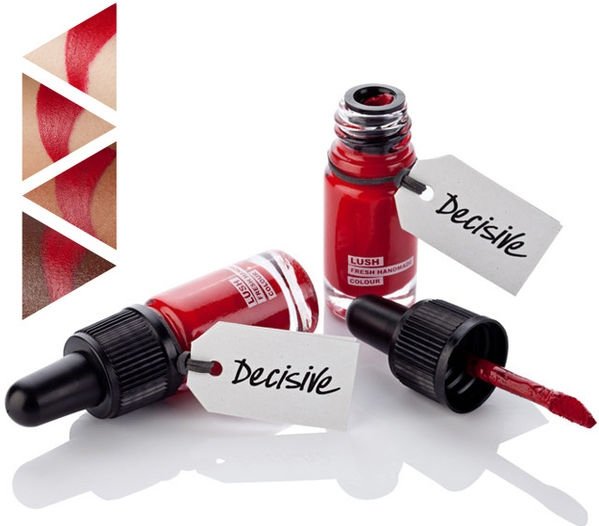 LUSH also has a variety of gorgeous lipsticks, but I stuck with red. You can't go wrong with red! Whatever color you choose, the pigments are outrageously bright, so your lipstick will last all day. The products also use jojoba oil to soften and rose wax to set. The best part? Your lipstick can do double duty as a cheek stain! Again, that kind of versatility takes the sting away from the $18.95 price.
7

Feeling Secure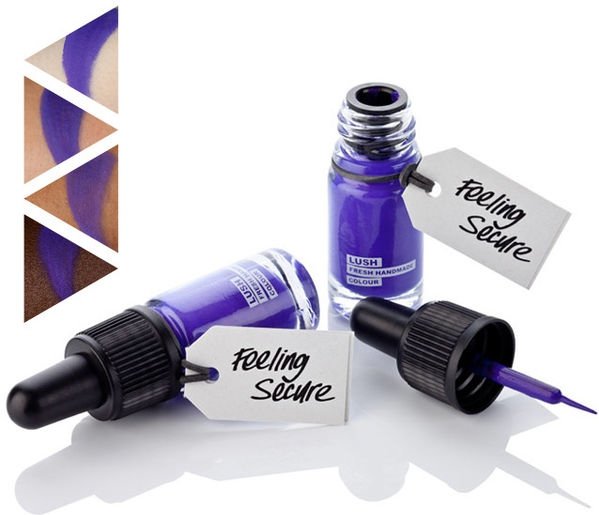 And to finish up, we have eyeliner! I chose this vibrant purple shade in honor of Radiant Orchid being the color of the year, but you'll find everything, from brown and gold to a gorgeous, mossy green. The $18.95 eyeliner won't irritate your eyes, the bright pigments last all day, and it's incredibly lightweight. Plus, you can either go with a smudge, a stark line, or a beautiful, blended look – your choice!
Keep in mind, again, LUSH has makeup in every palette for every palette. Their foundations and powders are especially versatile, with colors ideal for fair skin, olive tones, and every undertone, from pink to red to yellow. Regardless of your skin type or color, you will find something if you look, and your skin will thank you for it. I tried to keep colors neutral, but like I say, they've got some gorgeous green, blue, and gold eye makeup as well. What's your favorite shade?
Please rate this article