When it comes to makeup, a highlighter can be a great way to brighten up your face. You can use highlighters to illuminate a range of areas including under the arches of your eyebrows, under your eyes, or along your cheekbones. Most highlighters come in a pen-style packaging, but they can also be found in liquid or powder form. Treat yourself with one of these essential highlighters.
---
1

Benefit Cosmetics High Beam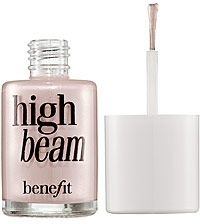 Price: $24.00 at sephora.com
This is a pink liquid highlighter that is intended to enhance your complexion. The formula is slightly shimmery and blends easily into the skin. To apply, just dab the highlighter onto cheek and brow bones and blend. It is suited to most skin tones which makes is one of the most accessible essential highlighters.
---
2

Yves Saint Laurent Touche Eclat

Price: $40.00 at barneys.com
Yves Saint Laurent's Touche Eclat has received cult status. This award-winning highlighter is supposed to banish shadows as well as erase lines of fatigue. It can be used under or over foundation and is suitable for all skin types. The sleek gold packaging is also a drawcard.
---
3

MAC Prep + Prime Highlighter

Price: $23.00 at shop.nordstrom.com
This pen-style highlighter makes for easy application. Worn under makeup, it acts to brighten and prime the skin. Worn over makeup, it can be used for highlights and touch-ups. It is also available in a range of colours.
---
4

Givenchy Mister Bright Touch of Light Pen

Price: $33.00 at sephora.com
A lot of the essential highlighters come in pen-style packaging. This Givenchy highlighter not only illuminates, but is intended to leave a subtle bronze glow as well. The formula contains a high concentration of white mother of pearl which aids the highlighting and illuminating properties.
---
5

Dior SkinFlash Radiance Booster Pen

Price: $36.00 at shop.nordstrom.com
This highlighter also works as a subtle concealer. It helps illuminate skin as well as reducing the appearance of slight imperfections. You can wear this highlighter on bare skin, or under or over foundation. This highlighter comes in sleek silver packaging and is available in varying shades.
---
6

Bobbi Brown Highlighter Pen

Price: $32.00 at barneys.com
This highlighter has a lightweight liquid formula. It is intended to brighten and give skin a natural glow. It comes in a pen-style package with a brush applicator. Apply this highlighter to your cheekbones for some added definition.
7

Clinique up-Lighting Liquid Illuminator

Price: $23.00 at sephora.com
The best essential highlighters leave skin looking naturally healthy and glowing. This oil-free highlighter has a sheer, lightweight liquid formula. It comes in various colours from blush to bronze. To apply, simply pump a small amount onto fingertips and then transfer this onto your desired facial regions.
There are a range of different highlighter formulations available. From shimmery tones to ones that are more translucent, there's something for all skin tones. It may pay to experiment, so try sampling different products before you choose one that's right for you. Do you use a highlighter, and if so, what are your best highlighter tips?
---
Popular
Related
Recent