While some people dislike scented cosmetics, I have to admit I have a soft spot for flavoured lip glosses. Fruit-flavoured lip glosses in particular remind me of fun-filled summer days. While some scented lip glosses may seem highly artificial, there are quite a few organic and fruit-infused formulas on the market. Check out a range of fruity lip glosses below.
1

Philosphy 'Fresh Peaches with Cream' Lip Shine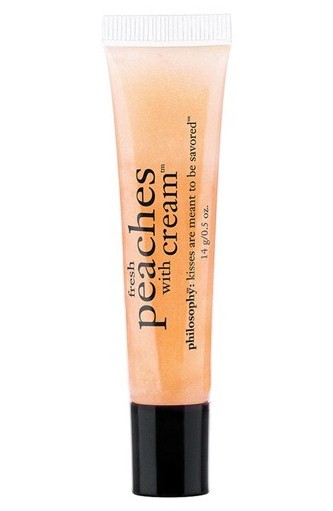 Price: $10.00 at shop.nordstrom.com
This fruity lip gloss comes in a peaches and cream flavour. It has a high gloss finish and has a hydrating and smoothing formula. This lip gloss also provides a hint of colour. Keep this tucked away in your handbag so you can whip it out for touch ups during the day.
2

Kiehl's Lip Gloss in Berry

Price: $14.50 at barneys.com
This berry coloured lip gloss has a decidedly fruity formula. It contains natural extracts of mango and grape seed, rose hips, and apricot kernel. This lip gloss has hydrating and restorative properties. This light, non-sticky gloss is worthwhile having in your makeup arsenal.
3

Forever21 Delicious Kiss Gloss in Cherry

Price: $1.80 at forever21.com
This scented lip gloss comes in a bright cherry red colour. Like most glosses, it provides sheer coverage and has an iridescent finish. At a little under $2 they are quite a bargain too. These lip glosses are available in a variety of colours and flavours.
4

Anatomicals Fruity Lip Balm

Price: $4.71 at asos.com
This lip balm comes in a fruity cherry scent. It has a moisturising formula with SPF 15. If you are after a balm with restorative and protective properties then definitely try this one out. This lip balm comes in a squeeze style tube and features the brand's recognisable quirky packaging.
5

Sephora Collection Nectar Shine Hydrating Care Lip Gloss

Price: $4.00 at sephora.com
Fruity lip glosses aren't just a novelty. This lip gloss has an effective three-in-one formula. It moisturises lips, provides SPF protection, and gives lips a glossy appearance. The formula contains fruit extracts and is vitamin enriched. This lip gloss also has a built in brush for easy application.
6

Philosophy Fresh and Fruity Lollipop Lip Shine

Price: $10.00 at sephora.com
This fruit-flavoured lip gloss comes in a limited edition sheer frost white. Despite lacking in colour, it apparently does not lack in flavour or shine. It has an emollient formula that smooths and hydrates the lips. It contains vitamin E which contains antioxidant properties, and sunflower seed oil which helps soothe skin and maintain hydration.
7

Neal's Yard Remedies Lip Gloss with Orange Organic Oil

Price: $17.54 at asos.com
This lip gloss contains a mix of essential orange and castor seed oils. It has a subtle scent and is lightly tinted. It has a lightweight, non-sticky gloss finish. The organic oils in this formula are designed to leave lips feeling moisturised and plumped. This nourishing lip gloss is available in five different colours – if you like the formula you can always stock up on more of these fruity lip glosses.
Whether you want to spend a little or a lot, there's a fruit-flavoured lip gloss to suit all budgets and occasions. Keep one handy for midday pick-me-ups. What are your thoughts on fruity lip glosses? Are you a fan?
Top image source: data.whicdn.com