Typically, when we think of fun lipstick colors we think of bright reds and pinks, but in reality these are generally classic shades of lipstick. Bright reds and pinks can definitely add drama to your look, but if you'd really like to make a statement try out these fun lipstick colors.
---
1

Lime Crime Lipstick in Chinchilla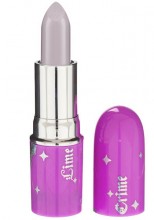 Price: $15.99 at limecrimemakeup.com
Gray lipstick? Sounds a little strange, right? This fun lipstick color actually looks great on everyone! It's a perfectly neutral shade of gray that is flattering on all skin tones. It's a great standard, neutral color. I suggest pairing it with bold eye makeup and possibly adding a bit of shiny gloss on top to amp up your look. Heads will definitely turn your way while wearing such a unique shade of lipstick.
---
2

Obsessive Compulsive Cosmetics Lip Tar in Traffic

Price: $16.00 at occmakeup.com
This bright yellow lipstick is totally eye catching! This fun lipstick color will definitely require some confidence to pull it off, but it is a statement maker for sure! Yellow is a great color to wear during the summer when bright colors are popular. Keep your eye makeup on the softer, more neutral side while wearing yellow lipstick.
---
3

Make up for Ever Rouge Artist Intense Lipstick in Pearly Dark Violet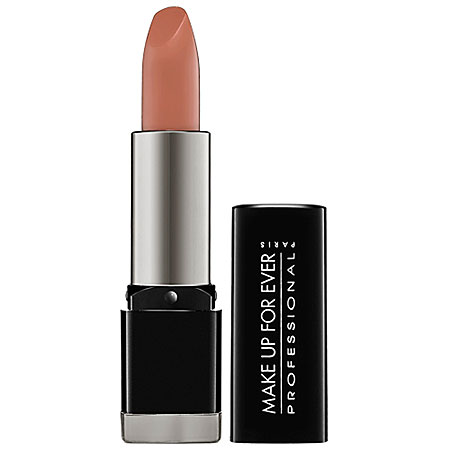 Price: $19.00 at sephora.com
This fun lipstick color by Make Up For Ever is one of my all-time favorites. I wear it when I want a bold, dramatic lipstick. It looks great with silvery-gray eye makeup and cat eyeliner. It has just the right amount of pearly sheen for a gorgeous sparkly pout.
---
4

MAC Cosmetics Sheen Supreme Lipstick in Asian Flower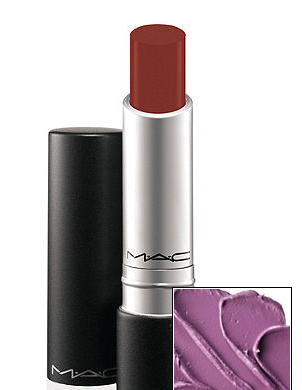 ****
Price: $16.00 at maccosmetics.com
This fun lipstick color was my go-to shade this past summer; in fact, I used up two tubes of it within 3 months' time (so maybe I over-apply)! It's a lovely lavender shade that looks great on everyone. I like to wear it as my day-to-day lipstick for a subtle yet statement making look. You can pair it with dramatic or toned down eye makeup, so you have a lot of possibilities!
---
5

Lime Crime Carousel Gloss in Golden Ticket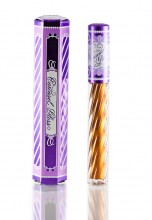 Price: $16.99 at limecrimemakeup.com
Talk about making a statement! This metallic gold lip gloss is bold and dramatic. This fun lipstick shade is definitely not for the faint of heart! This gloss is great, because it goes on smoothly and is not sticky. Wear it out dancing or to your favorite concert, and be prepared for envious stares!
---
6

Kat Von D for Sephora Painted Love Lipstick in a-Go-Go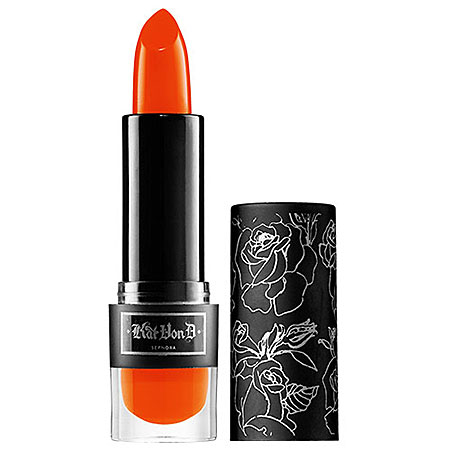 Price: $19.00 at sephora.com
Orange is a great color for both summer and fall making it a great transitioning color. This fun lipstick color by Kat Von D is bright and beautiful. It looks great on blondes, brunettes, and redheads and is especially stunning on those with green eyes. Orange lipstick is one of my go-to shades when I don't have time to apply much eye makeup.
7

Obsessive Compulsive Cosmetics Lip Tar in RX

Price: $16.00 at occmakeup.com
Bright blue lipstick may not be for every one or every occasion, but it definitely has its perks! If Kesha can wear blue lipstick so can you, right?! Keep your eyes toned down, and maybe pair it with some silver eyeliner like Kesha did.
---
8

Givenchy Rouge Interdit Satin Lipstick in Black Plum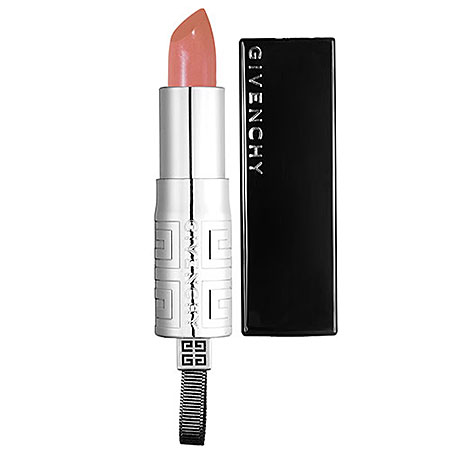 Price: $30.00 at sephora.com
Wine colored lips are popular this season, so I've been wearing this deep shade of plum almost daily. This fun lipstick color can be dramatic or subtle depending on how you apply it. If you want a deep dark, sultry shade fill in your lips with a lipliner in a similar color before applying the lipstick. Use a light, neutral lipliner underneath if you'd like the color to be more subtle.
Aren't all of these lipstick colors fun? Are you brave enough to wear a fun lipstick color? If so, which one? Do you think blue and yellow lips are statement making or overkill?
Top Image Source: productionparadise.com
---
Comments
Popular
Related
Recent