Lip and cheek stains are probably one of the most underutilized beauty products in the game. That's a shame because they're incredibly useful, they travel easily and instantly brighten up an otherwise neutral look. Lip and cheek stains leave a beautiful, natural and long lasting wash of color to your cheeks and lips that can't quite be achieved any other way. If you add one new beauty product to your beauty stash this season, make it one of these phenomenal lip and cheek stains!
---
1

Forever 21 Premium Beauty Collection Lip & Cheek Stain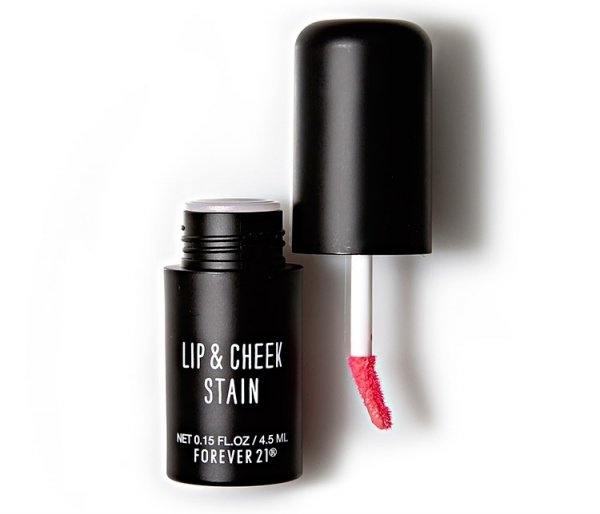 Many lip and cheek stains are pricey and made by high end beauty brands, but for the ladies who are new to lip and cheek stains and just want to try it out, this affordable version by Forever 21 fits the bill. Choose from three flirty shades that are guaranteed to light up your beautiful smile and add a splash of long-lasting summery color to your cheeks. Available at Forever21.com for $10.80.
---
2

Yves Saint Laurent Baby Doll Kiss & Blush Lips & Cheeks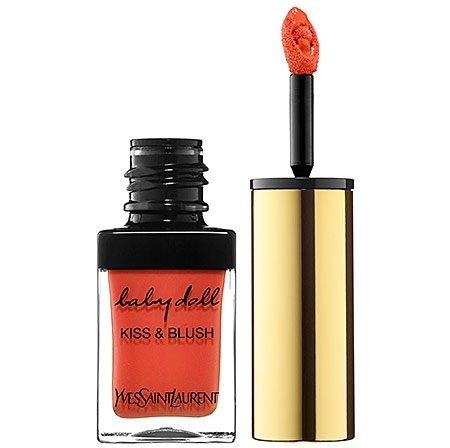 This is one of the newer lip and cheek stain products, but it's been getting a lot of rave reviews since it came out. YSL's Baby Doll Kiss & Blush Lips & Cheeks is available in 12 tempting colors ranging from berry to orange to pink. It comes in a cool air-whipped mousse formula that goes on intense and leaves a creamy and matte finish that lasts. Available at Sephora for $40.
---
3

Too Faced Full Bloom Crème Blush Cheek & Lip Rouge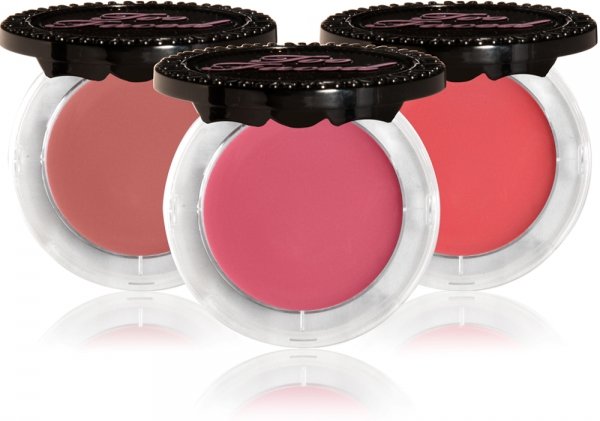 Too Faced's Full Bloom Crème Blush Cheek & Lip Rouge hydrates lips and cheeks with floral infusions and an elegant flush of color that's easily blendable and so you're left with a look that's natural and radiant for both day and night looks. Unlike most other lip and cheek stains, this one comes in a cream formula in three natural colors so it literally melts onto skin for a dewy, fresh finish. Available at Ulta for $21.
---
4

Benefit Benetint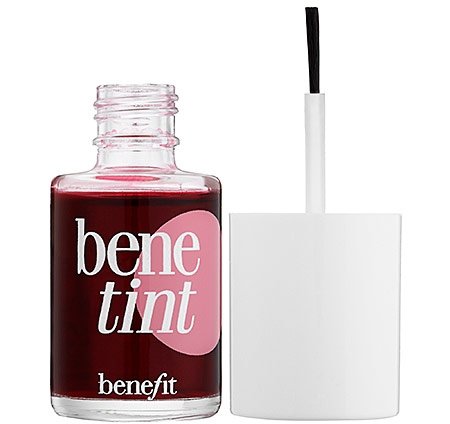 Benetint is one of the very first lip and cheek tints that I had ever heard of and it is actually among the very first products that Benefit came out with as a cosmetics company. Due to the overwhelming popularity of Benetint, the brand introduced 3 other shades of lip and cheek tints. Honestly, you can't get more natural than this rose-colored tint for the cheeks and lips. It's sheer, perfect for every day and leaves your cheeks and lips with the most luscious glow! Available at Sephora for $30.
---
5

100% Pure Peach Glow Lip & Cheek Tint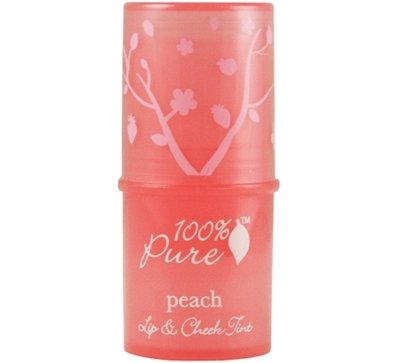 100% Pure is one of the best beauty brands for anyone looking for natural, cruelty-free, vegetarian and gluten-free products. They have fruit-pigmented lip and cheek tints in 6 soft and pretty colors that will complement various skin tones. Formulated with shea and cocoa butter, your lips and cheeks will love the touch of hydration and you will love the healthy and natural glow. Available at 100PercentPure.com for $17.
---
6

Stila Lip and Cheek Stain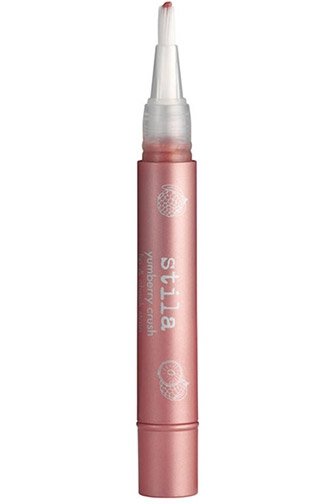 Stila brings us their rendition of the versatile lip and cheek stain in 8 dazzling colors. With such a wide range of colors, you're bound to find a shade that tickles your fancy. Stila's lip and cheek stains moisturize, protects with antioxidants and each fruit-infused flavor contains its own unique blend of nourishing vitamins. Available at Ulta for $24. P.S. You can get 20% off if you sign up for Stila emails at StilaCosmetics.com!
---
7

Josie Maran Magic Marker Lip & Cheek Stain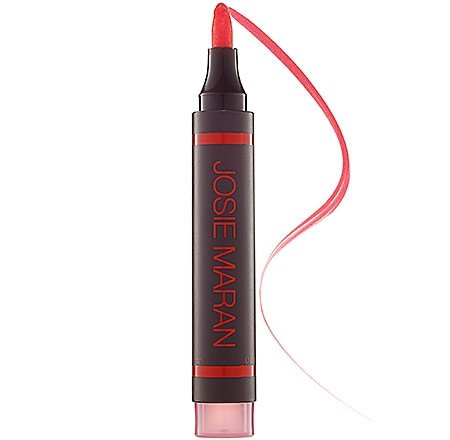 I'm usually not a fan of anything that comes in marker form because they tend to be hard for me to control. But judging from the glowing reviews, I'm willing to take a chance on this one. You'll find any of these water-based markers, which come in 9 different colors, will deliver outstanding color and long-lasting color and hydration that you can build up, so it's perfect for day or night. Available at JosieMaranCosmetics.com for $19.
---
8

Flower Beauty Kiss Me Twice Lip & Cheek Chubby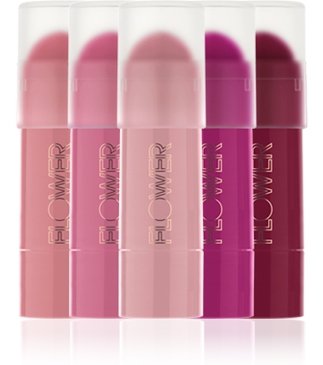 Flower Beauty offers another affordable option in lip and cheek stains with its Kiss Me Twice Lip & Cheek Chubby. This chubby stick offers cheeks and lips hydration, full and buildable coverage, plumps the skin and reduces the appearances of fine lines and wrinkles in 5 dreamy colors. Available at Walmart for $9.98.
---
9

Becca Beach Tint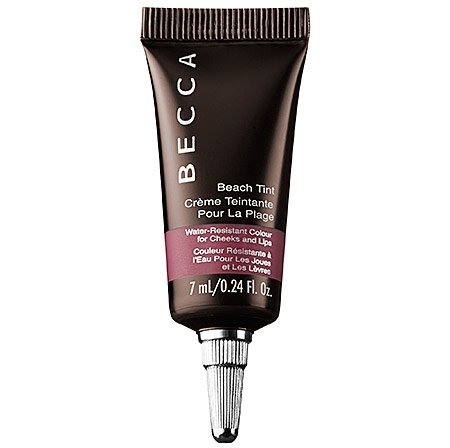 I'm all for any beauty product that has to with the beach and Becca's Beach Tint treats our lips and cheeks to an oil and streak-free flush of color that's natural, luminous and so easy to blend. This formula is water-resistant so it's perfect to wear to the beach or pool and it's perfect to toss in your cosmetics bag when you're on your way to your island vacay! Available at Sephora at $25.
Did any of these lip and cheek stains intrigue you? Honestly, if it were up to me, I would try all of them and then some! They all have characteristics that make me want to try them out. Do you own any of these products? We'd love to hear your experience!
More
---
Comments
Popular
Recent