7 Great Make-up Tips for Ladies Undergoing Chemo ...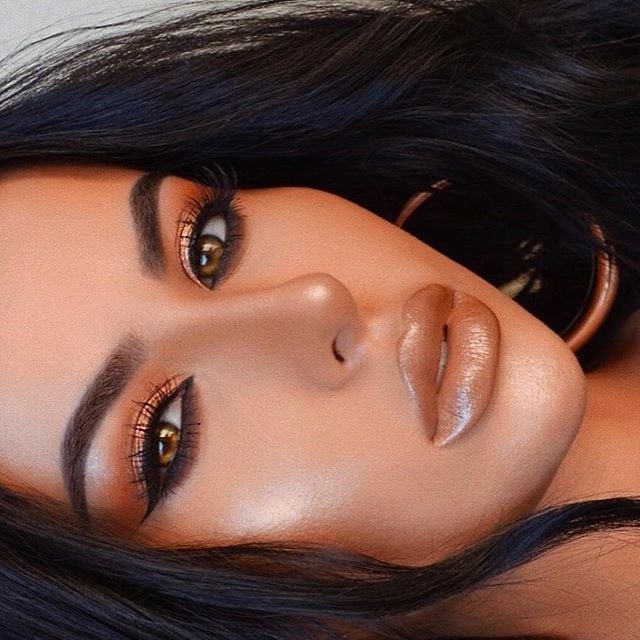 Whether you've just started chemo or you're in the middle of a round, chances are, you're worried about how the therapy will affect your looks, and how you can adjust your make-up routine to help. Sweetie, I can help, or rather, my stylist and close friend, Toni, can help. She's a cancer survivor who somehow managed to stay looking gorgeous during her battle, and candidly shared some make-up tips for during chemo with me. Here are 7 great (and simple) make-up tips for chemo… and here's to not needing them for long…
The last thing you want to do is scramble during your weeks of chemo for the right eyeliner or a new make-up brush. Gather all of the make-up items you'll want and keep them on hand a week or so before you start chemo, so you'll get used to using your new make-up, and so you can weed out anything you don't like. Toni suggests keeping everything in a gorgeous new make-up bag, a small treat that might cheer you up a little, even when new shoes won't do the trick.
This is a make-up tip for chemo that you can use when you're well again too — before you apply your concealer or foundation, slather yourself with a good moisturizer, one with built-in SPF, if you can. I love Philosophy's Hope in a Jar line, and Murad makes some good ones, too. Your skin may be dry and sensitive, so whichever moisturizer you choose, make sure it's free of irritants, like dyes and perfumes.
3.

To Conceal or Not to Conceal…
Once you've applied your moisturizer (hooray for hydrated skin!), it's time to decide whether or not you need a little concealer. Chemo can cause red, blotchy marks, but it's not always a good idea to try and cover them with concealer, since the extra make-up might irritate your skin, and because the concealer might not work very well, either. Experiment with concealer and get an honest opinion from a friend. Does it cover the blotchy marks, or just make you look like Tammy Faye? If it's the latter, then don't use concealer, and go natural instead. The blotches will fade over time, and the next make-up tip for during chemo will help with uneven skin tone, too…
It sounds silly, but I can't stress enough the benefits of using a good blush or bronzer while you're undergoing chemo. Again, a light hand is best, with a little applied to the apples of your cheeks (or just under your cheekbones and along your brow). The bronzer will add a hint of a healthy glow, and will even help even out your skin tone.
… at least until you see whether or not your eyes will be irritated by the adhesive. Trim the lashes for one eye, and apply gently with tweezers. Take your time; you don't want to peel them off and reapply them. Once the first eye is done, wait for about half an hour to make sure the adhesive isn't irritating, then do the other eye. If your own lashes have thinned, the new ones may look a little odd, but don't rush to decide until you've applied the rest of your eye make-up.
If you've never used liquid liner, now may be the time! It's so easy to use, and it comes in a range of colors… and it helps blend the line of false lashes, in my opinion, better than eyeliner pencils. It takes a little practice, so don't be discouraged if you don't get a perfect line the first time. Toni suggests making small lines, rather than trying for one long, sweeping line, which is hard for her to do, even after years at the salon.
6.

Use a Pencil or Stencil
If your brows have thinned during chemo, you may want to lightly fill them in either by hand, using a pencil, or with the help of a stencil. If you're using a stencil, make sure it's not the adhesive kind (again, the glue might irritate your skin). Also, be sure to choose a brow pencil that's just a little darker than your own hair color, and as close as possible to your own brow color.
7.

Be Bold, or Be Natural…
This make-up tip for during chemo may be applied across the board to all of your beauty choices, from wigs to make-up and more. Be bold! This may be the perfect time to experiment with a smoldering smoky eye look, or feathered false lashes, or a funky lip color. Why not? On the other hand, you could go the opposite way and go for a more natural look, with a pale pink lip balm (like the tinted ones by Burt's Bees), a light sweep of bronzer, and some brown mascara.
With so many helpful tips from Toni, there's bound to be something here that can help… and I hope something did help! Which of these make-up tips for during chemo will you use? What other specific questions do you have? Or, if you're a survivor too, what advice can you share?
Top Image Source: Redheart
{{#comments_count}} Show Commnents ({{comments_count}}) {{/comments_count}}