Stay in the Fashion Loop with These Dirt Cheap Makeup Dupes ...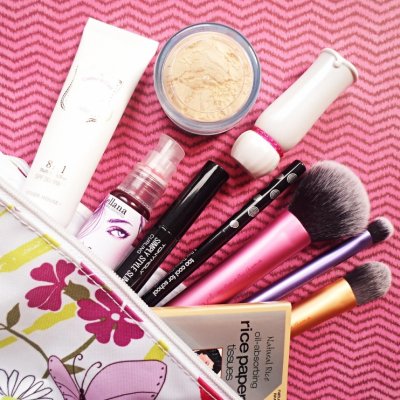 I think I speak for most girls when I say that I love shopping for makeup. I could easily spend an entire afternoon getting lost in the aisles of Ulta and Sephora. However, I don't like spending a small fortune on makeup. In fact, I like spending as little money as possible on makeup. It's expensive, and most of it doesn't exactly last very long. Because of that, I've spent a lot of time researching the best dupes. If you're looking for great dupes too, look no further, because I've got you covered!
1.

Elf Essential Waterproof Eyeliner Pen (Stila Stay All Day Waterproof Liquid Eye Liner)
I can't even tell you the number of girls I know who swear by the Stila Stay All Day Waterproof Liquid Eye Liner, but hate the price tag. This eyeliner is $20, and I think we can all agree that liquid eyeliner just doesn't last as long as we wish it did. The Elf Essential Waterproof Eyeliner Pen is almost the exact look and only costs $2, which I think everyone can justify spending!
2.

Elf Studio Blush in Candid Coral (Benefit Coralista)
Benefit is one of my favorite makeup brands, but it's definitely a splurge, so I'm always on the hunt for dupes that look the same but cost a fraction of the price. The Benefit Coralista is a gorgeous color that's so hard to duplicate, and it costs $28. Elf's Studio Blush in Candid Coral duplicates the color almost perfectly, but it only costs $3.
3.

L'Oreal Magic Nude Liquid Powder (Giorgio Armani Maestro)
Does anyone have the budget to spend $65 on foundation every few months? I know that I don't, but this Giorgio Armani Maestro is a Holy Grail product when it comes to foundations. However, this L'Oreal Magic Nude Liquid Powder is just as amazing but only costs $6. That's 90% less than the Giorgio Armani foundation!
4.

Maybelline Define-a-Lash Mascara (Benefit They're Real Mascara)
Like I said, I am a Benefit junkie. My favorite Benefit product by far, though, is the Benefit They're Real Lash Mascara. It's the only mascara I've ever consistently gone back to numerous times. However, every time I re-purchase it, the price tag makes me cry just a little bit. It's $23, which isn't exactly cost-effective when it comes to mascara that dries out fairly quickly. However, this Maybelline Define-a-Lash mascara is just as amazing, but more than half the price tag!
5.

Maybelline Lasting Drama Gel Liner (Benefit They're Real Push-up Liner)
I've never bought the Benefit They're Real Push-Up Liner, simply because I didn't like the price tag, but every time that I've swatched it, I'm almost convinced to buy it because it looks so beautiful. This Maybelline Lasting Drama Gel Liner Pen is perfect if you didn't want to spend a fortune on the Benefit They're Real Push-Up Liner but still want to try out gel liner!
6.

Ulta's Super Shiny Gloss in Natural (Nars Lip Gloss in Orgasm)
target.com
I've tried out Nars Lip Gloss in so many different shades, but I'm positive that it's one of the best lip-gloss formulas on the market. If you think so too but don't have the budget for Nars in your budget, try Revlon's Super Lustrous Lip Gloss. I've tried a ton of lip glosses in my life, but I've never noticed such a similar formula in two different lip gloss brands before these two!
7.

Elf Shimmering Facial Whip (Benefit High Beam)
Benefit High Beam is a highly sought-after product, especially when it comes to dupes. It's such a little bottle that often people can't justify spending a lot of money on it. However, the Elf Shimmering Facial is one of the closest dupes to any makeup product you'll ever find!
What's your favorite makeup dupe? I love trying out new makeup products that are dupes because they don't break the bank! Let me know what you love in the comments!
{{#comments_count}} Show Commnents ({{comments_count}}) {{/comments_count}}