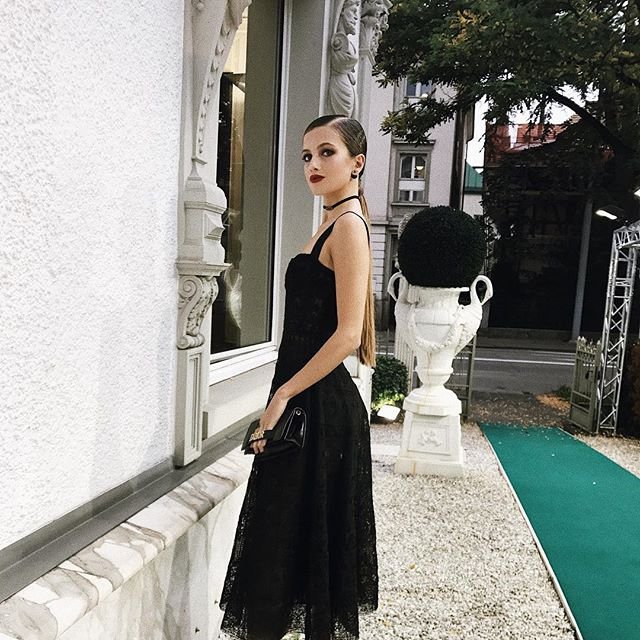 Let's just be honest, when it comes to finding the best black mascaras out there, a girl's got her work cut out for her! I've tried so many mascaras that were ranted and raved about by many professionals, women I know, and even celebrities. Yet, it was increasingly hard to find one that worked for me. Many clumped, caked, flaked, or made my eyes irritated, watery, and didn't hold up well if I shed a tear or two in a movie, or if I ran into an afternoon rain shower. Mascara is one of those things that, as women, we feel like we need to wear, yet it's one of the hardest quality products to find. Well, I've got some help for you since I've rounded up the 11 best black mascaras out there. I hope you like these as much as I do. While some have more benefits than others, I think you'll see each one has its own tremendous qualities. For any budget or beauty regimen, these black mascaras will have you looking lovely in no time!
1.

Lancôme Définicils High Definition Mascara

I've recently become obsessed with the Lancome line of products, and they have one of the best black mascaras of any brand I've found yet. This mascara is formulated to give you the long, defined lashes you've always desired and though it is a little pricey, it's won multiple awards, making it worth every penny! I love how the brushes are evenly-spaced out so they prevent clumping, and the brush even has specially grooved bristles that make putting it on easier too.

Price: $26.00 at sephora.com
2.

BareMinerals Flawless Definition Mascara

I've been a huge fan of the bareMinerals brand for years, and they rarely make a bad product, including this great mascara. It really lengthens lashes well, and includes a 360 degree comb-like wand to give you complete coverage. It is also fabulous for never flaking, smudging, or peeling off easily. It also contains no parabens or sulfates.

Price: $18.00 at sephora.com
3.

L'Oreal Voluminous Volume Building Mascara

I was first introduced to this mascara when I was sixteen and have been buying it ever since. It truly does make your lashes stunning, all for less than $10. This award-winning mascara makes your lashes up to four times their size in volume, and contains special conditioners that help to make them silky and smooth. It doesn't flake off and it comes in waterproof formulas. It is also smudge-proof and looks incredibly exotic for less money than most other brands with the same results.

Price: $8.00 at drugstore.com
4.

Lancôme Hypnôse Drama Mascara

Lancome's Hypnose Drama Mascara has been an evolutionary product in my world of mascaras, along with many other women's. I remember first hearing about it through a commercial on television and was immediately drawn to it, just by the name. It truly does live up to the 'wow factor' it gives off through advertising too. This mascara has a special S-shaped wand and really thick bristles that just seem to hug your lashes to coat them throughout. It also has a special formula containing Vitamin B5 to nourish the lashes and promote strength and thickness.

Price: $26.00 at sephora.com
5.

Giorgio Armani Eyes to Kill

Who wouldn't love to wear mascara by Armani, right? Eyes to Kill is a revolutionary product for the cosmetic line of Armani design. It adds incredible drama to lashes, provides all day coverage, and never cakes. You can be sure you're putting your money to good use with this mascara, and if you really want exotic eyes to kill, this mascara lives up to the name!

Price: $30.00 at shop.nordstrom.com
6.

Maybelline Great Lash Mascara

This product continues to win awards year after year for being a great drugstore mascara to use. It is the everyday woman's staple mascara that gives you a great basic coverage for the same price as a venti sized coffee at Starbucks! Great Lash mascara doesn't irritate your eyes and has a nice, evenly separated brush to give you the coverage you need with no caking at all.

Price: $5.25 at drugstore.com
7.

Benefit BADgal Waterproof Mascara

I'm a huge Benefit product lover, and their mascara is one of the best products the company makes, in my opinion. This gel-based waterproof formula stands up well all day and won't flake at all. It has an easy applicator brush, and creates long, thick lashes in just minutes.

Price: $19.00 at sephora.com
8.

Bobbi Brown Intensifying Long-Wear Mascara

Bobbi Brown's complete line of beauty and cosmetic products usually never disappoint. This bold, brilliant mascara is just another one to love! It comes with a tiny brush to help make lashes more natural looking and prevents smudges up to 16 hours.

Price: $24.00 at shop.nordstrom.com
9.

Benefit They're Real! Mascara

Another product to love by Benefit is this amazing mascara that gives you high drama lashes without the smudges or shadows. This mascara helps to lengthen, add volume, and create separation between lashes to prevent clumping. This mascara is particularly good for short or really thin lashes.

Price: $23.00 at sephora.com
10.

Chanel Inimitable Mascara

Chanel only makes the best, right? This mascara is a great go-to mascara for any occasion where you want to look your best. It creates volume, length, curl, and separation, plus it enhances your lashes with Vitamin B5 to nourish them.

Price: $30.00 at shop.nordstrom.com
11.

Kevyn Aucoin 'the Essential' Mascara

When I first became interested in professional cosmetic years ago, I discovered Kevin Aucoin, the brilliant man who made makeup artistry elegant and classy. His complete line of cosmetics is pure in rich color, helps increase your radiance, and covers just about all the basics a girl could want. I love his 'The Essential' Mascara. It's every woman's dream mascara to lengthen, separate, add volume, create dramatic appeal, and is long-wearing and waterproof.

Price: $32.00 at shop.nordstrom.com

If you're still on the hunt for the best mascara out there, try some of these to start with. Some may be more expensive than other brands, but they can help save you money if you find the perfect one for you the first time around! What's your favorite mascara and what do you look for in a good mascara?