If you have green or hazel eyes, chances are, you're always on the lookout for the best eyeliners for green eyes. I know I am, checking the new hues from all my favorite makeup brands every time there's a color launch. Knowing that violet and purple liners are the best eyeliners for green eyes, I worked my way around Sephora and hunted out the best shades from the best brands. Here are my picks for the eyeliners guaranteed to make your green eyes pop.
1

Urban Decay 24/7 Glide-on Pencil in "Rockstar"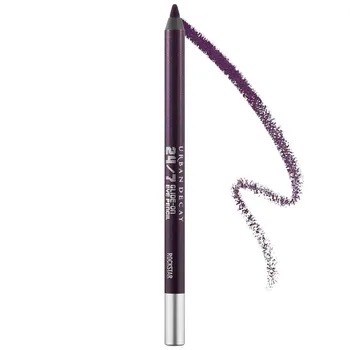 I'm a rock star! Well, not really, but since I use this eyeliner every day, I feel like one! This made the top spot on my list of the best eyeliners for green eyes because it glides on so easily, and it really does last for a full 24 hours, without smudging or caking. It's perfect for office wear, because it's a deep purple, not a bright purple, making your green eyes pop, while still being subtle enough for the most professional setting. But trust me, you'll feel like a rock star, too!
2

Bobbi Brown Long-Wear Gel Eyeliner in "Violet Ink"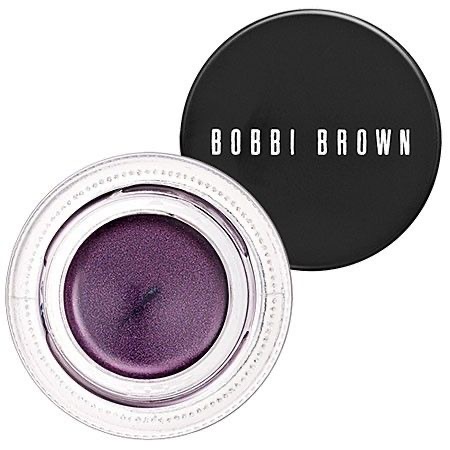 An Allure Best of Beauty Award Winner, this gel liner is one of my all-time favorites, too. It's a gorgeous color, and applies easily with a swipe of your best skinny liner brush. It lasts and lasts, and since it's waterproof, you can wear it no matter what's on your agenda, and still look great.
"Enhancing your beauty doesn't always mean going for the glossy look. More ladies now see the allure of a shine-free finish. With the right tools and techniques, you can also achieve a flawless, subtle glow. Learn how to master this trend by following these incredible matte makeup tutorials. Enhance your natural complexion without the unnecessary flash."
3

Make up for Ever Aqua Eyes in "Shimmering Plum"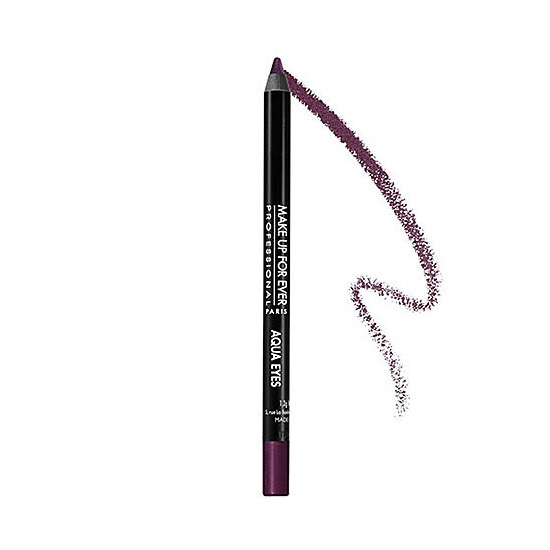 There are two dozen hues in the Aqua Eyes line, and at least three of them are made to highlight your gorgeous green eyes. Shimmering Plum is my favorite, but you could also try the Purple, Black Purple, or even the Burgundy. And because this liner was designed for use in water ballet (no joke), it'll certainly be waterproof and smudge proof enough for your own use, right?
4

Lancôme ARTLINER in "Aubergine"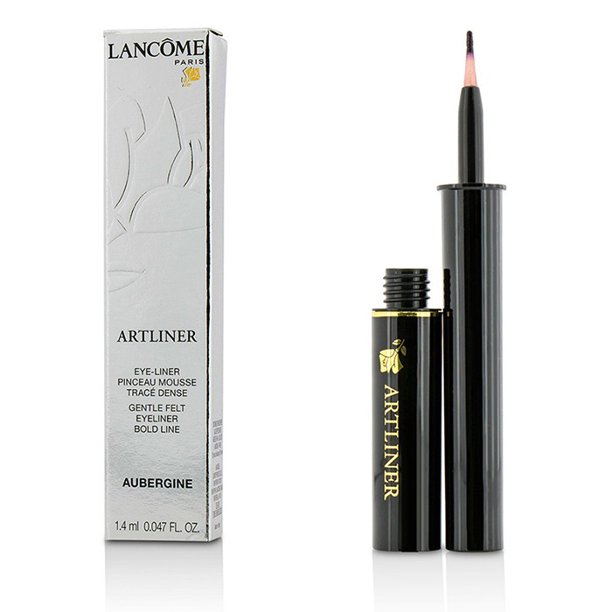 While $30 may seem like a lot to spend on an eyeliner, this easy-to-use pen is worth every penny. The liner glides on smoothly, and once it's on, it stays put without smudging or flaking, like cheaper liquid liners.
5

Kat Von D Tattoo Liner in "Lapdance"
Love her or hate her, you have to admit, Kat Von D does make an excellent eyeliner. I love this liner because the shade is perfect for a night out on the town (lap dance optional, of course) and because it's a lot of fun to apply… the pen is so easy to use! It's so easy to use, in fact, you can apply it to your eyes, then use it to make temporary tattoos.
6

NARS Larger than Life Long-Wear Eyeliner in "St. Mark's Place"
As vibrant and interesting as its namesake in Manhattan, this shade of eyeliner is bright enough to get noticed but formulated to wear, without fading, long into the night. I love that the pencil is retractable, and that it comes with a built-in sharpener. Love St. Mark's Place? Try the Bourbon Street shade, too!
7

Urban Decay Heavy Metal Glitter Line in "Metalhead"
If you've been dying to try the glitter makeup trend, this is the place to start! This shade will make your green eyes glow! Use a thin, delicate line for a subtle shimmer, or go bold and use a wide swipe – either way, this liner is a great way to try the trend! Once you find it, though, stock up; it's so popular it's always selling out.
8

Tarte SmolderEYES Amazonian Clay Waterproof Liner in "Fig"
I love this chubby liner crayon! The companion sharpener lets you create the lines and effects you want, from thin and crisp to thick and soft and subtle. The color is so rich and gorgeous, and there are two shades – Fig or Plum – that will make green eyes really stand out. Worried about weird chemicals in your makeup? Fear not – this one's made without parabens or triclosan.
It's time to clean out your makeup bag and try a few of these eyeliners made just for your gorgeous green eyes! I use the Urban Decay 24/7 liner in Rockstar every day, and I love it… but which of these eyeliners is your own must-have? Or is there another eyeliner you love more?
Updated on 6/7/2023
The Tarte SmolderEYES Amazonian Clay Waterproof Liner in Fig is a great choice for green eyes, as it has a rich and gorgeous color that will make them stand out. Not only that, but it is also made without any parabens or triclosan, so you can be sure that you are not putting anything harmful on your eyes. The liner is also a chubby crayon, so you can easily create thin and crisp lines, or thick and soft and subtle lines depending on the look you are going for. Additionally, the companion sharpener helps you to get the perfect lines and effects. This eyeliner is definitely a must-have for green eyes, as it will make them look stunning.
Want news and updates about this topic?
Sign up for updates
Dawn:
How about brown eyes? Great tips!
Shelby:
Please do blue eyes! :)
TheMisshoney69:
I have hazel eyes and purple,plums,bronze ,aqua & greens look amazing
Jacqui:
Good tips cause i have gr
MollyKing:
This helps me so much!! I feel like grean eyes are kinda boring I need a way to bring them out. thanks!