Lipsticks for dark skin can be really daring and exciting. If your skin is very tan, caf? au lait, mocha, chocolate, or any other beautiful shade, and you're looking for some lip colors that really work for you, I've got you! The upcoming spring and summer seasons offer lots of new lipstick for dark skin. The shades are absolutely gorgeous. Some of them are classic, others are neutral and ideal for daytime, and still others are bright and bold. Check out these amazing lipstick colors for darker skin and see what you think!
---
1

Amazing Cosmetics Lipstick in Scarlett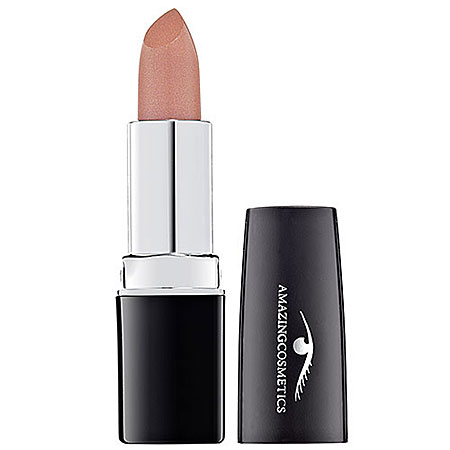 Price: $21.00 at sephora.com
Red lipsticks for dark skin are incredibly popular right now, as you shall see. A red lip is bold, sexy, and sophisticated. However, if you don't want to go all out with a bright red, that's no problem! Something a little darker and more dramatic like this shade will complement your skin and, because it's a bit more subdued, you can easily wear it during the day, too.
---
2

Sephora + Pantone Universe Tangerine Tango Cream Lipstick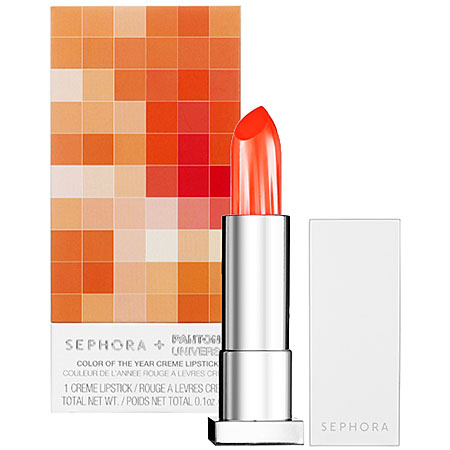 Price: $18.00 at sephora.com
Shades of orange and tangerine make great lipstick colors for darker skin. They're both incredibly popular this spring and summer, popping up in jewelry, clothing, shoes, and all kinds of other makeup. If you want to really highlight your skin tone and make the most of the hottest color trend, this lipstick is fantastic.
---
3

Make up for Ever Rough Artist Intense in Matte Flesh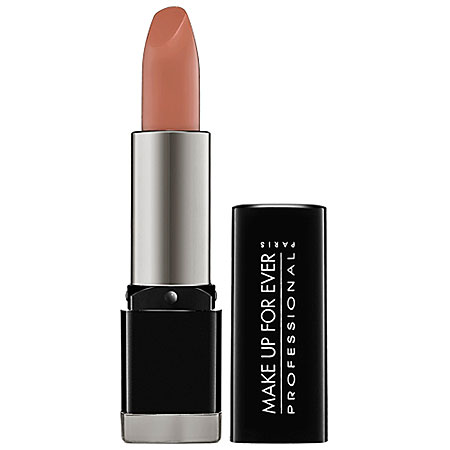 Price: $19.00 at sephora.com
If you're looking for something subtle, a really understated color that will make your other features pop, warm your skin, and allow you to keep the focus on your eye makeup, for example, a nude, neutral, or natural shade is perfect. A matte lipstick is a great idea, but you can look for one with a sparkle, too. With this one, if you want some extra sheen, just slick some clear gloss over your lips after you apply it.
---
4

Dior Rouge Lipcolor in Blazing Red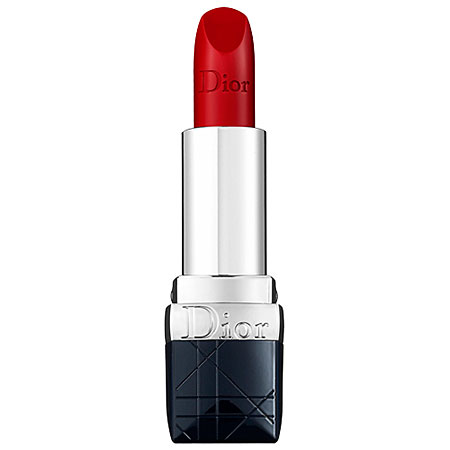 Price: $32.00 at sephora.com
Actually, there are three different shades of this lipstick for dark skin, depending on your particular tone. The Blazing Red is a very vibrant red hue with orange undertones. Favori Red is a really luscious cherry red, just as hot as it sounds. Ara Red is another option from Dior, this one a warmer representation. These shades are bolder than the darker Amazing Cosmetics hue.
---
5

Korres Raspberry Antioxidant Liquid Lipstick in Berry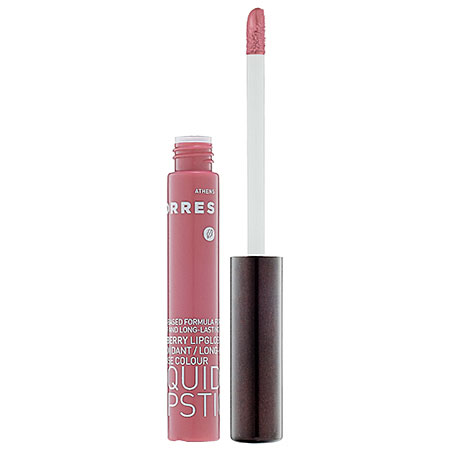 Price: $22.00 at sephora.com
No, I'm not repeating myself or being redundant here. While berry lipsticks for dark skin are definitely in, this particular product is actually made from raspberry extract, as well as pomegranate extract. It promises to keep your lips smooth and supple! Berry is a versatile color on darker skin tones, so you can wear it during the day or at night. Look for something like this with red undertones, to really highlight your skin.
---
6

NARS Lipstick in Pago Pago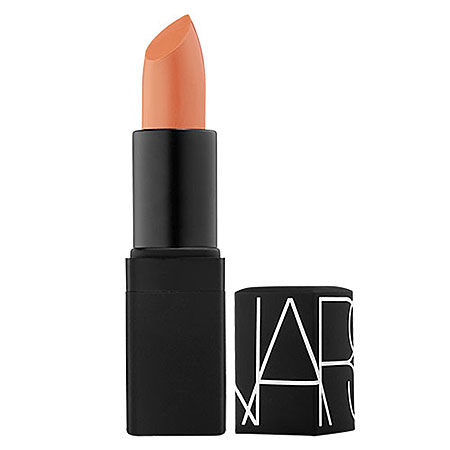 Price: $24.00 at sephora.com
Pink lipsticks are fantastic for darker skin tones as well. Feel free to get light with it; there are so many variations, you can go with a nude pink, a candy pink, or a luscious hot pink. This one is on the lighter side of the spectrum with a subtle shimmer, sure to make your lips look even lusher.
---
7

Laura Mercier Shimmer Lip Color in Violet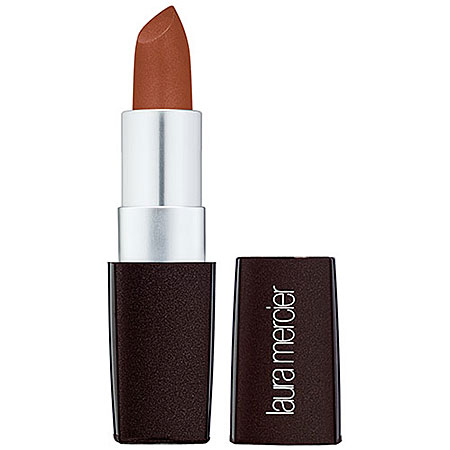 Price: $24.00 at sephora.com
If you want a really dramatic lip color for darker skin, go with purple! From grape to violet to plum, all kinds of different hues work with warmer skin tones. You can be bold by wearing it during the day as well as the evening. This shade shimmers just a little and it goes on wonderfully dark. It's really decadent, but if you want something lighter, look for a sheer shade of amethyst.
---
8

Shiseido Perfect Rouge Glowing Matte in Wink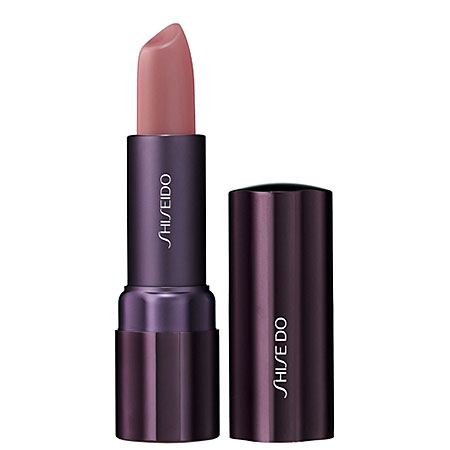 Price: $25.00 at sephora.com
Brown lipsticks for dark skin are incredibly versatile. You can get a darker, chocolaty shade for something really dramatic. If you want something more neutral, a lighter shade works. Pair with lighter colors on your eyes, and make sure you choose a shade that really complements your skin tone!
---
9

Covergirl Queen Collection Lipstick in Paint the Town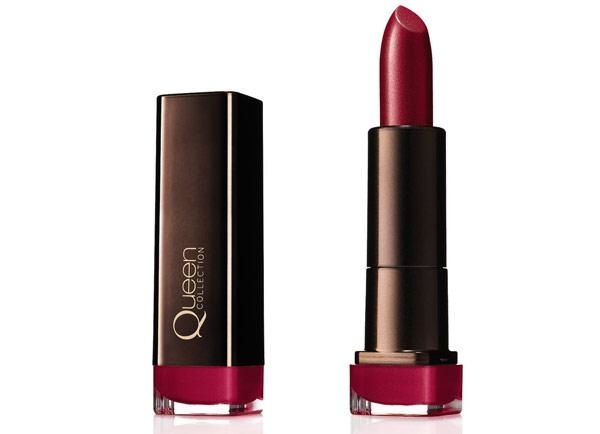 Price: $7.00 at covergirl.com
This deep red color will look great during the day or night! Decide on how you want to do the rest of your makeup depending on the what look you're going for. The Queen collection has a lot of different shades, but Paint the Town is a color that makes a statement. The best part is that the lipstick is filled with moisturizer that will leave your lips feeling smooth.
---
10

Nars in Tanganyka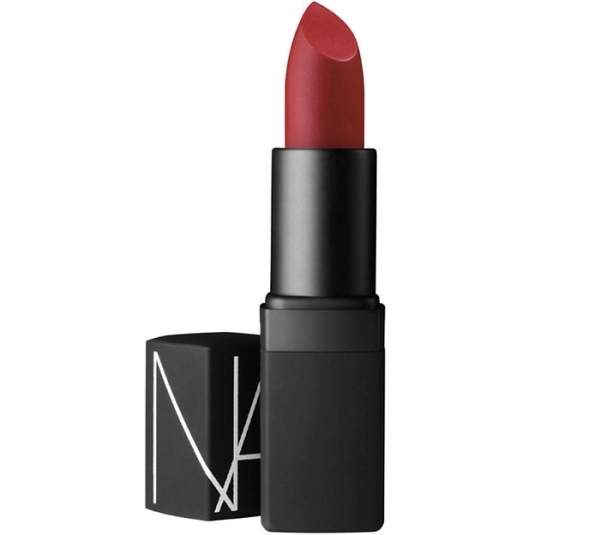 Price: $26.00 at sephora.com
This gorgeous brick red lipstick will give you just the right amount of drama. A great lipstick for any time of the day, Tanganyka is sheer and beautiful. Sometimes you don't need a bright or heavy lipstick to make a statement. It's also offers great moisture for your lips because we all know that wearing too much lipstick can normally dry out your lips!
---
11

Mac Lipstick in Cyber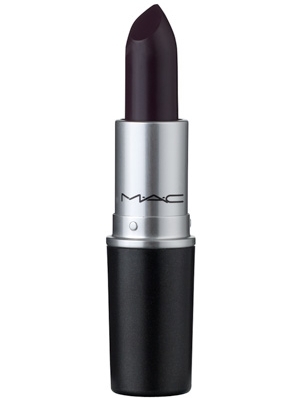 Price: $16.00 at maccosmetics.com
This is an absolutely beautiful color! The deep purple color will definitely make a statement. If you're wearing this color during the day, I would suggest going lighter on the eyes. If you're trying to make a statement at night, it would look amazing with simple but darker eye makeup.
---
12

Givenchy Le Rouge in Mandarine Boléro
Price: $36.00 at sephora.com
If you're looking for more of a tangerine color, this is the lipstick for you. This is not a lipstick for the faint of heart! If you plan on using this color, you need to commit because it's bright. Make sure you find a great liner to make this lipstick last! Trust me, you'll want it to stick around.
---
13

Dior Rouge Dior Nude in Twill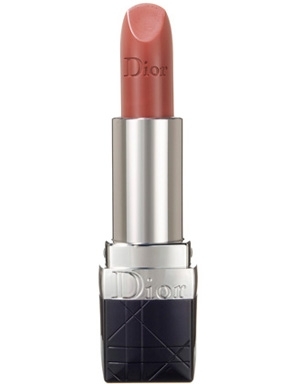 Price: $35.00 at sephora.com
If you're in need of a great nude lip, this just might be the one for you. Of course, I suggest going and seeing exactly how it looks with your exact skin tone, but this could be a really great option. It's described as being the color of caramel and who doesn't want lips that can be described as something that delicious?
These are some seriously beautiful lipsticks for dark skin! Whatever you might need, whatever your outfit or the occasion, you can easily find the right shade. Don't be afraid to be daring, either. Even if it's for a nighttime look, go outside your comfort zone! What's your favorite lip color for darker skin?
This article was written in collaboration with editor Lydia Sheehan.
More
---
Popular
Recent