Have you been wanting to try the red eye shadow trend, but just aren't sure how? Believe me, there are definitely ways to rock the red eye shadow trend without appearing like you're an extra on The Walking Dead. I'm not gonna lie though, wearing red eye shadow can be a bit tricky so luckily I've got 7 helpful tips on how you can wear this makeup trend this season just like the gorgeous Gucci models in their Winter 2013 show!
---
1

Pick a Color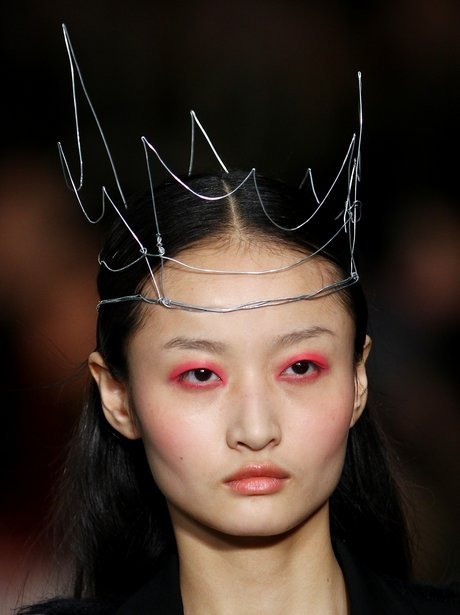 In order to rock the fierce red eye shadow trend, you need to first pick a red eye shadow as well as another complementary color to use along with it to create a multi-dimensional look. There are actually lots of different reds to choose from ranging from a coppery red to a muted matte red. Think about where you'll be wearing this look. Do you need it to be super understated or can you be a bit bolder? Bronze or plum are both great choices to use along with the red as it can help make the look a little safer.
2

Prime Your Eyes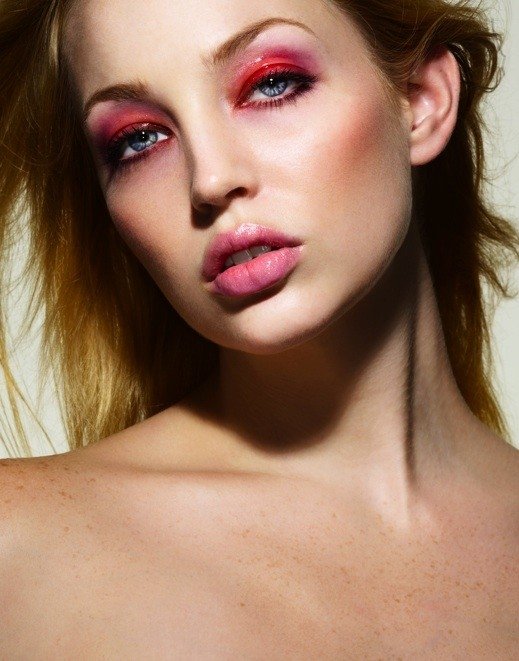 The next tip in wearing this makeup trend is to prime the eyes. Make sure you start out with a clean face and add moisturizer and whatever other skin care products you like. Using an eye shadow primer helps ensure that your eye shadow will stay vibrant and keep up with you throughout the day. Some people like to use concealer as a primer and that works, too.
---
3

Get Your Brush out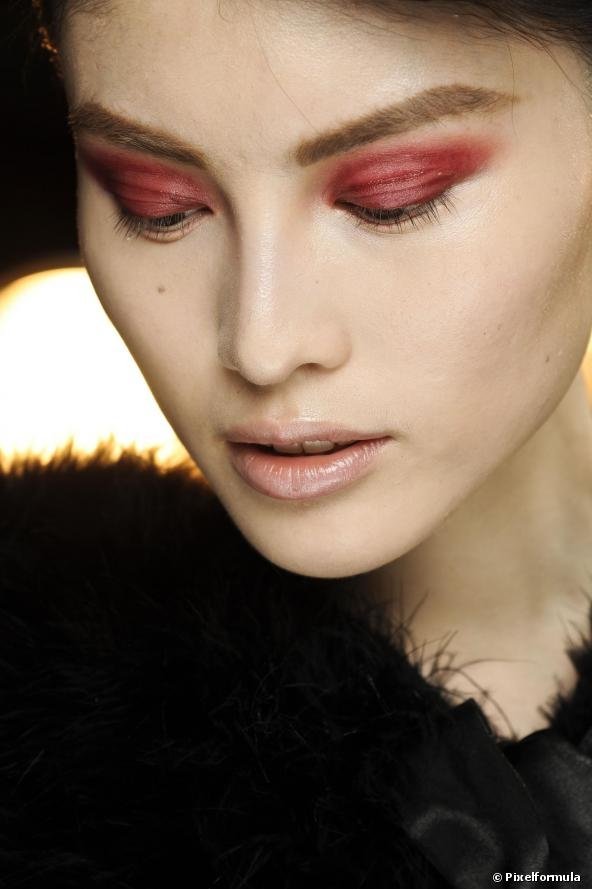 When you're trying out the red makeup trend, keep in mind how important your brush can be to creating this look. Using a fluffy brush to apply eye shadow deposits less shadow which is great to build up color whereas denser brushes deposit more color at first swipe. Applying red shadow with a fluffy brush is your best bet!
---
4

Draw a Cat Eye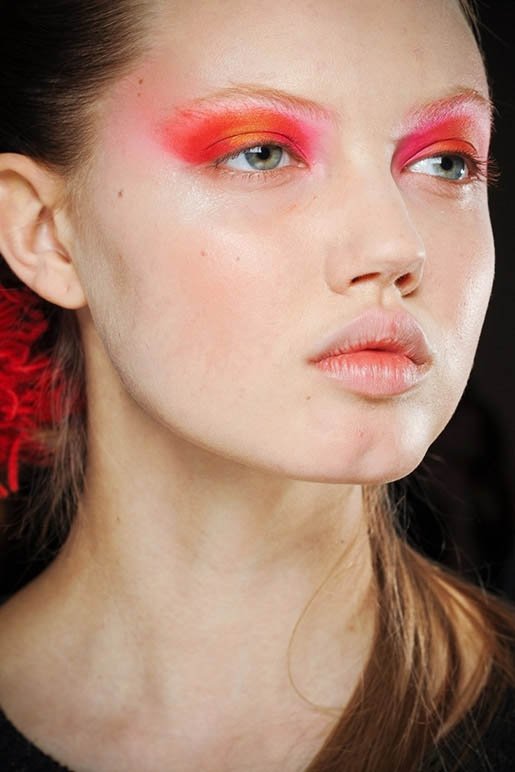 There are no rules that say you must wear eyeliner with red eye shadow, but many of the looks I saw were much more wearable and much less pink eye-looking with some eye liner. Draw a cat eye with your liner of choice. If you're new to drawing cat eyes, there are lots of different ways to help make it easier. If you need a guide to draw it on straight, try using the edge of a business card or the side of a spoon. For some detailed instructions, check this page out: thebeautydepartment.com
---
5

Start Sweeping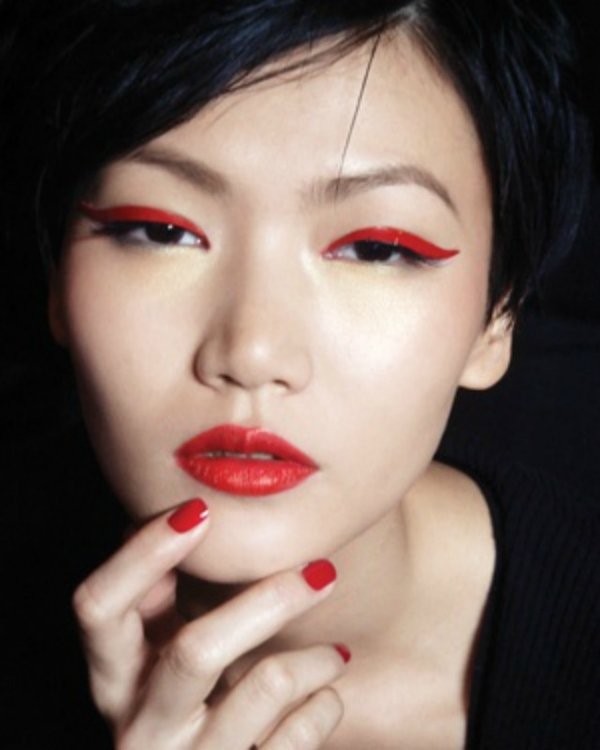 Another reason you want to line your eyes is that the cat eye flick can help guide you on how far out to take the red. According to makeup artist god Pat McGrath, layering is the key when it comes to rocking the red makeup trend so be sure to keep that in mind. Grab your fluffy eye shadow brush and dip it in the red eye shadow, tapping off any excess and sweeping it across your lid from the inner corner of your eye to outer corner of your cat eye flick.
---
6

Blend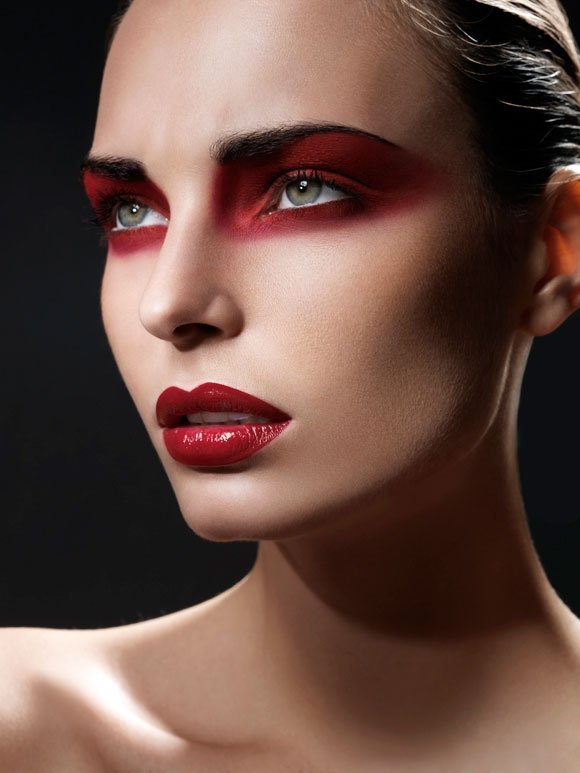 You knew this step was coming! Get your blending brush out and blend away. You don't want any harsh lines or unevenness to take away from your ferocious red eye shadow look. If you'd like, you can also get some of the red eye shadow you used and trace it along your lower lash line. You can also try a deep red eyeliner there..
---
7

Finishing Touches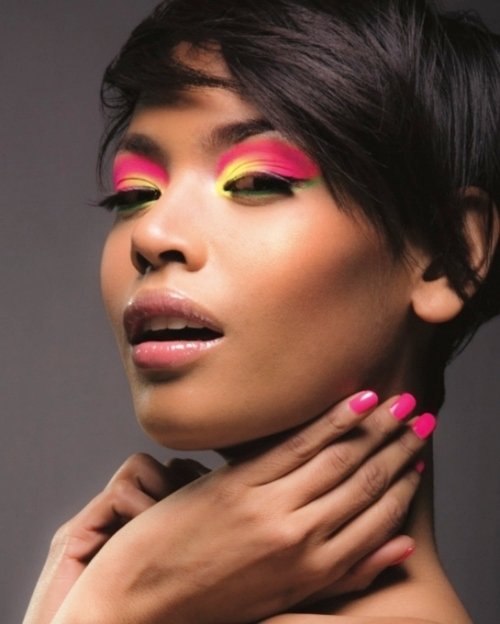 Survey your look. Does it need some more color or perhaps it's too much for your liking. Make some tweaks to your look if needed or add some other colors. Your eyes don't have to look like fireballs in order for look absolutely awesome. Add the second color you picked out and use it in the inner corner or blend it to deepen the red on your eyelid. It's all about wearing it the way it makes you feel confident and beautiful!
I think this look is very pretty and it's not reserved for certain eye shapes, colors or skin tones. Everyone can rock the heck out of this look! What do you think ladies, do you dare try this makeup trend?
---
Comments
Popular
Related
Recent