9 Tips for Organizing Your Makeup ...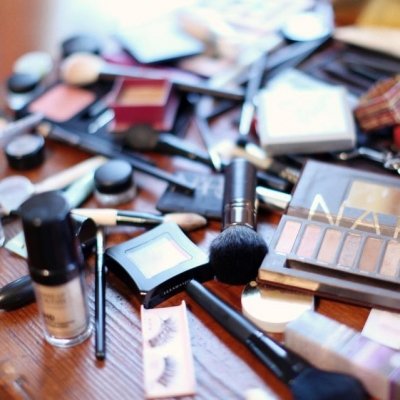 When you're in a hurry, the last thing you think about is organizing your makeup. Sometimes my makeup case is a disaster and I can't find anything. Spending some time organizing your makeup will help you save precious minutes when they matter most. Plus, it'll help you easily identify older makeup and even help prevent broken makeup.
If you're pressed for space like I usually am, combining some of those single eye shadows, blushes and other small circles and squares of makeup helps drastically increase your available space. I discovered the Z-Palette and it's a must have for organizing your makeup. It takes a little getting used to, but once you've moved all those individual pieces of makeup into one palette, you'll be amazed at the difference. Check it out at at zpalette.com.
2.

Regularly Check for Old Items
Sometimes half the clutter comes from having old makeup scattered in with your new. Maybe you forgot to toss that old foundation or mascara when you replaced it. At least once every few months, take 10 minutes to throw out old makeup. You can also get rid of anything you no longer use, such as lipsticks that just weren't right for you. Not only will this save space, but it will also prevent you from using nasty, bacteria ridden old makeup.
3.

Use a Drawer Organizer
If you store your makeup in a drawer, purchase a drawer organizer. You'll usually find these in the kitchen or office areas in your local department or big box store. They have a variety of sizes with different compartments to easily organize your supplies. For deep drawers, consider stacking organizers or using a deeper organizer.
4.

Use a Sectioned Makeup Bag
I used to have a bag with two compartments for all my makeup. Every time I picked it up, everything fell over. In short, it was a mess. Spend the extra for makeup bags and cases with multiple compartments that close. If you want to save a little cash, use a tackle box or small toolbox instead. If you don't mind blander colors, they're pretty much the same thing.
If you want to find things easier, try separating your makeup by use. For instance, put all your lipstick in one section, eye makeup in another and foundation in a different section. You'll be able to quickly find what you need. The better the division, the easier it is to find the right product at the right time.
My brushes used to get trapped under my makeup or they were so scattered out I never could find the one I needed. If you have have several makeup brushes, buy a brush roll. Not only will it keep your brushes organized, it also helps keep them cleaner. If you only have a few brushes, buy a small makeup pouch instead. Both are easy to tuck in with the rest of your makeup.
7.

Store Color or Label up
Try to avoid stacking products on top of each other as much as possible. It's hard to see what colors you have. Instead, lay out your makeup with the color side up. If it doesn't have a clear lid, store it label side up so you can see the color name. If you must stack, stack similar colors together, such as different shades of green shadow or red lipstick.
Instead of buying individual shades of eye shadow or lip gloss, buy palettes. These usually contain multiple shades in easy to store compacts. For maximum organization and convenience, buy a palette that contains your most commonly used eye shadow colors, lipstick shades, blushes and even a setting powder. Some even include a cream foundation. Imagine having just a few thin palettes versus tons of individual products.
9.

Use Small Drawer Storage Chests
Instead of a tote or case, buy a small storage chest with several drawers. Most of these are less than a foot tall and have 3-4 drawers. They're great for organizing brushes, eye shadow, lipstick and even small nail polish bottles. For taller products, buy a slightly taller chest with one larger drawer. You can find these at most office supply stores.
It's not that hard to organize your makeup. I spent just a few hours and I've saved hours each week by not having to dig to find what I need. Give some of these tips a try and love your makeup again. What other makeup organization tips have you tried?
{{#comments_count}} Show Commnents ({{comments_count}}) {{/comments_count}}