13 Face Contouring Tips from the Experts That Will Help You Flaunt Your Best Features ...
By Heather
Formally working in the modeling industry, I was fortunate enough to have learned some pretty fun and unique makeup and hair techniques to help enhance my routine, such as creative and useful face contouring tips. If you're not familiar with face contouring, don't be intimidated! This makeup technique used by professionals and everyday women is one of the easiest ways to enhance your already fabulous facial features, and make you stand out above the crowd. It slims your face and creates definition and illumination to create a sleek, sculpted look. Experts know that the best makeup tricks don't have to be expensive, time consuming, or difficult. One of the most important things about face contouring is the order you apply the products, which I didn't know before using this special makeup trick. Try using some of these top face contouring tips next time you decide you want to upgrade your makeup routine a little. I promise you'll not only enhance your facial features, but also get a little confidence boost!
---
1

Use Concealer First and Use It Liberally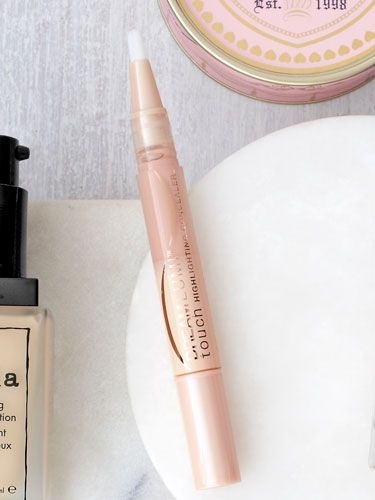 One of the best face contouring tips I ever learned was that concealer wasn't just made for underneath my eyes to combat dark circles, but also anywhere on my face that had shadowing. For instance, right under the nose is a great place to apply concealer to hide any redness most of us have. In fact, the best places to put concealer to contour your face are underneath the eyes, between the eyebrows, all over the entire eyelids and down around the nose and underneath the nose towards your mouth. Be sure you spread it out really well and it is best to apply it with your fingers and not the tube itself, so you can pat it on with your finger instead of rubbing it on with the wand. The wand might not spread it out well, and you'll use more product than you need. This trick will highlight these areas around your face before you put on your foundation and create an illuminated effect. This is my number one face contouring tip I use every single day, and I don't buy pricey concealer either. My absolute favorite concealer product for face contouring is Maybelline's 24 hour Super Stay concealer, which comes in a handy little wand tube, and I like the cream color best for a neutral color and highlighting effect.
---
2

Highlight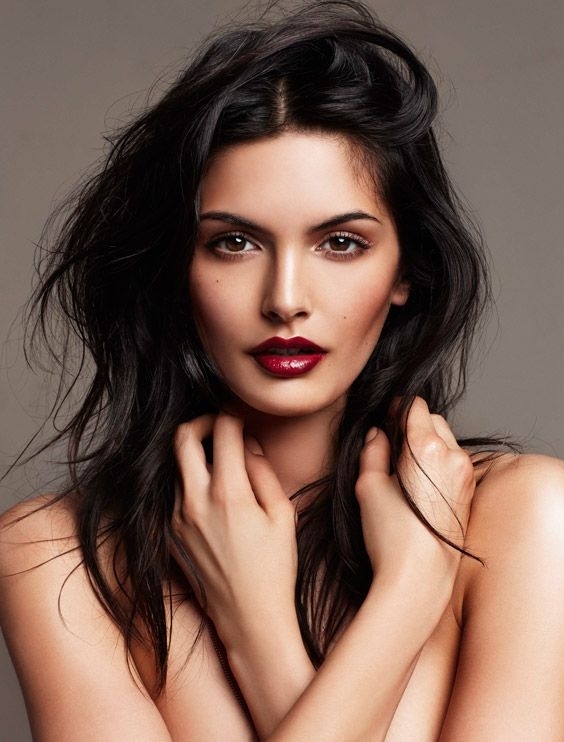 Highlighting makes your face look more fresh, youthful, and awake! Apply a cream eyeliner to the inner corners of your eye, your cupid's bow (area above your lips), bridge of your nose, and your chin. Blend in these areas using a clean finger before you apply your foundation, and you'll create a glowing look on your face!
---
3

Pick a Good Cream Based Foundation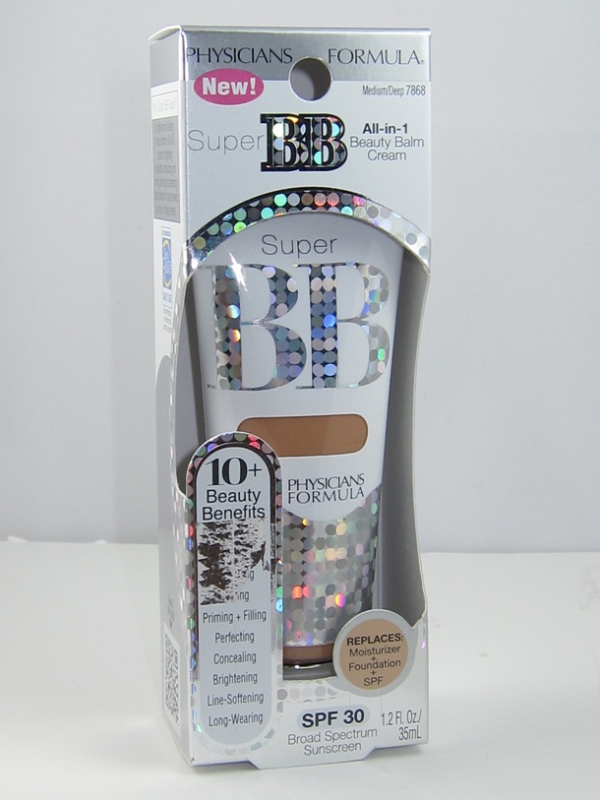 One important tip for face contouring is to pick a good base foundation. Again, you can buy pricey products if you like, but it is more important to get a foundation that is two things: nongreasy and one that blends well. I like Physicians Formula BB cream, which is the best foundation I've used to date of all pricey and cheaper versions. This cream foundation blends in really well and sets into a solid foundation that won't break your face out, or take away from your concealer. It really sets well into the face and creates an overall even look, which is what you want to contour your face efficiently. Most experts will tell you that when you decide to contour your face, foundation is just as important as your contouring products, because the foundation sets everything into place. Pick one that works for you, and be sure to try out the Physicians Formula BB cream if you don't know where to start. Apply it all over your face evenly, over the concealed areas. Do not apply foundation before your concealer or you won't get as even of a look and it may look funny.
---
4

Use an Illuminating Powder or Cream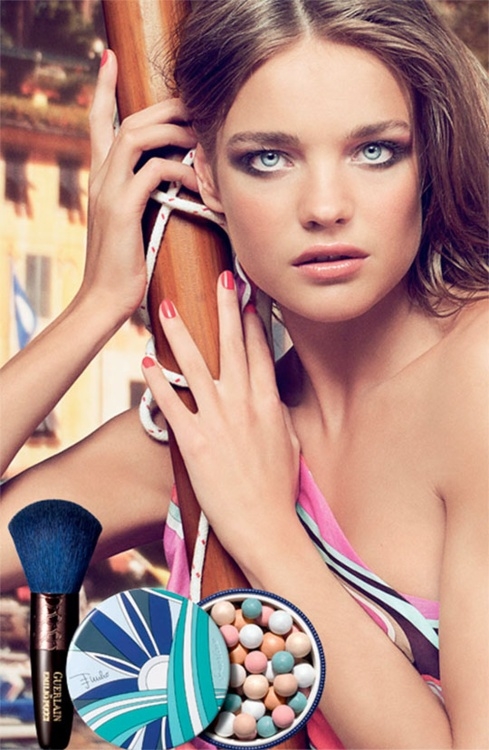 Next, after you've applied your concealer and foundation, you'll want to use an illuminating powder or cream. You can buy pricey ones if you like, but I like one by Bonne Bell called Blend n' Glo that is really inexpensive and super effective. All you need to do with this powder is apply it with a large makeup or blush brush right above your cheekbones to create a lighted effect. You can also apply it to the tops of your eyelids if you have dark shadows on your eyelids like I do. You'll apply it over the concealer you applied earlier, which gives the eyelids a very dramatic lighted effect that brings your eyes forward so they stand out more. Once you apply your foundation and illuminating powder, then you're ready to finish up the rest of your face.
---
5

Use the White Eyeshadow Technique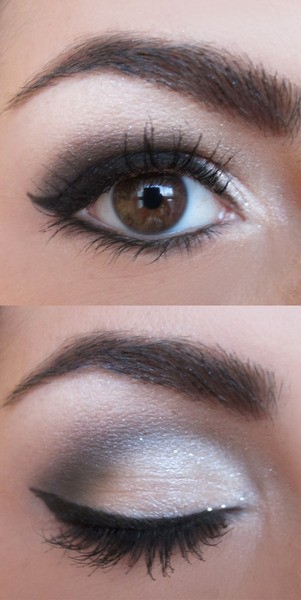 Once, while getting my make done in New York by the professionals at Christian Dior for a shoot, I was a little intimidated by how they did my makeup. They were using all kinds of funny looking eyeshadows on my eyelids. I had no idea what I was going to look like when they finished. As I watched them, I was amazed at how contoured my face looked, and how pretty my eyelids looked. The pros created this look that appears extremely dramatic, illuminated and really soft at the same time. To create this effect, they used a bright white eyeshadow all over my eyelid, after they applied the concealer and illuminating powder. It looked odd at first, but then they added a dark gray color in the crease, and above that they applied a beige color over the white eyeshadow and then finished up with a little pop of light pink color right above the grey crease. It really made my eyes look soft, feminine and so illuminated. I've been using this trick at home ever since and it works like a dream. You can use any brand of eyeshadow for this with these colors. I usually buy Maybelline's brand myself, and try to buy one with a little shimmer to it.
---
6

Apply Bronzer Next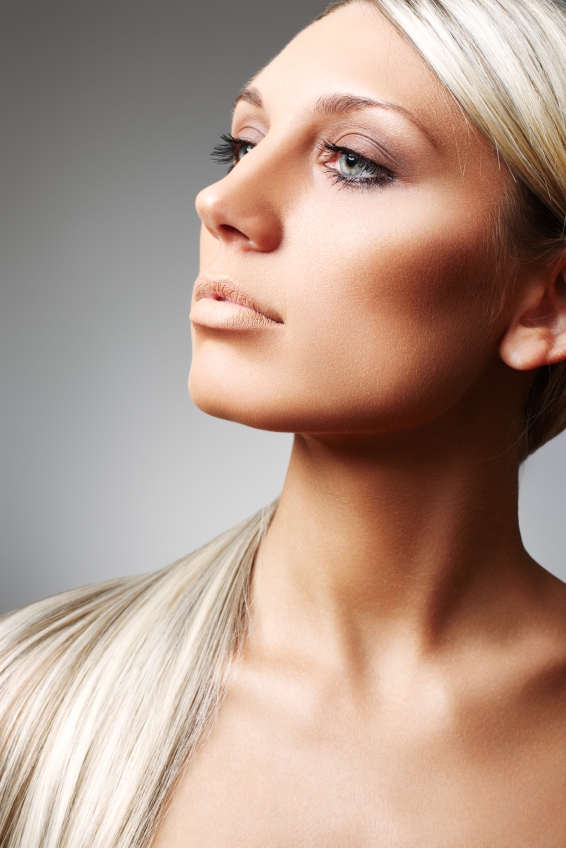 The next step in contouring is to apply a little touch of bronzer after the rest of your products has had time to set in place. I only apply a touch on the balls of my cheeks and then lightly extend upward towards my cheekbone. Don't apply bronzer all over your face. It will take away from the contouring effect and give you a false tan look. Bronzer is meant to accent your features, not cover your entire face.
7

Apply a Good Blush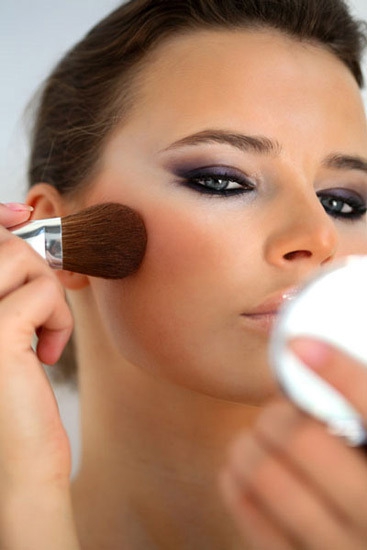 Right after I swipe on my bronzer, I use a good blush to finish my cheeks up with. I like a peachy, coral color to accent my olive skin, but pick a blush that looks good for your skin tones. You can easily find this information online, or go to a makeup counter to ask a pro. Swipe the blush with a large powder brush right over your bronzer, which really adds the last final touch of lift to your cheeks to brighten you up. Not too much, but just enough so that you have a warm and soft glow to your cheeks.
---
8

Focus on Your Nose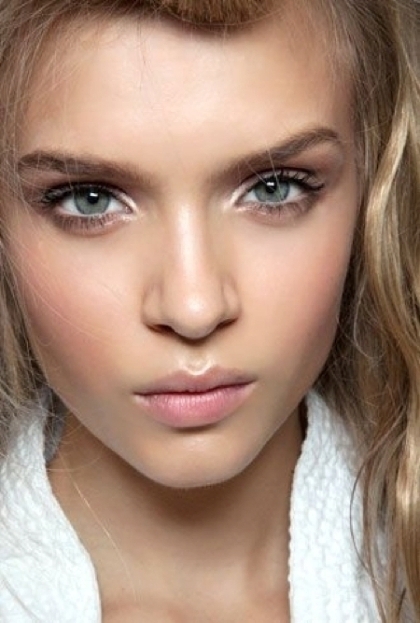 As a general tip for contouring, it's a good idea to focus on your nose. After all, it is front and center on your face! Sculpting your nose makes a huge difference in the overall appearance of your face, the way mascara takes your eyes to the next level! To sculpt your nose, draw two lines down either side of your nose, starting at the edge of your eyebrow. Then, blend using bronzer to make it look more natural. In between your eyebrows, lightly cover your skin with a brightening concealer. Then, dab the sides of your nose with your brightening concealer and blend. You're bound to love the results!
---
9

Finish It All up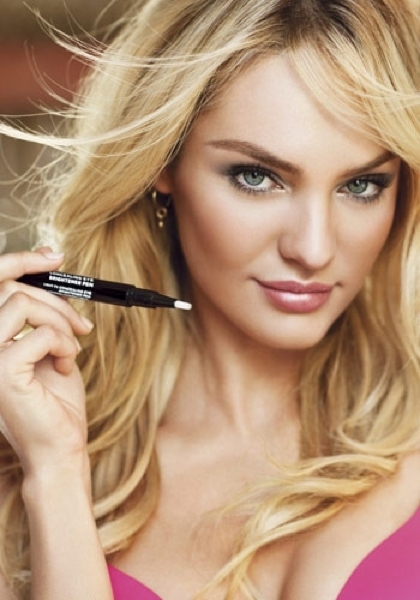 Last, I like to dust a little BB cream powder over my nose, forehead and chin, just to set the BB cream foundation in place. This also helps blend those areas in, and go with the same color that you used for your BB cream. I like Physicians Formula BB cream powder, which blends excellently and looks very sheer while providing all day coverage. After that, I apply my eyeliner, mascara and lipstick or gloss. I was always told to do these steps last so that my eye products had time to set in place, which would help the eyeliner stay on better and be less apt to smudge. If you're wondering, it really does work! This also allows you to use less of these products because now that your face is properly contoured, you may see that you don't need as much eyeliner or mascara to make your features stand out.
---
10

Don't Stop at the Face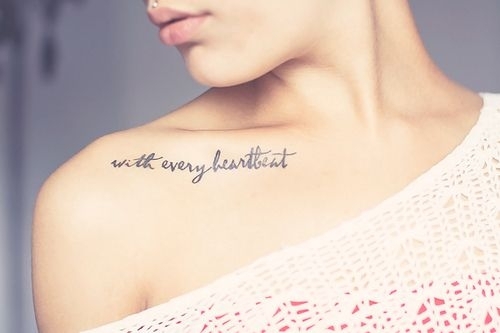 I think that a contoured neckline is absolutely gorgeous! So don't stop at your face; contour your neckline as well, accentuating your collar bones. On top of your collar bones, apply a bronzer, and beneath them apply a highlighter. If you're already contouring your face, you may as well make your neck look fabulous, too!
---
11

Use a Beauty Sponge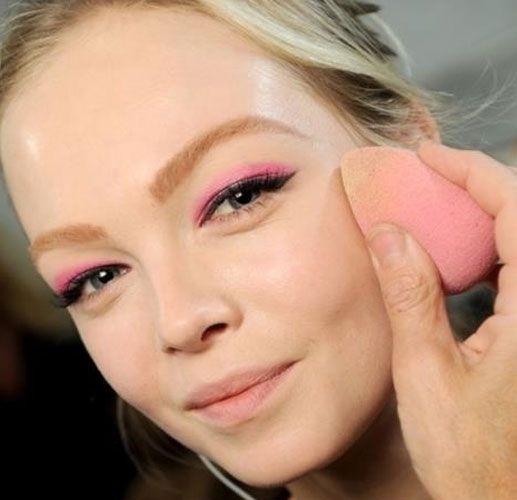 In addition to all of the steps you should take to create a flawlessly contoured face, there are certain tools that will help you a lot! For example, the beauty sponge will become your best friend when you begin contouring! Use a beauty sponge to blend and make your makeup look much more natural, rather than sharp and a little bit bizarre. With the help of a beauty sponge, people will wonder if you're even wearing face makeup!
---
12

Flat Top Brush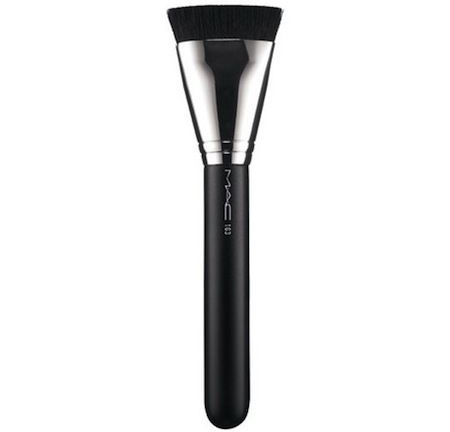 If you want a really professional-looking contoured face, you should use a flat top brush! This brush applies foundation perfectly, regardless of whether it's cream, liquid, or powder! Flat top brushes give you better control over your makeup and create a gorgeous look!
---
13

Just Use Foundation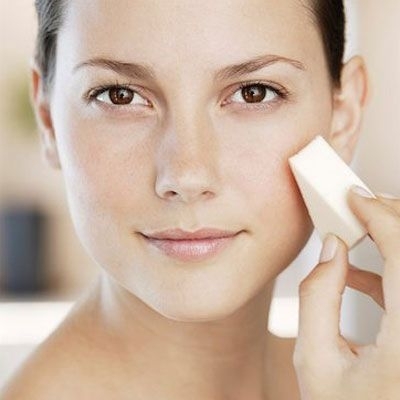 A trick worth trying is the foundation-only trick. Instead of applying foundation, then bronzer and highlighter, just use three different shades of foundation. Your highlighter should be a foundation that's a shade lighter than your skin, and your bronzer a shade darker. Using foundation rather than brassy, shimmery products like bronzer and highlighter creates a much more natural look for some skin types, so it's worth trying out!
Once you get the hang of these awesome face contouring tips, you'll be able to do them in under 10 minutes. I've got it down to about 5 minutes now after doing them for so many years. These tips work like a dream, and I'm so grateful I was able to learn them! For more tips from the pros, check out the sources below too! What have you always wanted to know about face contouring?
Sources: totalbeauty.com, blog.birchbox.com
---
Comments
Popular
Related
Recent